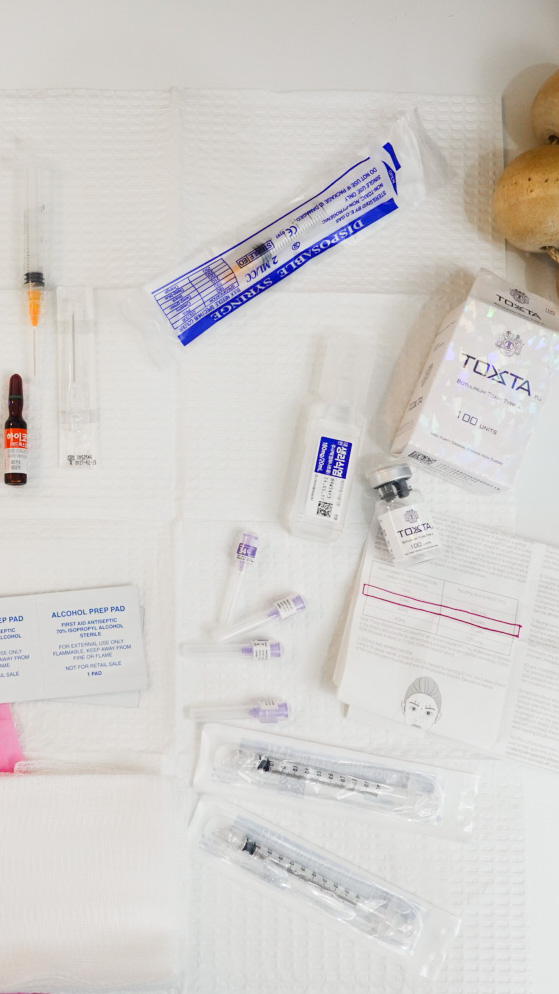 TOXTA Botulinum toxin INJECTIONS
Botulinum Toxin | Improving mimic and static wrinkles, Correcting lip contouring purity (99.8%) Safe KFDA approved fast long lasting results.
Volume: 100 units or 50 Units
One Vial of small particles is very fine, Bottle may look empty. Saline needs to be added to 2.5 ml for 50 units.
Muscular targets of botulinum toxin in the upper face include the orbicularis oculi, procerus, corrugator supercilii, and frontalis muscles.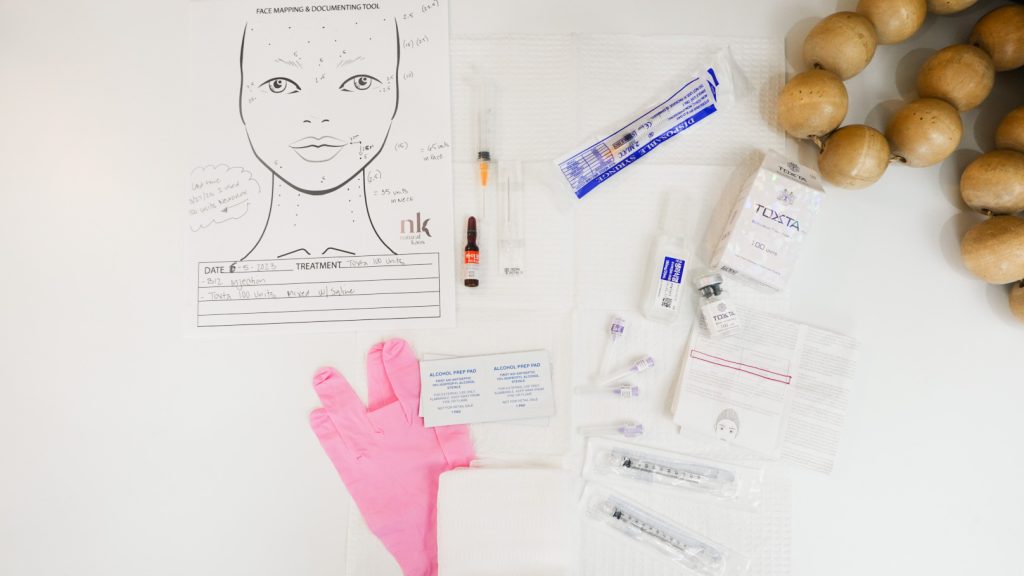 Toxta – Botulinum toxin type AToxta is the original strain from European National Institute and is a high-purity product with low immunogenicity risk that complies with cGMP standards (FDA, EMA) for safe and fast and wrinkle improvement and larger muscle treatment. Toxta Product Specifications: Volume: 100 units
Storage instruction: Keep sealed and store at 2~8°C
Country of Manufacturing: South Korea
Manufacturer : JETEMA Co.
Expiration: 36 months from the manufacturing date.
Note: The Toxta Vial may look empty but white powder can be seen at the bottom of the vial. It is perfectly normal that an unopened Toxin vial appears empty, but if you look closely at the bottom of the vial you'll see a tiny amount of white powder. This powder needs to be reconstituted with saline 0.9% before it can be used. A study found that using bacteriostatic saline to reconstitute the botulinum toxin type A made the treatment less painful. You can freeze to use at your next treatment if you use bacteriostatic saline. WHY DOES Toxin VIAL LOOK EMPTY?So if it is your first time receiving toxins, don't be surprised if your Toxin vial looks empty. This is completely normal and is exactly how it should look like. Take a closer look at the bottom of the vial and you will either find a very fine white powder or you will find transparent dried circles. This is because these toxins are vacuum sealed, and you need to reconstitute them with saline to use them.
There are 2 methods to produce vacuum-sealed toxins. During both production processes the botox is frozen and the ice is evaporated under low pressure.
Toxta Ingredients:100 units (U) Clostridium botulinum toxin type A 0.5mg Human serum albumin (EP) 0.9mg Sodium Chloride (USP) 99.8% purity and very high biological activity which leads to quick and consistent results.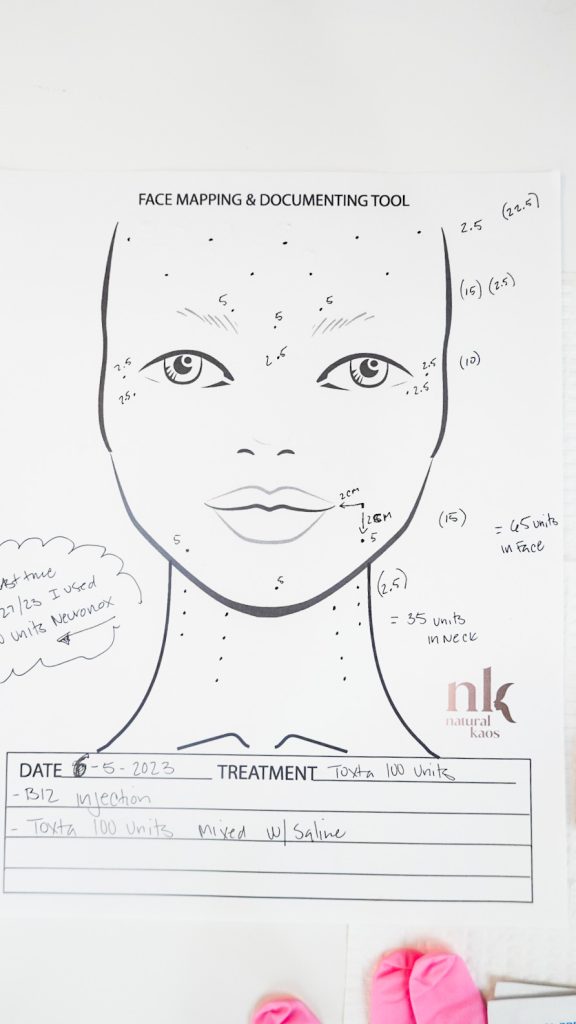 You can download Face, Neck, and Chest mapping for free!
We offer a 14-day trial so you can join now and watch my live treatment on re-play. xo – Kim
Watch My Full Live Injecting Toxta in the Natural Kaos App
How DO I Reconstitute Toxin?
PRODUCTS USED:
CLICK HERE TO DOWNLOAD FREE FACE MAPPING PDF
CODE: Fillerhouse KAOS20
CODE: Dermics KAOS10
LIVE TINTED Code: LTKIMBERLY15 15% OFF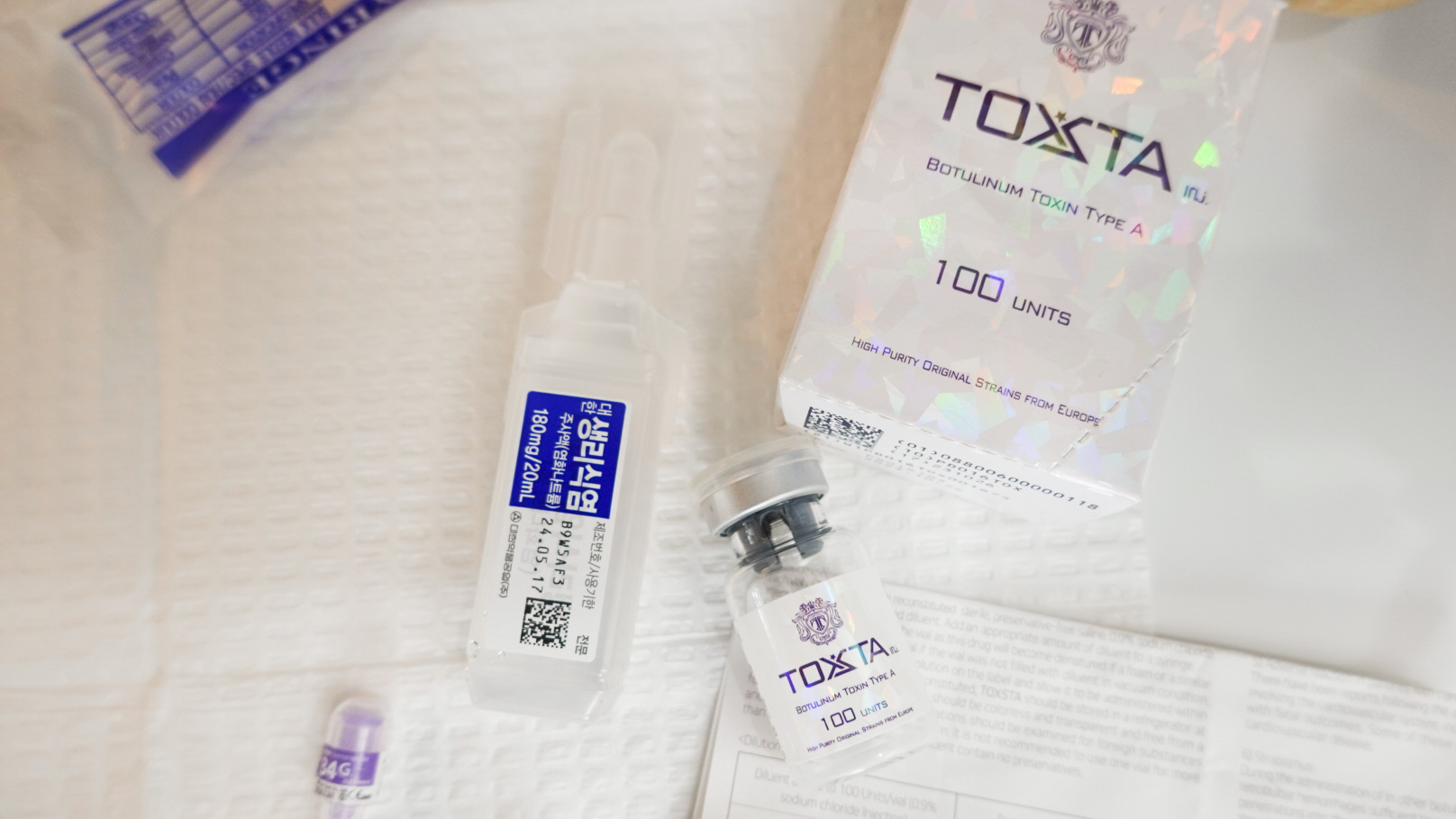 ---
HAND MESOTHERAPY HP CELL VITARAN & INNOTOX INJECTIONS

PREP VIDEO: INNOTOX TOXIN INJECTIONS My Innotox set up. I drew up each syringe for each part of my face. I used a 50-unit bottle of Innotox. You can see my mapping below and you can also see where to download your free mapping on the website. HAND MESOTHERAPY HP CELL VITARAN BENEFITS: VITARAN is…

HOW TO DO A 25% TCA PEEL AT HOME | PREP

For My Prep LINK: Caudalie Vinopure Purifying Clay Mask LINK: Aquaphor LINK: GLOVES For My Peel You Can Watch On Replay In The Natural Kaos App AT HOME TCA PEEL OTHER INFORMATION: This peel suits most skin types. Use additional caution with sensitive skin & skin types above a "three" on the Fitzpatrick Scale. A spot test…

REPAIRING SUN DAMAGE

Sun damage can take a toll on your skin, leading to wrinkles, fine lines, pigmentation issues, reduced elasticity, uneven skin texture, and "sun spots." Fortunately, there are effective treatments to reverse and repair sun damage. Here's a simplified overview of these treatments: TCA Chemical Peels: TCA (trichloroacetic acid) peels are a safe way to rejuvenate…
This error message is only visible to WordPress admins
There has been a problem with your Instagram Feed.