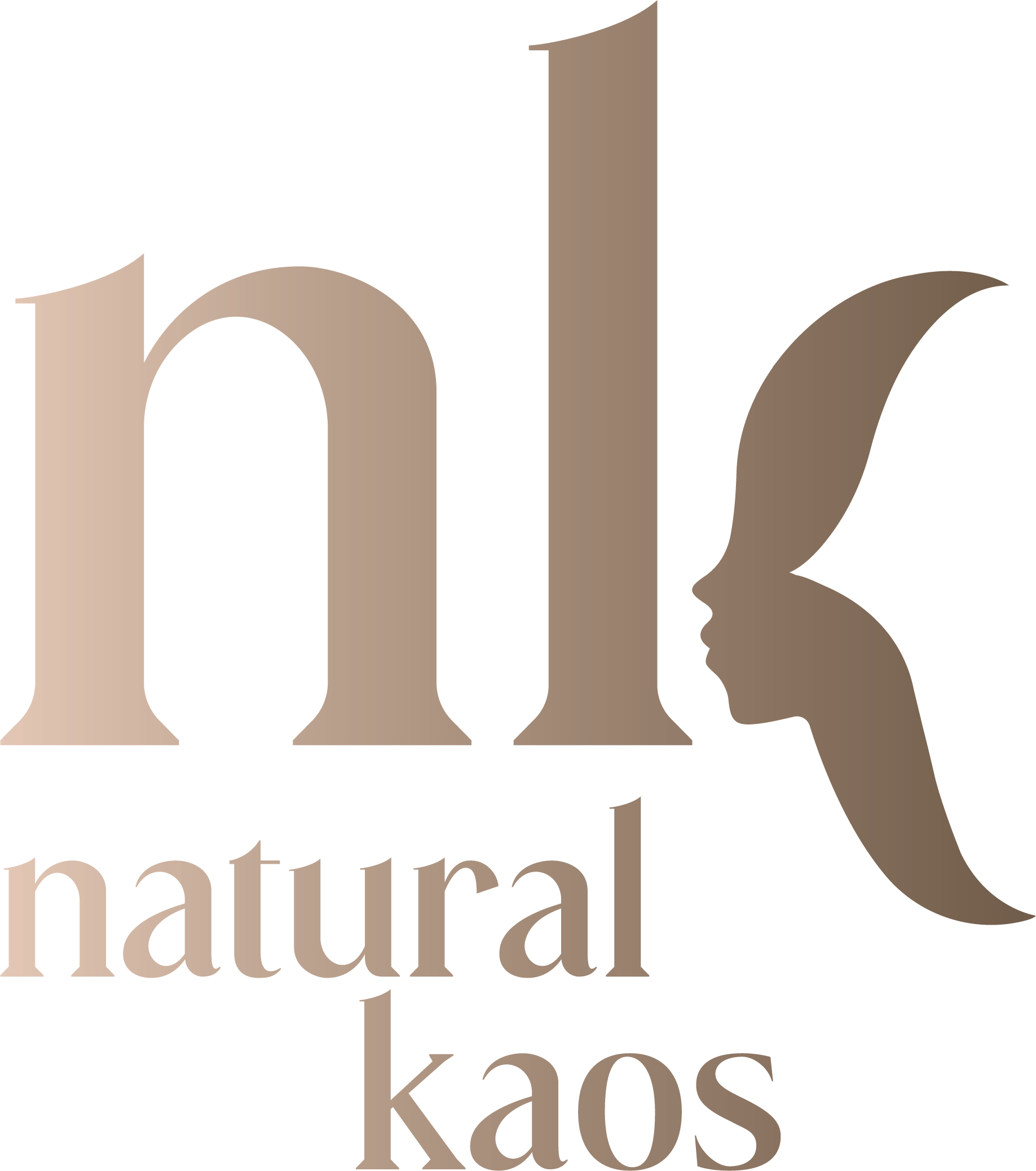 Beauty From Korea Subscription Beauty Boxes
by Kim Pratt | Jun 1, 2022 | MESOTHEARPY, MICRONEEDLING, SKINCARE PRODUCTS | 0 comments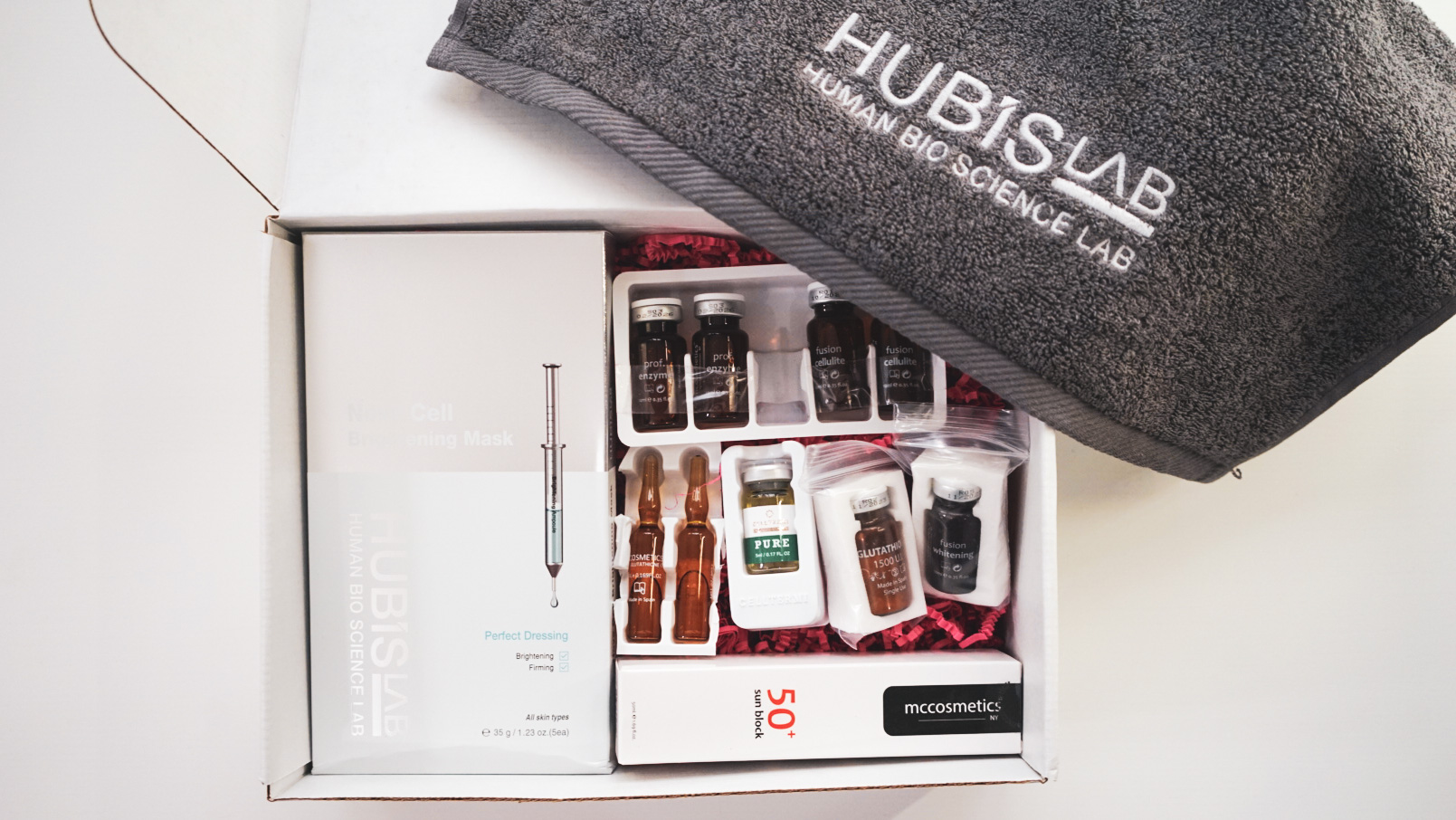 BFK Beauty Boxes Subscriptions
Join today, and kick off your subscription with either a Deluxe or a Preimum Beauty Box with products from some amazing skincare lines. Like, Hubis Labs a professional back bar products used in medical offices. Also products that Natural Kaos Members have come to know and love like Celltermi Stem mixed with Celltermi Pure. These beauty boxes come with products from both Korea and Spain. Mangae your skincare routine or plans with these Beauty Boxes.
The photo above is an example of how my box was curated for me.  For my personal box, I asked for whitening agents like glutathione and you can see how it met all my needs. 
How Does it Work?
First, you will pick which beauty box you want the Deluxe Box or the Premium Box, the difference is that the Premium Beauty Box is the largest beauty box that is offered. This box includes the most volume of items. Joe, the owner, will semi customize your box as best as possible to help you achieve your beauty needs.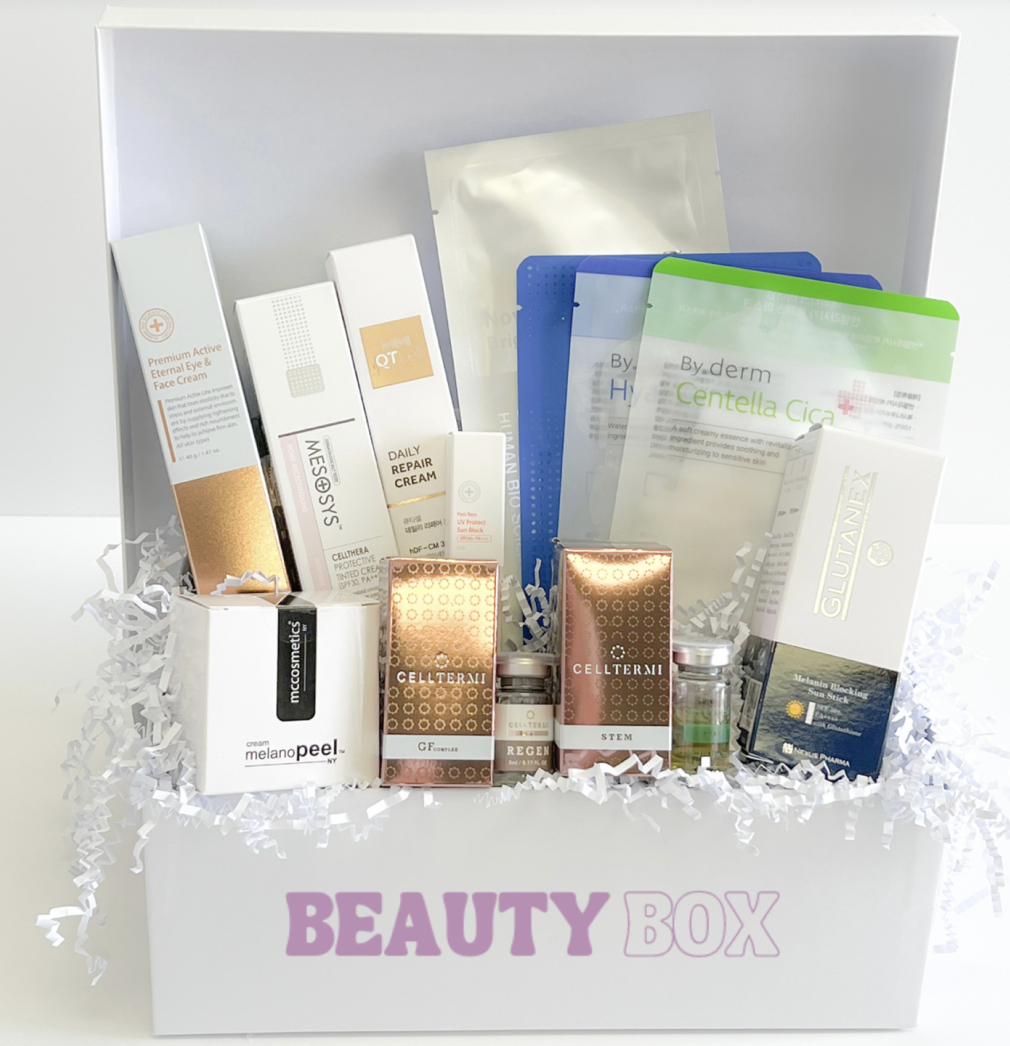 The Deluxe Beauty Box
The Value of this box is over $275 in Products. This box will contain products that the Natural Kaos Community has come to know and love, or products you too will try and love. This box will include goodies like mini samples for you to try. This box is $129 per month with a 12-month subscription.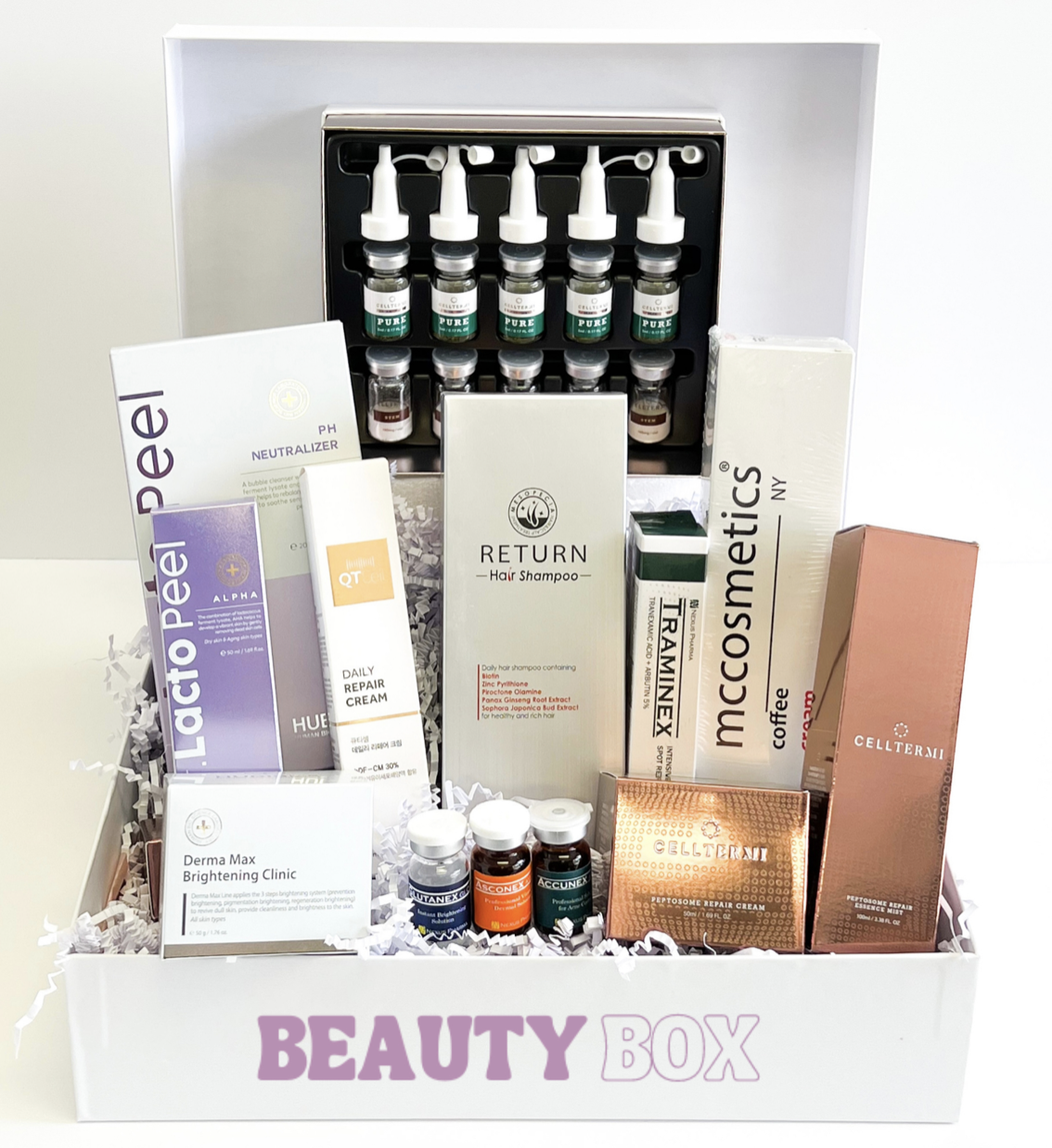 The Premium Beauty Box
The Value of this box is over $400 in products. You will receive the most expensive products from each line, including professional products that are used in medical offices or estheticians' offices. You will receive redemption coupons (extra savings), and new products. This box is $179 per month with a 12-month subscription.
Both the Deluxe and the Premium box will help you achieve your skincare goals. On the Website for DELUXE Or PREMIUM, fill out the form and leave comments or suggestions or even ask questions. Use the telephone number where you can be reached so that you can receive a call to ensure your beauty box will be curated for you. If your needs change you can also ask for a change in the products you will receive for the following months.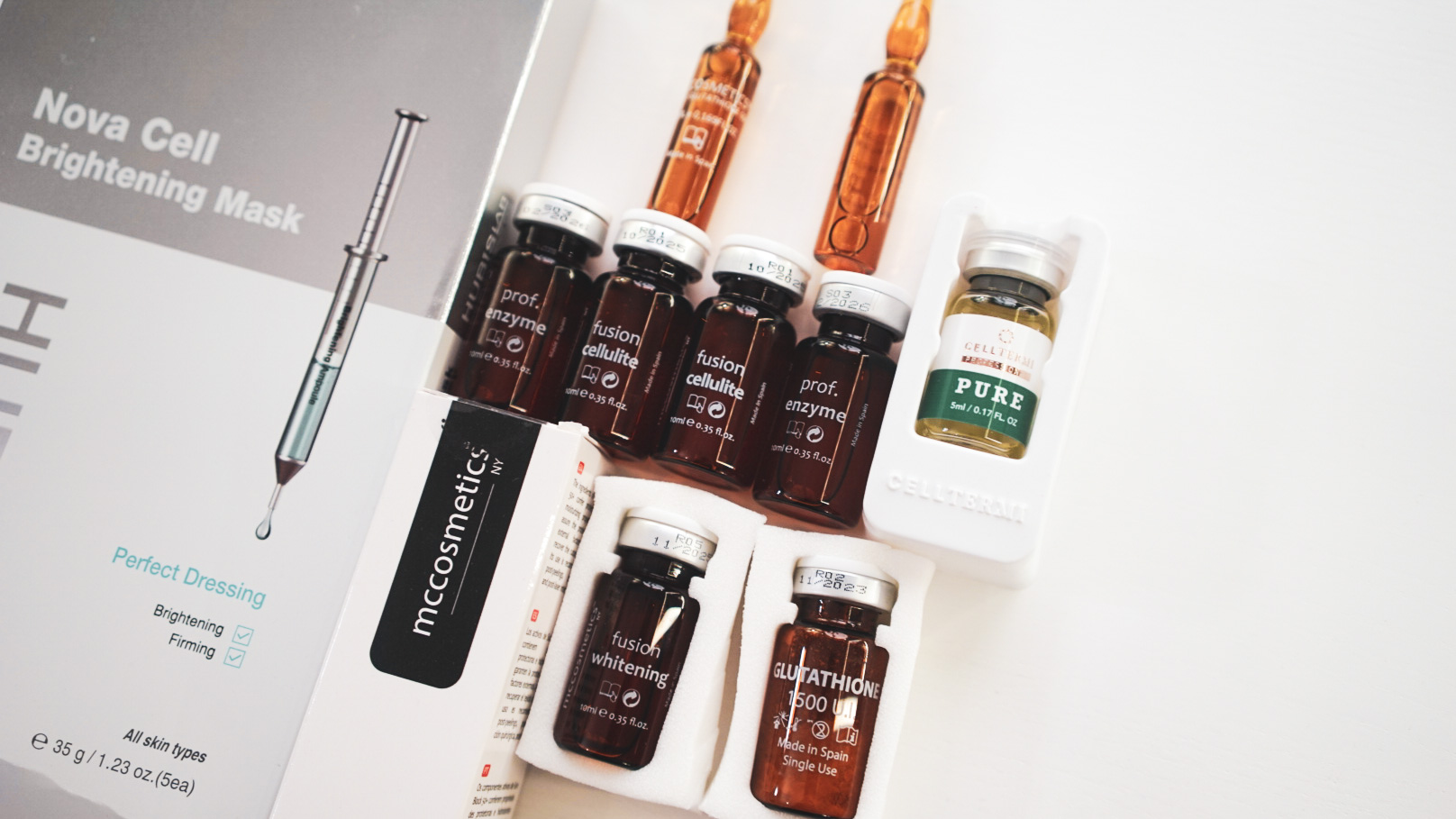 Products in my Box Use Code Kaos10:
HubisLab Nova Cell Brightening Masks
The whitening cocktails are indicated to treat pigmentation. The active ingredients reduce the production of melanin and produce a soft exfoliation in the superficial layers of the skin to eliminate the pigmented cells. They stimulate cell renewal, neutralize the free radicals, improve skin smoothness and reduce the appearance of spots, giving the skin a brighter, glowing look.
Prof. enzyme 1500 U.I. acts as a depolymerizant of glycosaminoglycans. It has a high enzymatic activity and works as a diffuser agent of other ingredients. It actuates directly on the elimination of water retention and on the reduction of the adiposities. It exerts a restructured action on the connective tissue and rebalances the skin affected by a hydrolipodystrophy.
A powerful treatment to fight cellulite and a localized fat. It activates lipolysis drains and reduces skin flaccidity to get the best slimming.
SPF MCCosmetics Out of stock . In stock: Hubis Labs
Celltermi Stem is designed to directly improve wrinkles, skin health and appearance, and nourish healthy hair growth.
Celltermi Pure uses an engineered growth factor formula and specialized whitening ingredients that assist with quick skin activation.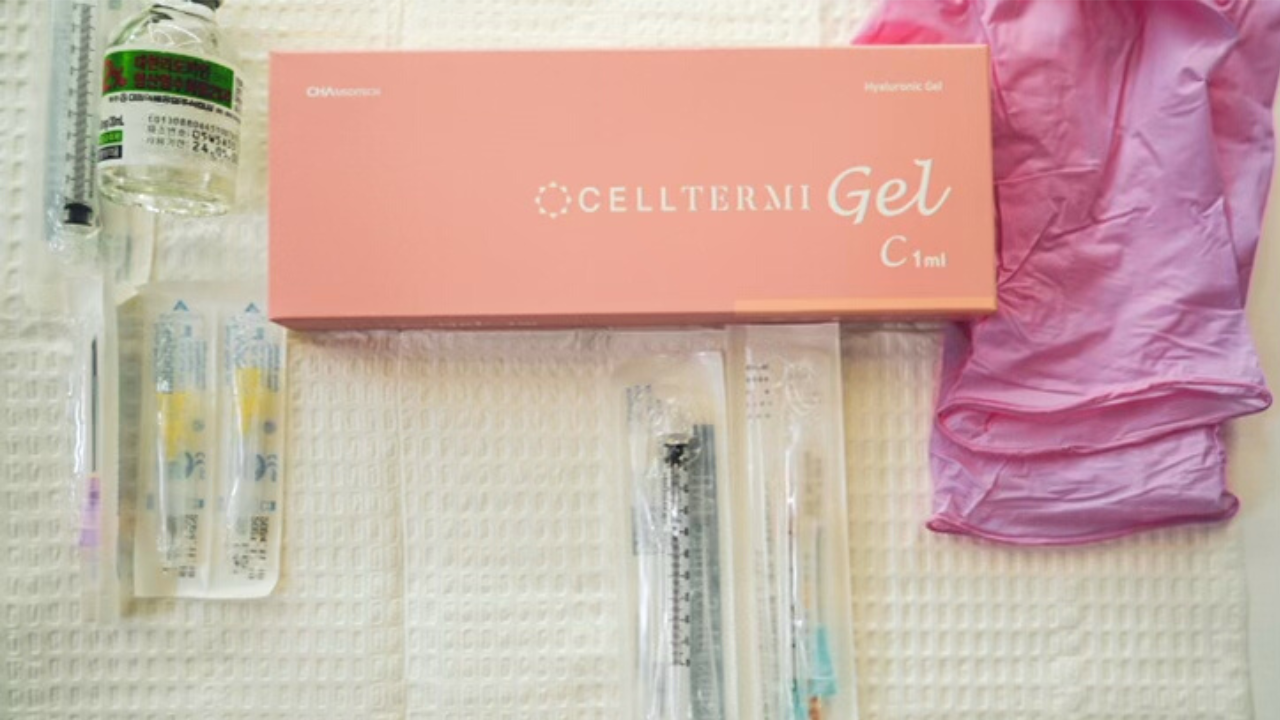 Lip Filler I used CellTermi Gel C for my lips, however before I did that I placed 10 PCL threads in my lips. Celltermi Gel C is a medium crosslink Hyaluronic Acid. I added 1.5 to each side of my lips and down at the bottom to even them out and give me a bit of a pout….
by Kim Pratt | Sep 26, 2022 | FILLER, THREADS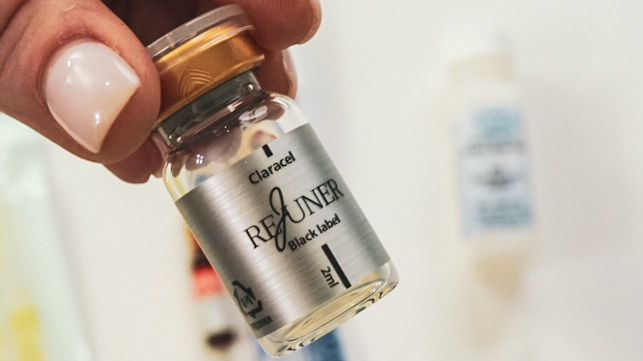 What is Rejuner Black?  Rejuner is well known for its intense collagen stimulation. It is the first particle-free PCL to be made from solid to liquid.  The powerful rejuvenating effect lasts up to over 1-2 years. Rejuner BLACK LABEL  Active ingredient: Particle Free…
by Kim Pratt | Aug 30, 2022 | LIQUID PCL, THREADS
Submit a Comment
Generic Form