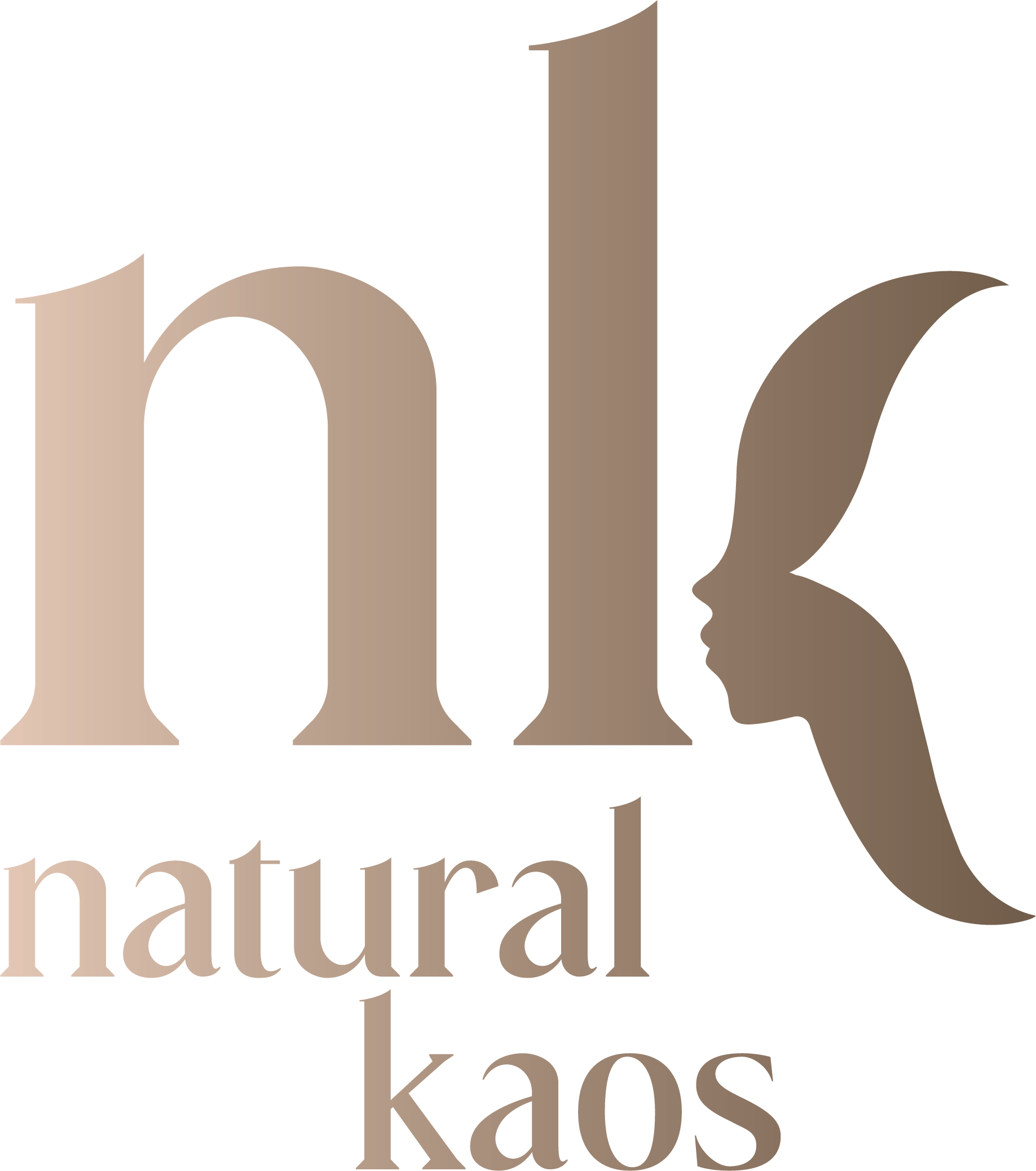 PDO, PLLA and PCL FACIAL THREADS
by Kim Pratt | Apr 21, 2022 | THREADS | 3 comments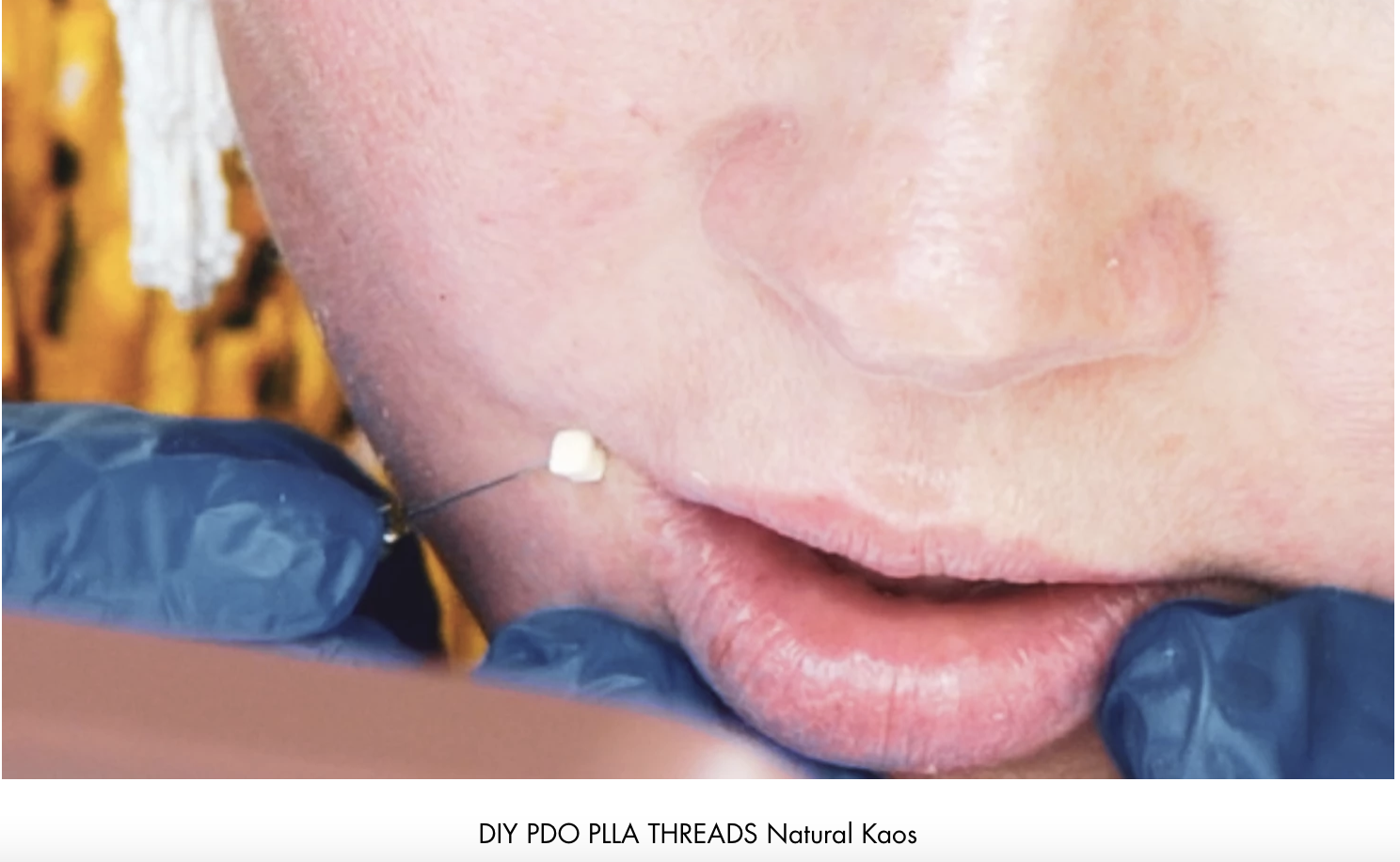 PROFESIONAL VS. DIY
I had PDO & PLLA threads done professionally in Korea during the winter of 2020. Recently, I worked up the nerve to do threads at home on myself; yes DIY threads!
As I've had both experiences I thought I would first answer this question, "Which do I prefer, a professional setting or doing threads myself?"
In my opinion, both have their pros; first, whenever I am thinking about doing a new treatment or procedure on myself I like to have it done professionally. This is why I went straight to the home of threads; KOREA, to have them initially done.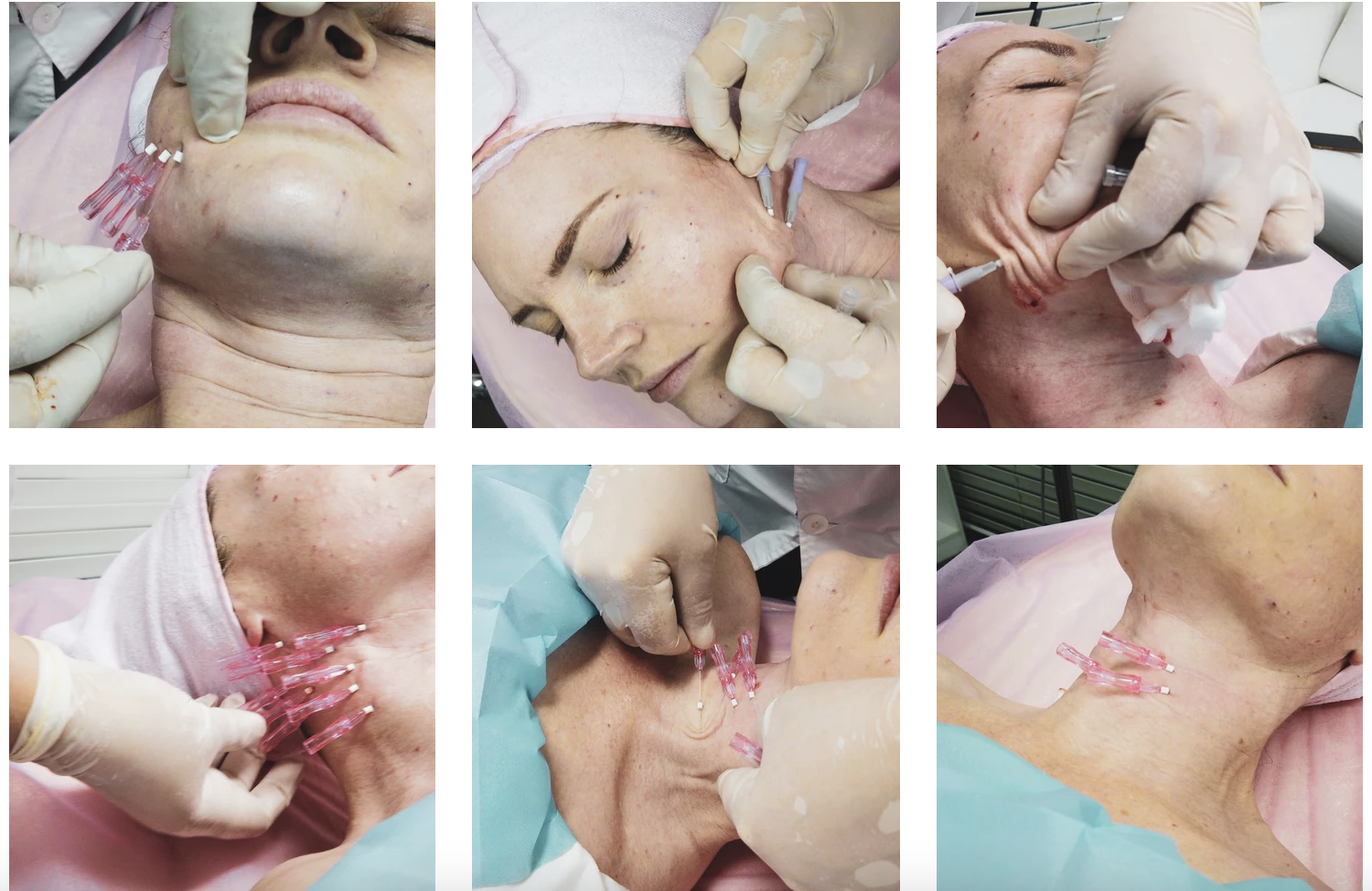 Threads In Korea
In Korea, I had 60 PLLA threads placed on my lower face, around my mouth, and in my neck. I filmed this whole experience and you can see how brutal some professionals can be when they place threads. I was happy with what she did in Seoul, although it was painful at times, and now 7 months out, I can see and feel firmer skin on my side face, and neck skin.
Specifically in this picture; when she threads my skin onto the needle like its curtain fabric over a rode, you can see how thin and loose my skin was nearly 8 months ago. Now my jaw line and side face skin are tremendously firmer, I can still get a little rippling when I push skin together, but nothing like the image below, which in my opinion is proof that these threads did in fact strengthen my skin.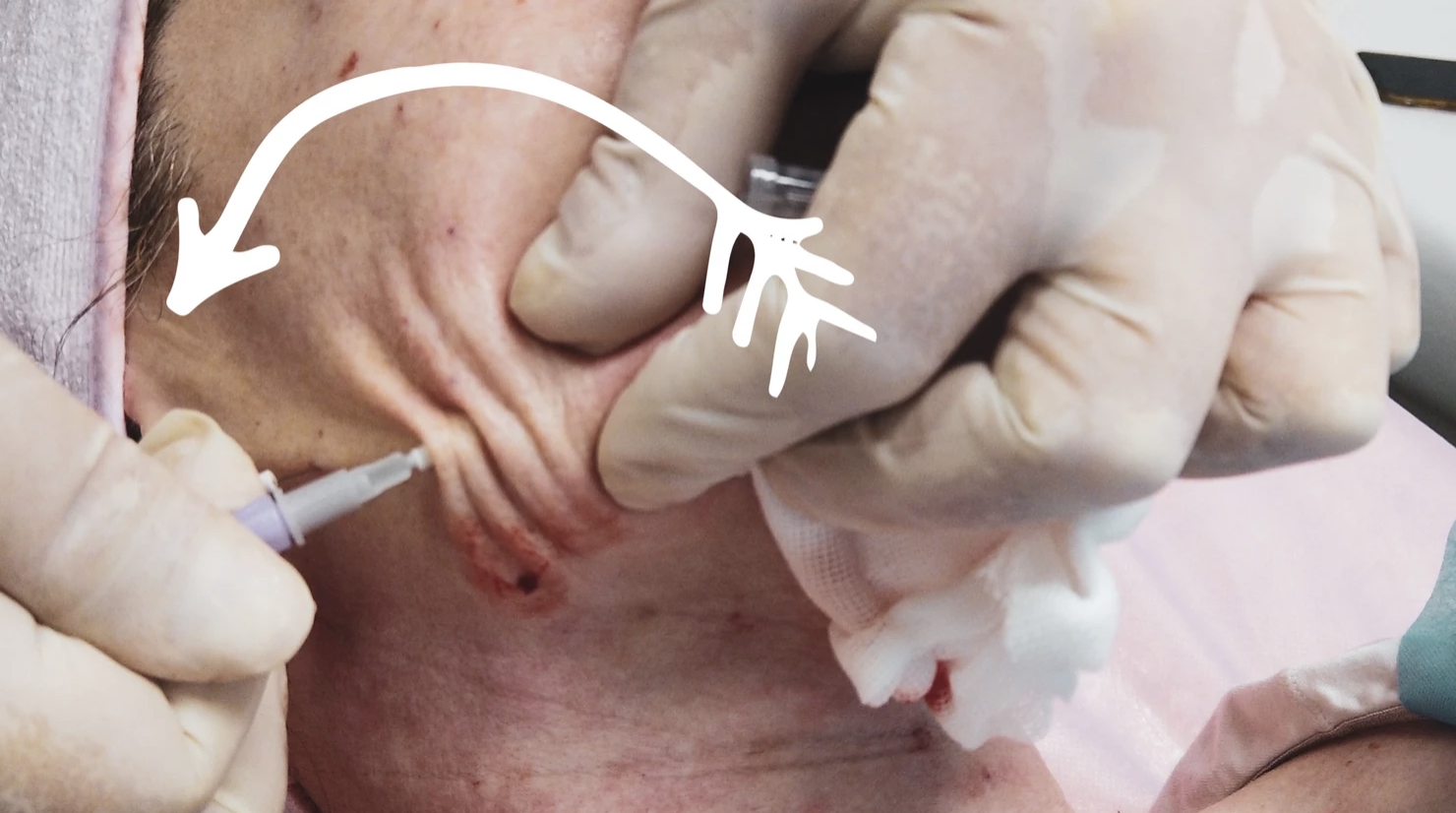 Even after having them done professionally, I still had DIY apprehension. Maybe it was because it was a painful brutal experience in Korea, and I feared I would place a thread and it would get stuck or I would try to push one in and couldn't, I was simply having a hard time taking the DIY Thread leap.
You should never do anything until you are prepared and feel confident. And it's ok if you never feelconfident performing this DIY.
My lack of desire to do my own threads was only furthered by the fact that threads dissolve and build collagen over time, therefore I did not feel a rush to jump into doing my own threads because I knew the ones I had were working, I could literally see my skin tightening and becoming firmer.
I loved the results I was witnessing from my first session of threads and knew I would want more added 6-8 months out; was I going to go back to Korea for this?
No, plus it was COVID, so NO TRAVELING. It's true, I could have made an appointment with a plastic surgeon here in the US to have more threads added, but threads in the US are expensive and more than the cost, I truly thought I could DIY Threads at home on myself, but how was I going to work up the nerve?
I bought a PDO Thread Book from Amazon, I picked up some threads, and basically, I created a plan for how I would do my first DIY Thread procedure.
NON-SURGICAL FACELIFT?
Many people throw out the word "non-surgical facelift", and although, there is some truth to this statement the overall concept needs to be analyzed so that expectations are mitigated.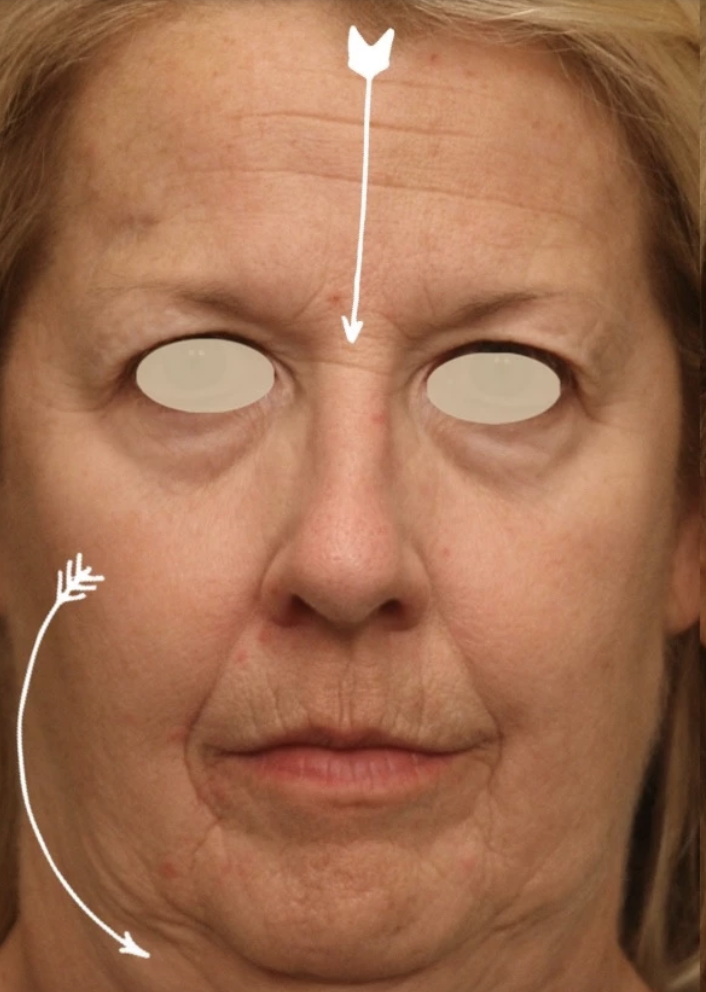 DO YOU NEED THREADS OR A FACELIFT?
If you are a person who truly needs a facelift; meaning you have a tremendous amount of tissue hanging down from your jowls into your neck, your eyes are hooded, impacted by your forehead, and your cheeks are non-existent, you need a true Facelift, one where they cut off this extra skin and suture it up and tight. No amount of threads, be it lifting or skin tightening will give you the results you want and I believe this is the reason inside the US we do not see more threads being used.
In the US, people do not do gradual, they want immediate results. Due to this culture, when women or men in the US start to realize their face has fallen and run to their doctor's office, surgery will be the biggest bang for their buck. This is why doctors in the US prefer to do facelifts. They know their patients are not going to be happy with the minor improvements they will see from threads over time, and because threads are costly, doctors will ultimately recommend a facelift because it is quick, effective for the cost and they know the patient will be immediately satisfied.
In other countries such as Korea, Japan, and Russia, caring for your skin and making minor improvements incrementally in your younger years helps prevent the panic and rush at 48 years old to get a facelift. I believe the common use of threads for anti-aging outside the US makes them more affordable and allows for early prevention of a potential facelift.
Are PDO Threads a replacement for a facelift?
Essentially, they could be if you use them to strengthen and lift your skin before it's too far gone. However, if your face is already dropping please mitigate your expectations, threads can stimulate collagen and some threads can lift tissue, but threads cannot make excess tissue go away, only a scalpel can accomplish skin removal.
WHAT ARE PDO & PLLA THREADS?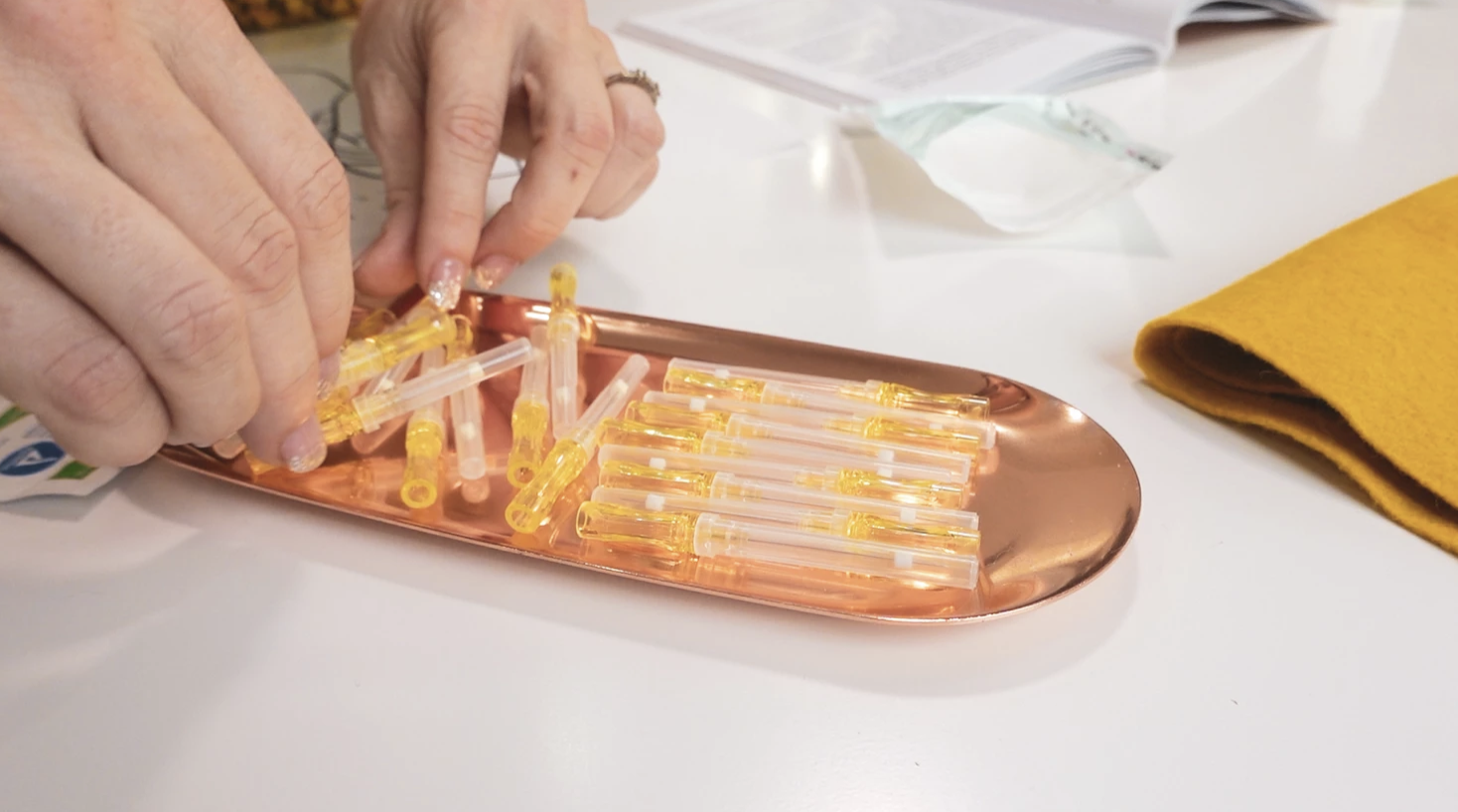 There is a difference in threads, what their purpose is and what they can do for your skin.
Honestly, I did not understand nor know the options in threads. When we went to Korea, I thought we were getting threats that would lift my loose skin. Online, I watched videos of these long barbed threads going into people's faces and bodies, immediately synching up the skin as the thread was pulled up and out. That's all I knew about threads at the time of my first session.
As the doctor analyzed my skin, my mom's skin, and my sister's skin, she said my mom and I would get PLLA threads plus Hyaron Meso injections and that my sister would get PDO threads for lifting. I was confused…I asked, "why?". The doctor said that my mom's and my skin were both thin and loose, we needed collagen induction from PLLA threads to help firm and build our skin. My sister had more tissue in her face and so she was a candidate for the PDO lifting threads.
THREAD TYPES
PDO threads are essentially sutured material that dissolves over time. Although threads are referred too many times as PDO, not all threads are made of PDO material. Threads can come in PDO, PLLA, and PCL materials. Then these materials can come in different formations: SMOOTH, SCREW, and BARBED or COGGED. Barbs and Cogs can vary in direction of the hooks and on how many sides of the thread have barbs or cogs for catching and lifting the skin.
PDO = Polydioxanon
These threads are made of the traditional suture material, polydioxanone, they last roughly 6 months in the skin prior to dissolving and while in place stimulating collagen. This is the material in which the barbed and cog type threads are traditionally made; it's barbs and cogs that pull and lift skin.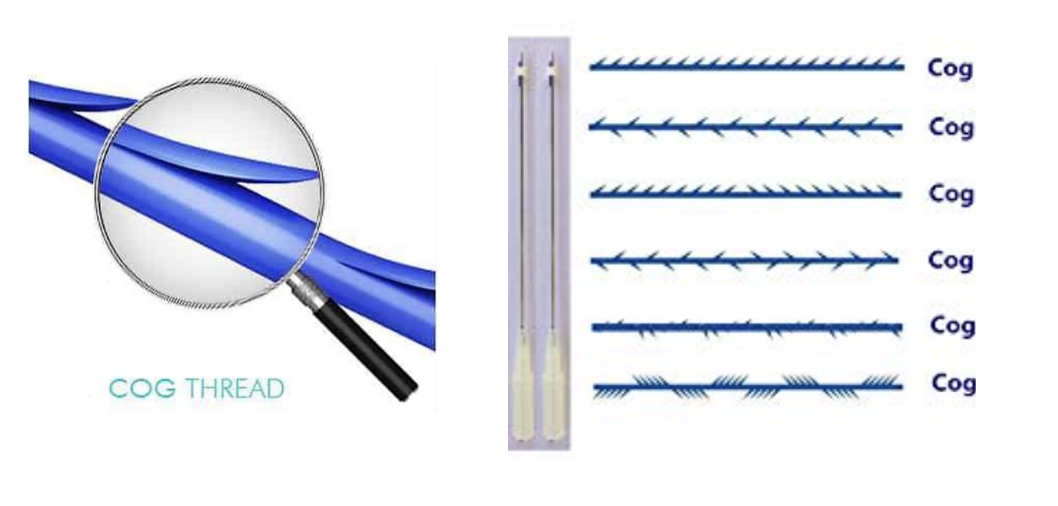 My sister had 3 of these threads placed on each side of her face, starting at the height of her cheekbone and then working down to her jaw before pulling out the needle and pulling up the thread. It was actually incredible to watch her lower face go from looking like a flat U to immediately being pulled up to a V. My sister was the perfect candidate for real impact from lifting PDO threads.
These threads require a bigger needle because the thread is thicker due to its cogs and barbs. These can be painful to insert and typically requires a shot of lidocaine at the incision point. Typically, these types of threads use a cannula (a blunt needle end, rather than a sharp tip), one would use a larger needle for puncture. For instance, if the barbed or cogged thread is on a 21g cannula needle, you will need an 18g puncture needle to make the initial hole, then you would place the end of the PDO cannula in and direct it down. Since these lifting threads are long and need to be guided through lots of skin tissue and shallow vessels, a cannula is a safer approach as it pushes thru the skin rather than cutting. This results in less bruising and overall trauma to the area it is being placed.
SCREW PDO THREADS
Can be made in a coil or screw formation, this helps with volume as they are not flat but rather have dimension. These are ideal to be placed in necklines to help boost the crevice that we all create as we use our necks.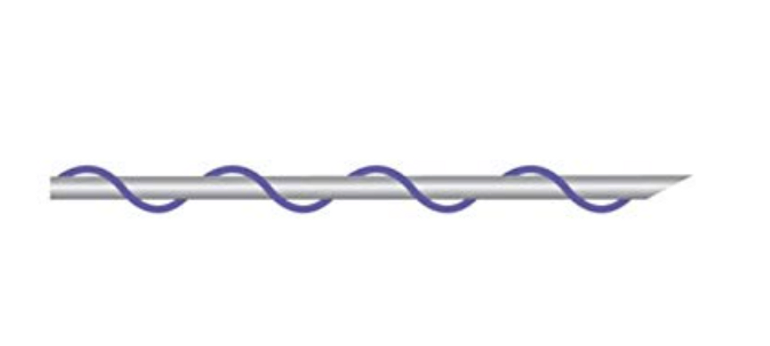 Lastly, I am not sure if this is fact or not, but it appears from my experience and research that all PDO threads are blue in color. Please tell me if you have seen PDO threads in a different color. I share this point because if your skin is extremely fair and thin you may see the blue thread below your skin.
Fillerhouse.com offers these in MONO (smooth), SCREW (smooth but coiled), and COG (lifting), and with code; KAOS20you can save 20%

I also wanted to test a PDO Screw type thread, and I noticed Amazon sells threads, thanks to Bev during an Amazon Live:) So I bought these Ammi threads and I did try them already in my necklines and I did not have much trouble with insertion.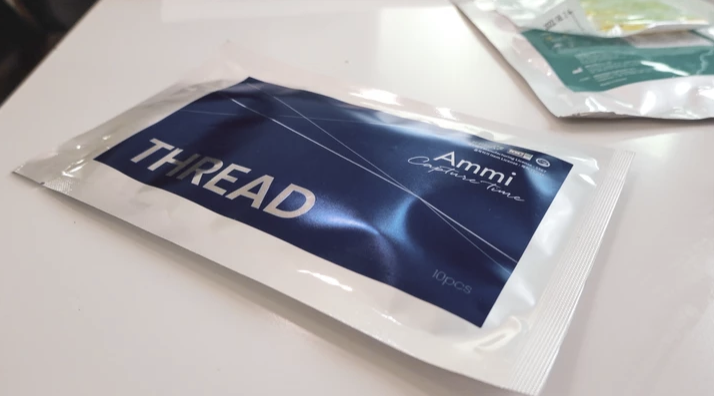 PLLA = Poly-L-Lactic Acid
These are the threads I had done in Korea and recently have done myself. PLLA is another dissolvable suture material and this material can last up to 12 months. This material is more effective at stimulating both Type 1 Collagen and Hyaluronic Acid. Also, if you have ever wanted to try Sculptra but can't get it or don't feel confident, then PLLA threads may be a good option as PLLA is the main ingredient in the injectable skin stimulant, Sculptra.
PLLA can also come in Smooth, Screw and Lifting options. The needle gauge and length can vary in PLLA. In my recent DIY PLLA Video I used PLLA 30g 25mm and PLLA 30g 38mm threads. I used the shorter 25mm around my eyes and mouth. I used the 38mm length under my chin and down my neck.
PCL = Polycaprolactone
These are made of long-lasting absorbable sutures, lasting nearly 18 months. The longer duration of the material translates into more collagen and better support. Unlike the other two thread types, PCL increases both Type 1 and 2-collagen, as well as hyaluronic acid.
Lastly, you might be concerned about vascular occlusions as you may be familiar with filler and some complications that can arise. Threads are not going to occlude a blood vessel so you do not need to worry about that complication. The main concerns with threads are placement, rippling of skin when using lifting, and maintaining clean and sterile technique to avoid any infection.
DIY PLLA THREADS AT HOME
I hope the previous caught you up to speed on threads and where I am at when I decided to make a DIY video of me placing PLLA threads. I had my threads and numbing cream from Filler House.
I have a video on here where I compare 6 different numbing creams and this one was my favorite. I felt like it worked quickly and it helped me feel more secure about placing the threads in my neck and especially around my mouth.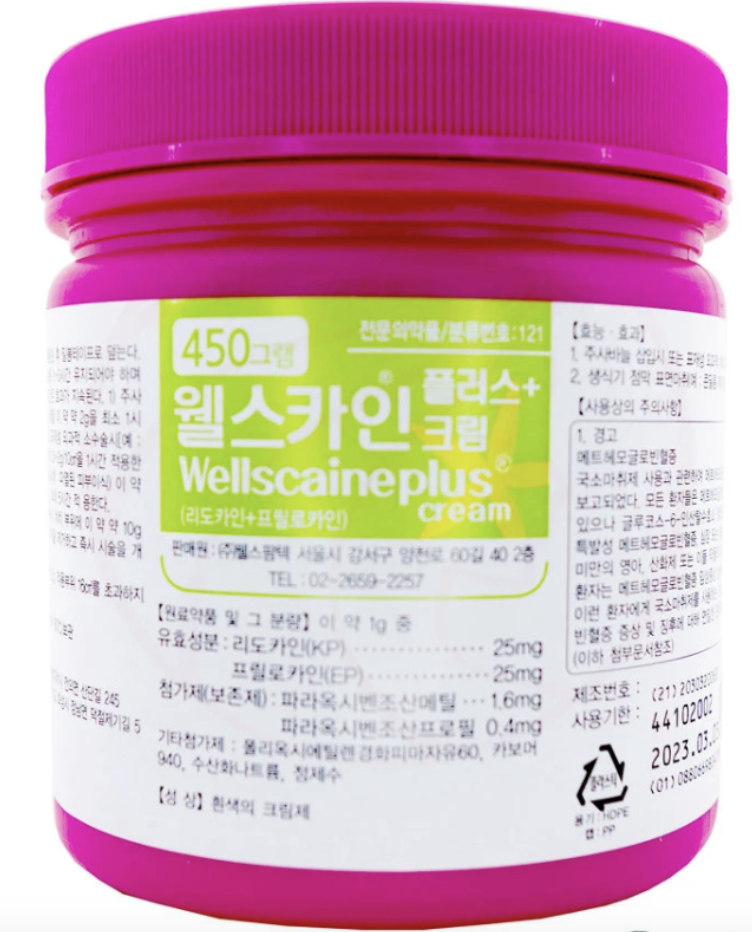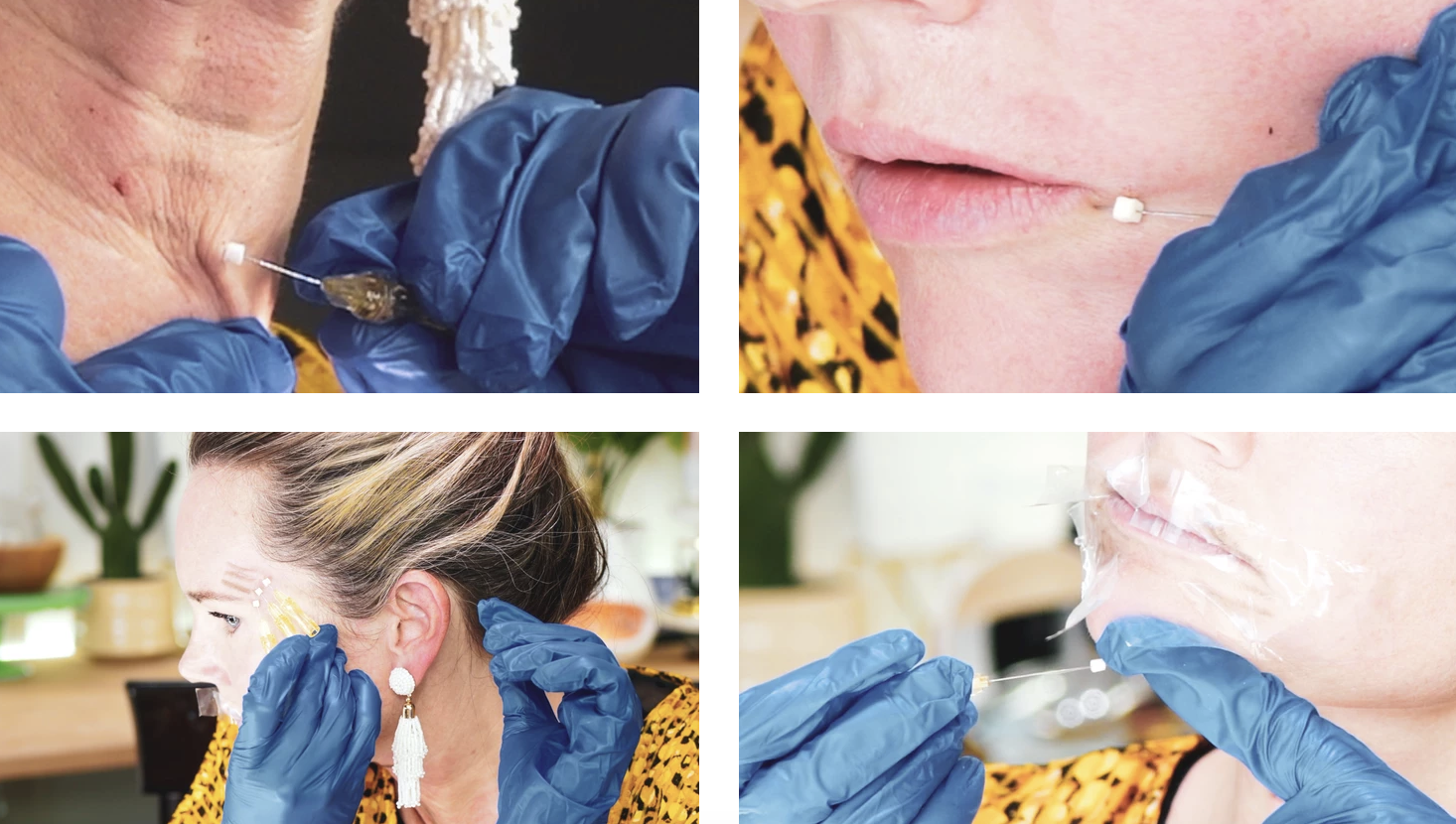 Professional Threads In KOREA
Threads at Home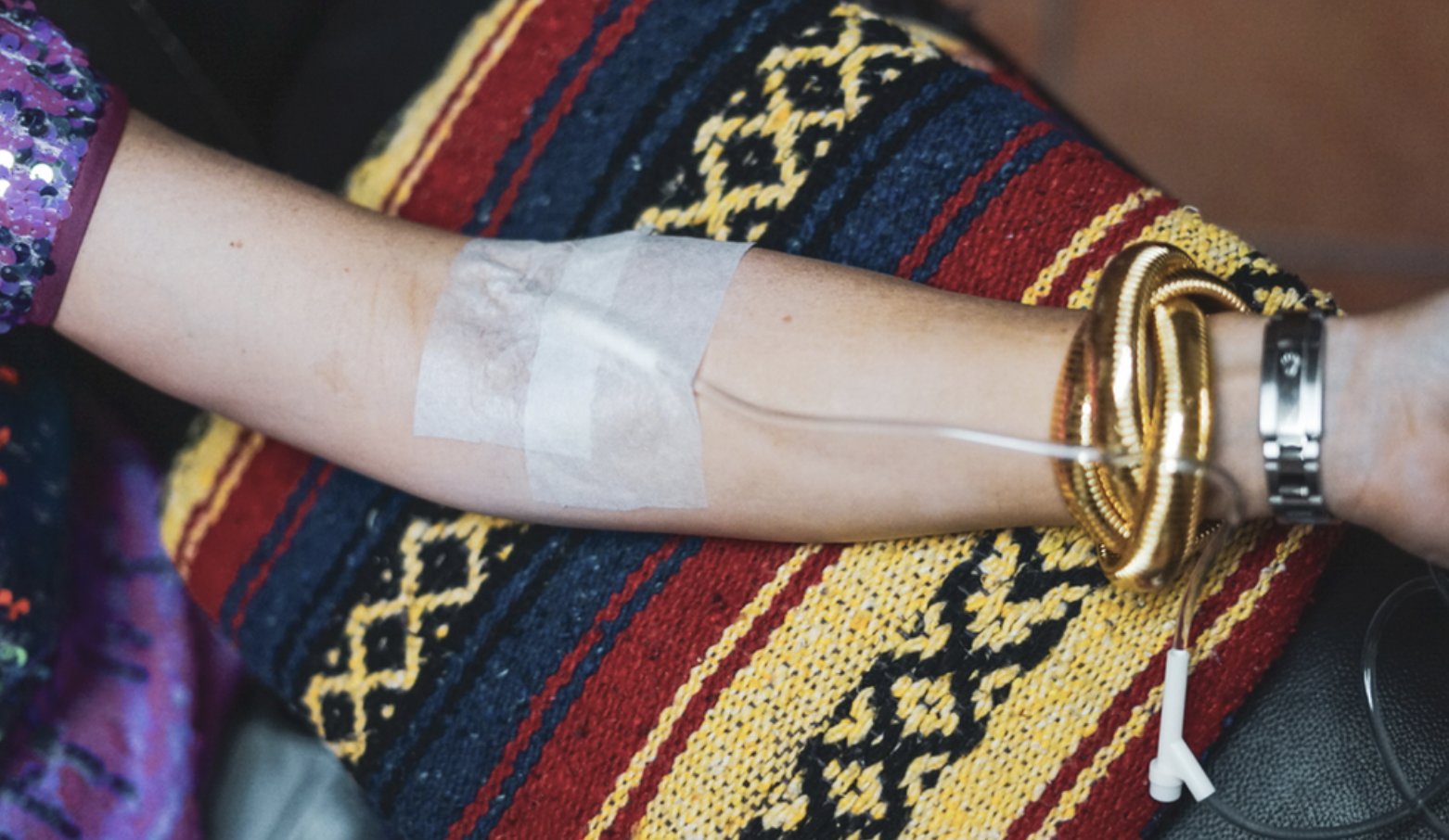 I'm adding the initial blood work that was taken from me before I began Pluripotent Stem Cells (iPSCs) in Mexico in July 2021. There will…
by Kim Pratt | Sep 14, 2021 | Featured, STEM CELLS
3 Comments
Robin
on April 22, 2022 at 10:30 am
Wow ! Kim thankyou this was so interesting. I loved all of it. Don't know if I could ever be brave enough to do it , but I enjoyed it and learned a lot. I swore after I had my lips tattooed I would never let anything around my lips again it was so painful. And with you still having pain with lidocaine shots and I guess just having wellscaine for gone use I do not know how you endured the pain.
Zofia Rebisz
on April 22, 2022 at 8:11 pm
Kim you "opened" my eyes on a lot of the beauty secrets. I watch your videos every night .
Today I'm ordering my treads
REBECCA KRAH
on April 24, 2022 at 7:55 am
Great presentation videos. Thank you Kim.
Submit a Comment
Generic Form