Abdominoplasty, commonly known as a tummy tuck, is a popular plastic surgery procedure. Recovery can take several months, and it's important to give your body time to heal. If you're considering a tummy tuck or are in the recovery process, here are some tips for post-op care to help you get back to your best self.
A tummy tuck is a major surgery that requires time to heal. Most people can return to work and start exercising again 6-8 weeks after the procedure. Factors such as the timeline and type of tummy tuck may affect recovery. It is important to keep these considerations in mind during the post-op recovery phase. Recovery times for a tummy tuck depending on the individual's age, health, post-op care, and type of procedure. Everyone is different, so the amount of time it takes to heal will vary.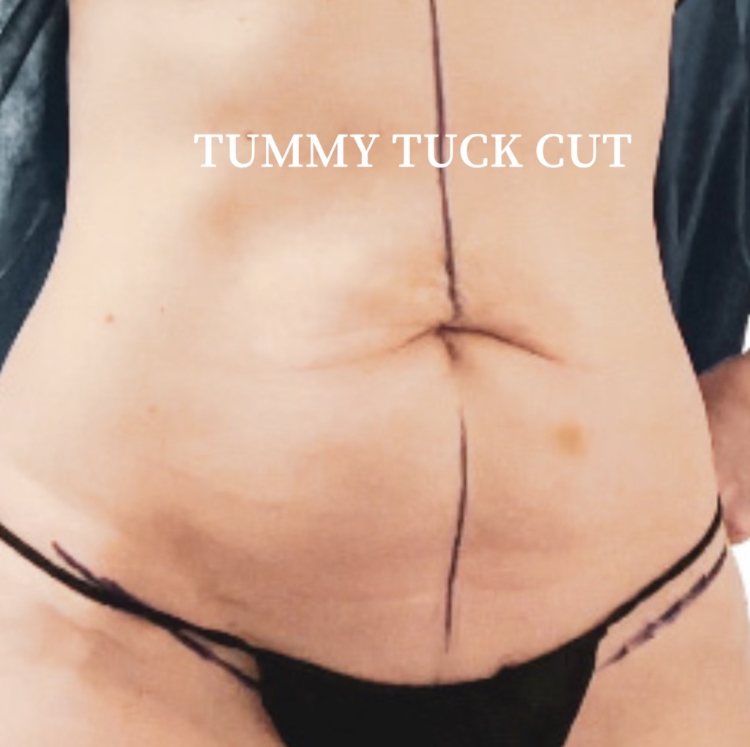 Different Types of Tummy Tucks- Mini or Full Abdominoplasty
The type of tummy tuck you get affects the recovery time. A full abdominoplasty requires a larger incision and repositioning of the belly button, while a mini tummy tuck does not. This means the recovery time for each procedure is different. You will need to rest and heal for a few weeks regardless of the type of tummy tuck you receive. I had a full Abdominoplasty – take note, I also had a breast lift and lipo suction on my legs during my surgery which I will cover in a separate blog.
This Is The Day After Surgery POST OP Feb 15th, 2023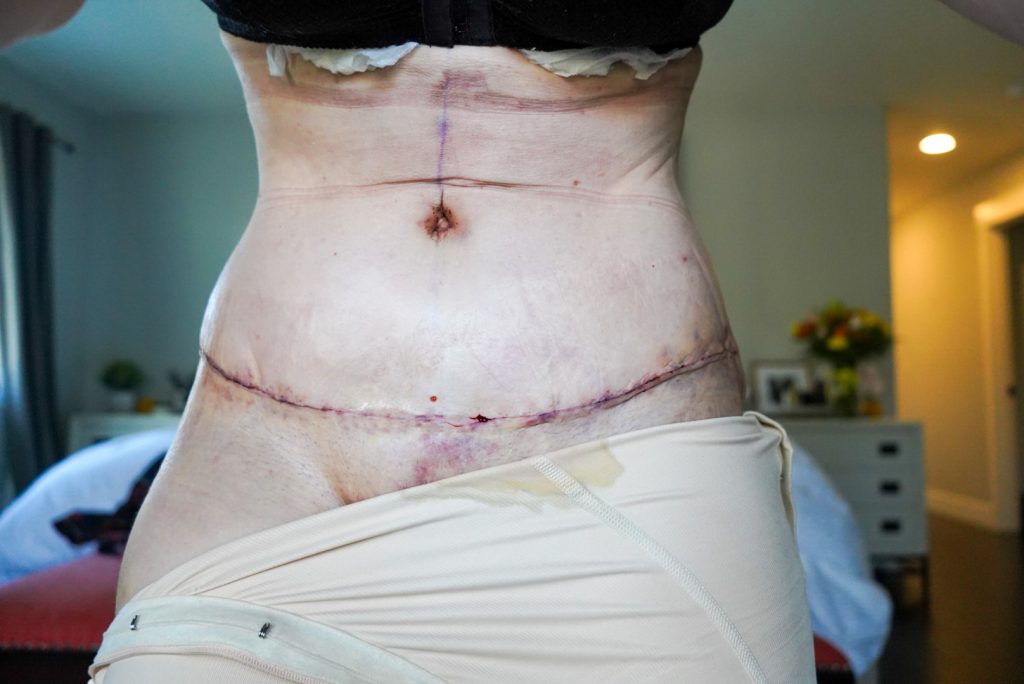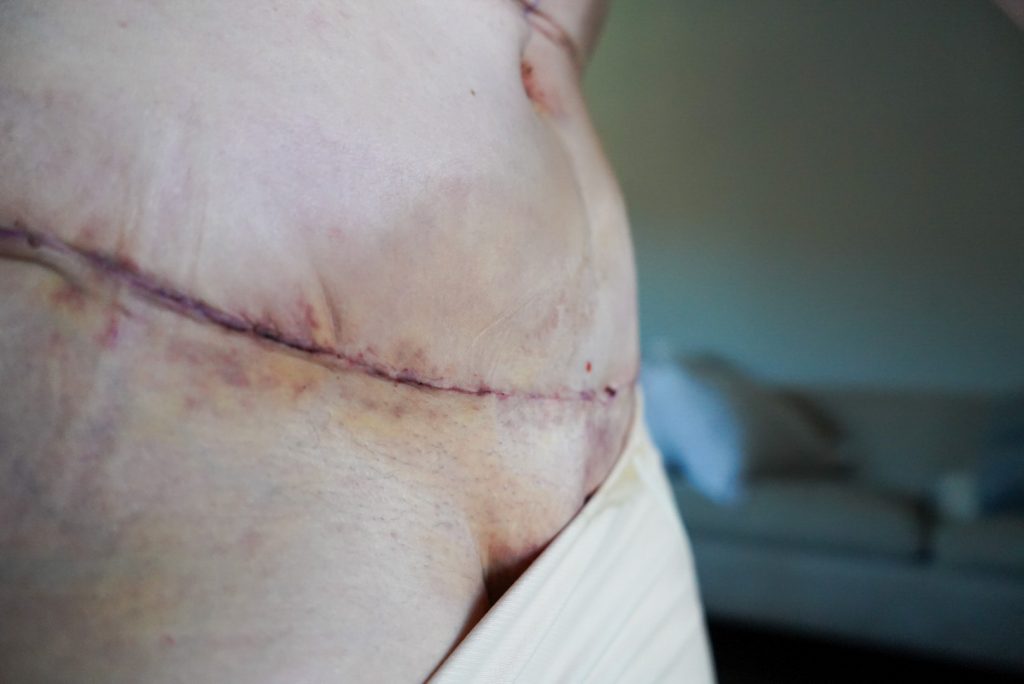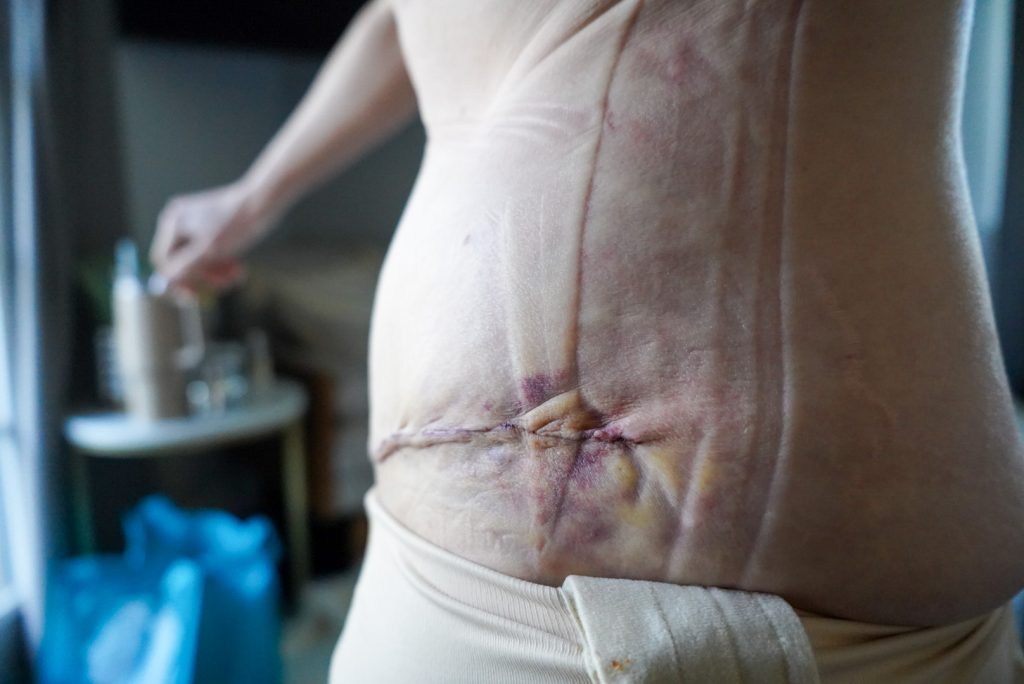 Pain And Expectations
EXPAREL SHOT
EXPAREL is a medication that helps control your pain after surgery so that you can have a good recovery. EXPAREL is not an opioid or narcotic. It works in your body where you had surgery, unlike opioids, which affect the whole body.
During a procedure, the doctor places EXPAREL into the surgical area. EXPAREL contains specially formulated bupivacaine (a type of local anesthetic) that is designed to release into your body over a long period of time for lasting pain relief. Because EXPAREL works over time, you may need fewer doses of other medications, including opioids. In fact, EXPAREL is proven to help patients use fewer opioids as they start their recovery.
After a tummy tuck, it's normal to experience tightness and stiffness in the abdomen, bruising, swelling, redness, skin firmness, hypersensitivity, or a lack of sensitivity. Pain medication may be prescribed if needed. The area may look worse before it gets better, and in rare cases, a loss of sensation in the upper thighs may occur. The incision site may be itchy, but don't scratch it. Scratching can cause the wound to open, leading to a more visible scar and infection. The skin may also look shiny. It's normal for one side of the abdomen to heal differently than the other.
IMPORTANT: CHANGES TO WATCH OUT FOR
It's important to follow your doctor's post-surgical guidelines to reduce the risk of infection. If you experience any of the following symptoms, contact your doctor right away: fever and chills, drainage of pus, foul smelling incisions, excessive redness, and soreness, or a site that is hot to the touch. Talk to your doctor about ways to minimize the risk of infection and improper healing.
Day One Post Op
On the first day after surgery, you may be able to go home. Make sure to arrange for someone to be with you since you won't be able to move much. After the anesthesia wears off, you may feel drowsy and have pain, swelling, itching, tingling, numbness, grogginess, or nausea. I had Jason take care of me and drive me home. It is important that someone can stay with you for at least the first couple of nights. I am so glad Jason was with me and that I had prepped for my surgery beforehand. Jason had to go get nausea suppositories on my first night home. I was vomiting and even though I was prescribed Zofran I could not keep anything down. I recommend crushed ice and bone broth. You can read and watch all about my preparation for surgery below and links to all the products that helped me.
Side Note- Other items I took care of right before surgery are having my lashes touched up, having my nails done, showered, shaved, and dried my hair so it's ready for the next week. My last thing to prepare for my mommy makeover is to pick up my prescriptions from the Pharmacy so they are ready as soon as I arrive home. In the morning when I wake up at 5 am, I will put on my black button-up pajamas, a jacket, slip-on shoes and I will make sure to remove all jewelry and go with a clean moisturized face. All of this is in the Mommy Makeover Preparation blog below.
POST OP TIPS
It's important to take care of yourself the first several nights after your tummy tuck surgery. If you don't have a spouse or significant other to help look for at-home nurse care. Search in your area for that type of temporary care. You will need someone to stay with you to provide assistance with dressing, lifting, and other small tasks. To avoid the risk of tearing your wound, restrict your movements as much as possible and only move when necessary, such as when using the restroom. You won't be able to shower. Don't shower: As much as you may want to shower after your surgery, you won't be able to because your wound may reopen. Instead, you'll have to bathe with a sponge or body wipes and wash your hair with dry shampoo. Have the necessary post-op supplies: Having the necessary tummy tuck post-op supplies on hand is essential to alleviating and managing your pain. This includes gauze pads, ice packs, compression garments, and medication.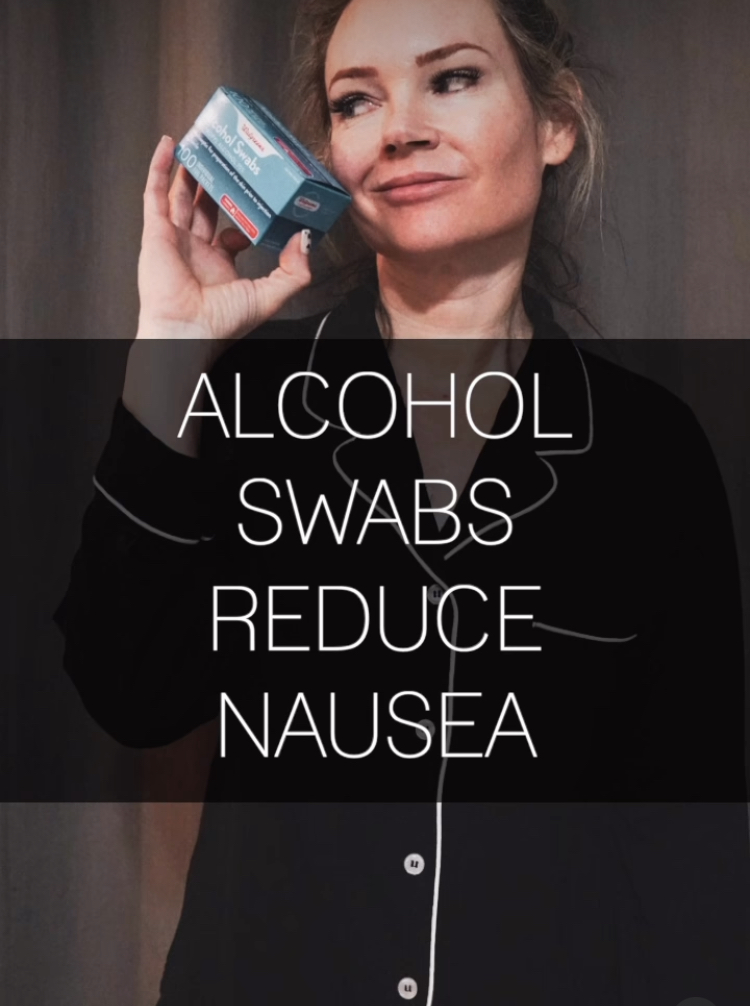 NAUSEA TIP: Alcohol swabs
A trick of the Trade: Isopropyl Alcohol Vapor Inhalation for Nausea and Vomiting. Inhale through through your nose and out their mouth
Isopropyl alcohol has no reported adverse reactions in the adult population as an inhaled vapor
Extremely cheap and readily available
Potential to increase patient satisfaction with "immediate" treatment.
Surgery Drains
After your surgery, your Surgeon or an OR Nurse will place small, thin tubes into your incision to drain any excess fluid. These tubes are connected to small bulbs, which collect the fluid. It is important to clean these bulbs regularly to prevent the fluid from building up. To ensure a successful recovery, it is essential to follow your drain pump instructions carefully, especially in the early days after surgery. Fluid can build up quickly in the early stages of recovery, so make sure to empty the pump whenever it is full and keep track of the amount of fluid each time. I only had one drain and was able to get it removed once the blood was below 25cc's and that happened for me on day five.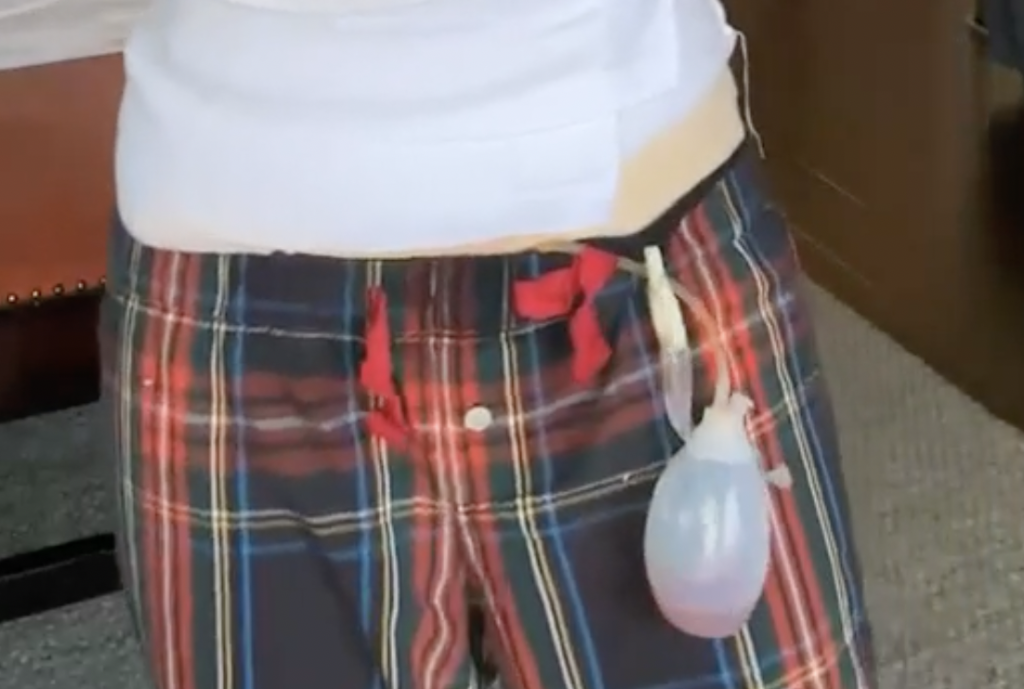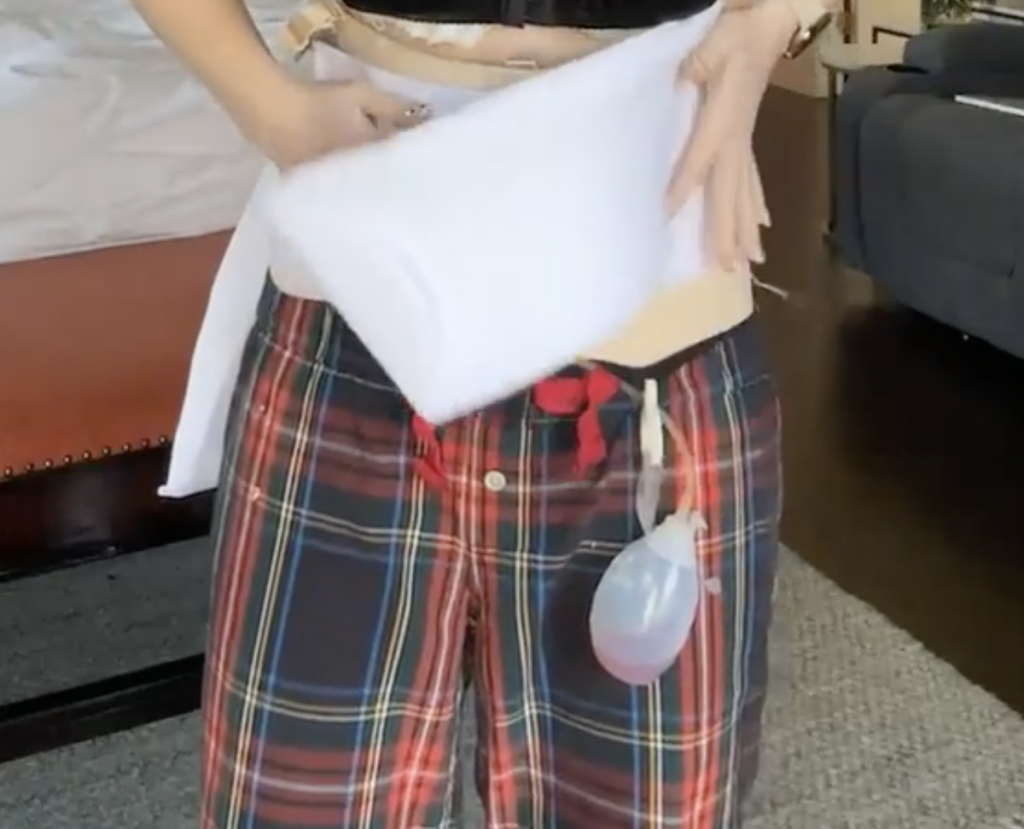 Self Care
It's important to take care of yourself during the first week of recovery after a tummy tuck. Make sure to drink plenty of fluids to reduce swelling and flush out toxins. Wear your compression garment at all times (except when showering) to minimize swelling and maximize the results of your surgery. You might not be able to shower until the drains are removed by a doctor or nurse 5-10 days after your procedure. LINK: SURGERY IDEA LIST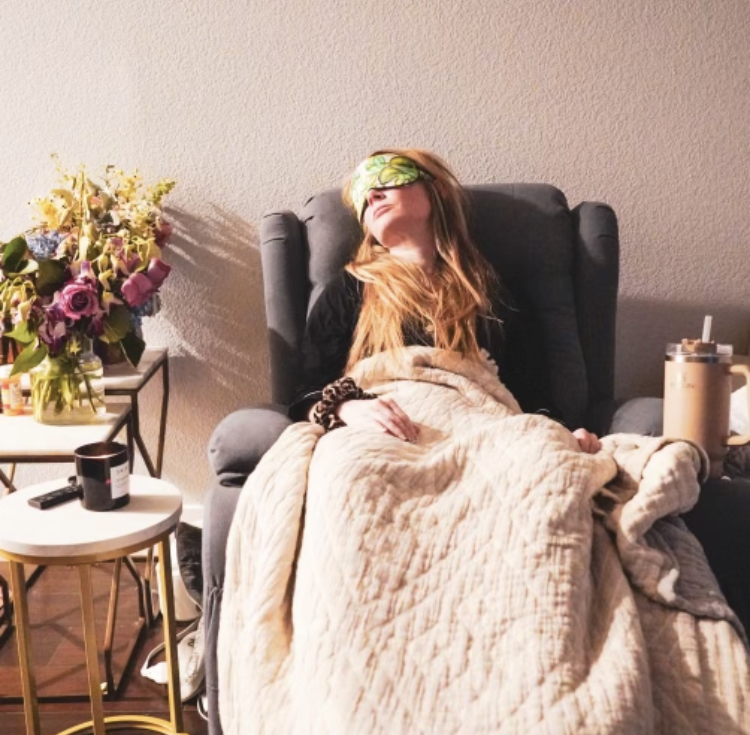 COMPRESSION GARMENTS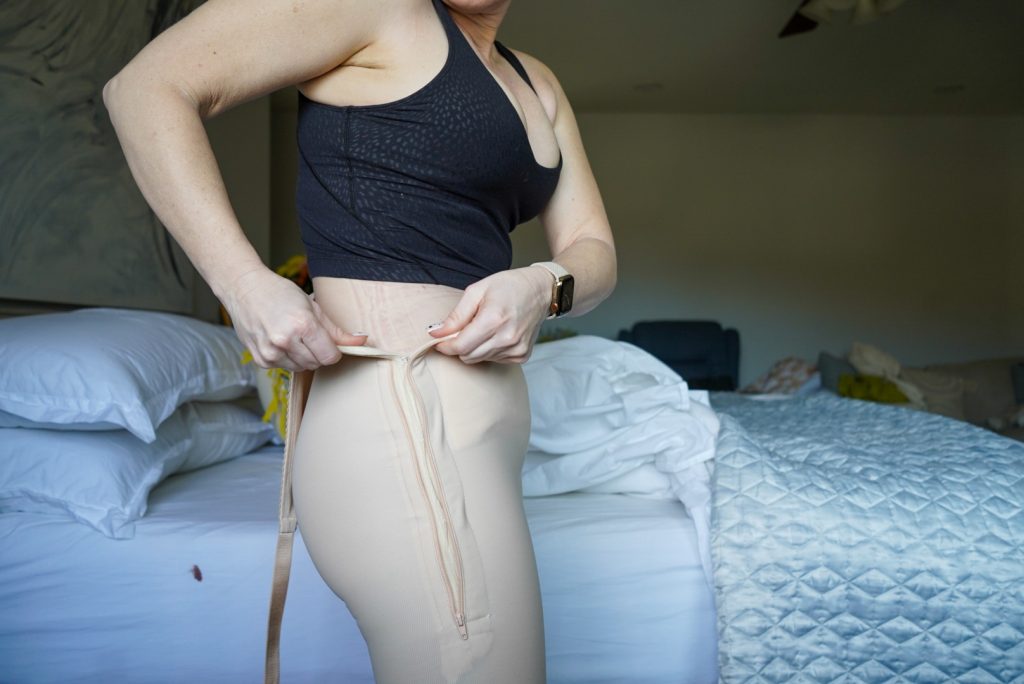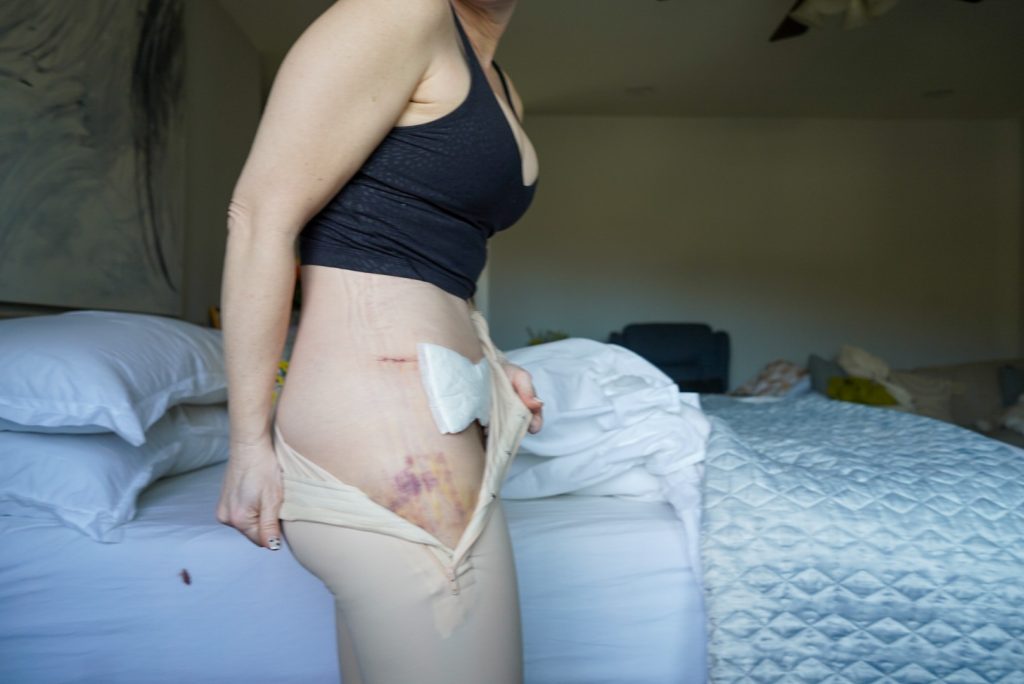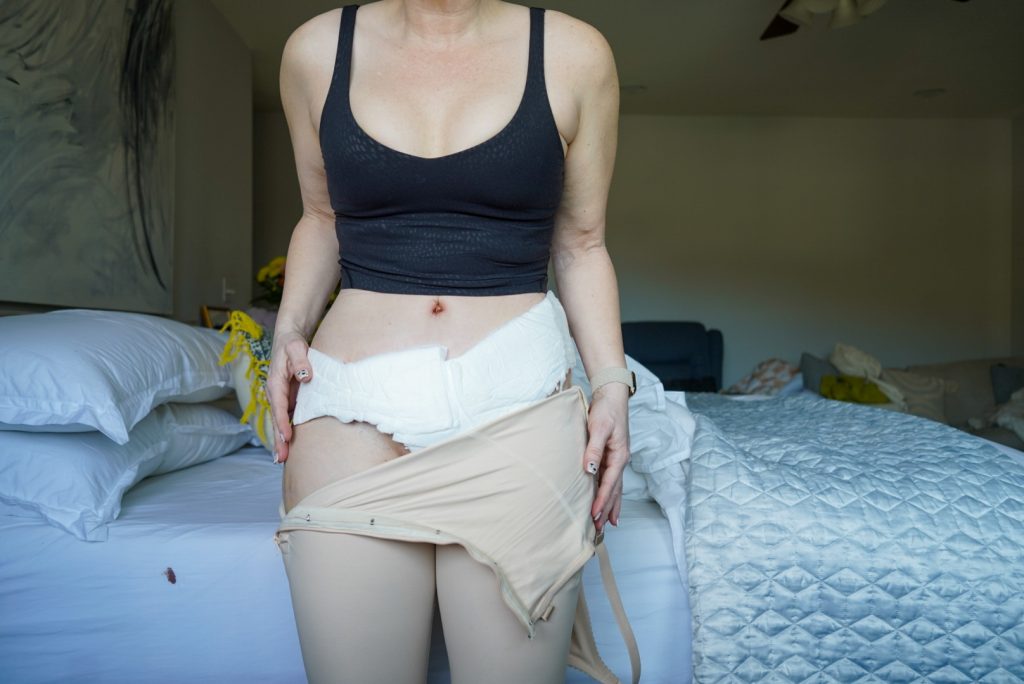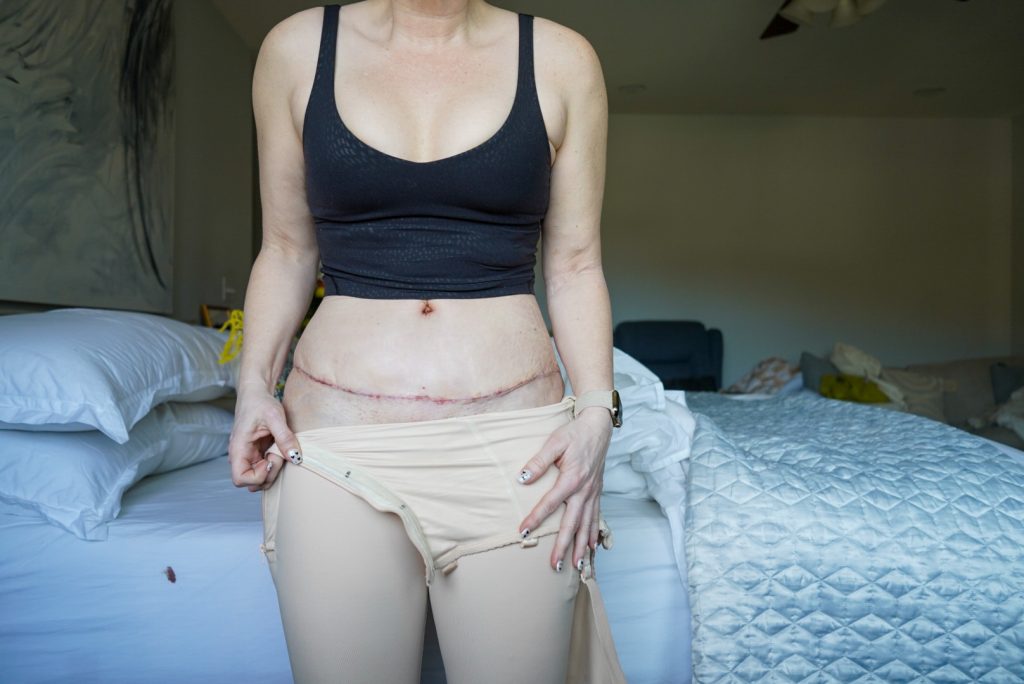 Key Reasons to Use Compression Garments After Tummy Tuck Surgery
I was sent home in a black pair and given a tan pair to wear when one is in the wash. And while these are nearly impossible to get on, or at least that is what it was like for me personally. Here are reasons why you should wear them.
1. Reduces Swelling
A compression garment applies constant pressure on operated tissues, preventing the excessive buildup of fluids. This manages postoperative swelling and reduces the potential for fluid-retention-related problems.
2. Enhances Results
Wearing a compression garment is also crucial for achieving a smoother and more even outcome — essential for optimal abdominoplasty results.
A compression garment holds everything in place, minimizing skin rippling, the formation of bumps, keloid scars, or a wrinkled appearance to the skin. It also helps retain the balanced silhouette created by the procedure.
Compression garments are a great way to shape and maintain your body's new contours so they heal in the correct position.
3. Promotes Faster Healing
Additionally, patients can expect to experience a more pleasant and quicker recovery by wearing a compression garment. By minimizing swelling and ensuring comfort during recovery, patients can get back to living their life sooner after surgery.
Another added benefit is that compression garments reduce the risk of pulling, stretching, or opening the incision, leading to wound separation and, thus, a longer recovery.
4. Less Pain and Discomfort
Compression garments apply gentle pressure on the treated area to reduce pain and discomfort. Great care is taken to ensure that you do not end up with an ill-fitting compression garment that is uncomfortable or leaves permanent indentations.
If you find that your post-surgical garment is uncomfortable, do not hesitate to mention it to your medical care team for adjustments or advice on how to make things a little more pleasant.
SCAR MANAGEMENT
I purchased Embrace Active Defense Scar Tape on Amazon for when it is time for me to start wearing scar tape. LINK: EMBRACE SCAR TAPE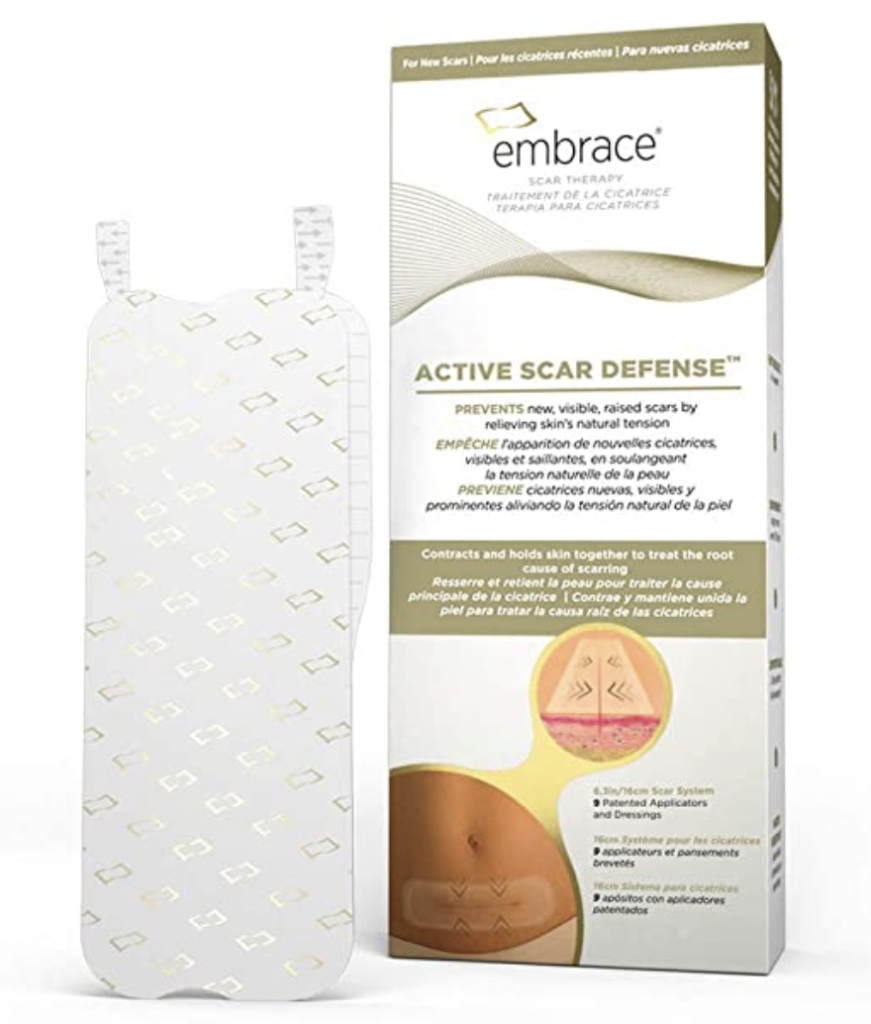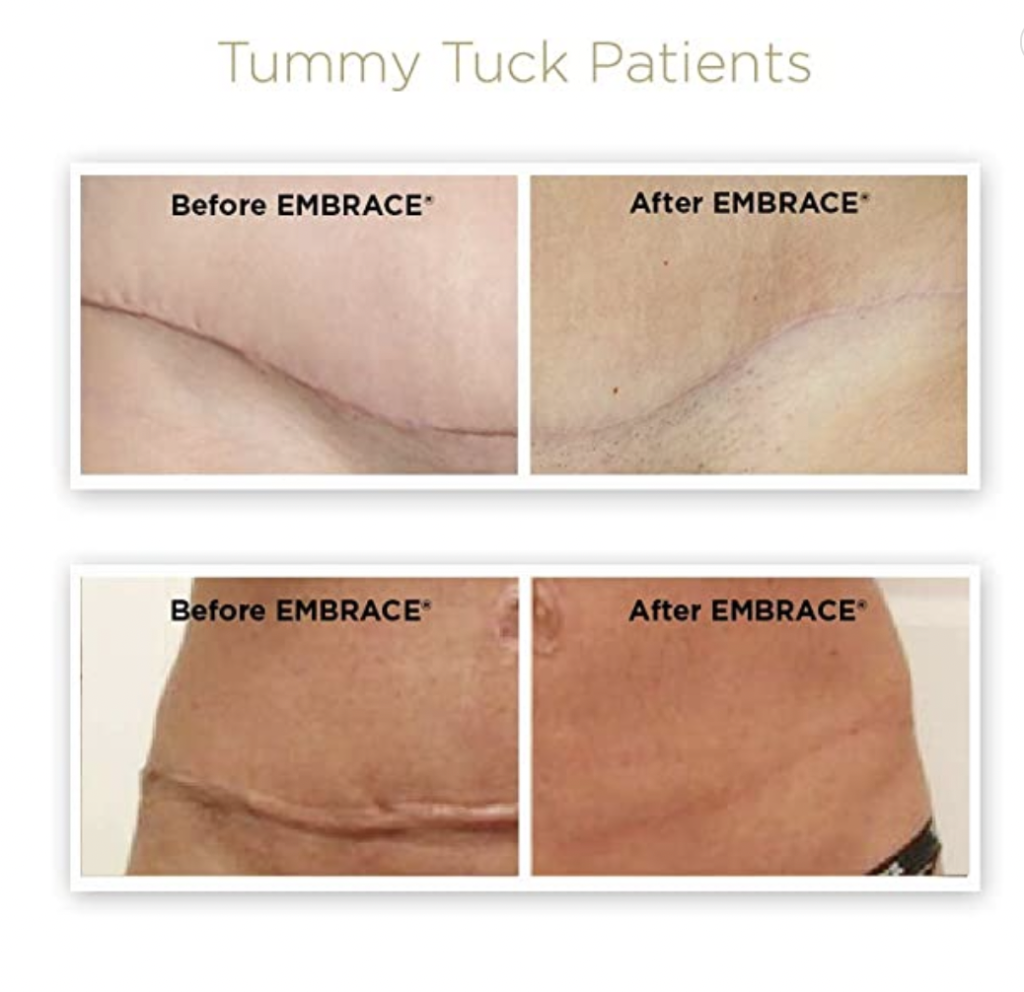 You Can watch All My Daily Updates On My Instagram Under Mommy Makeover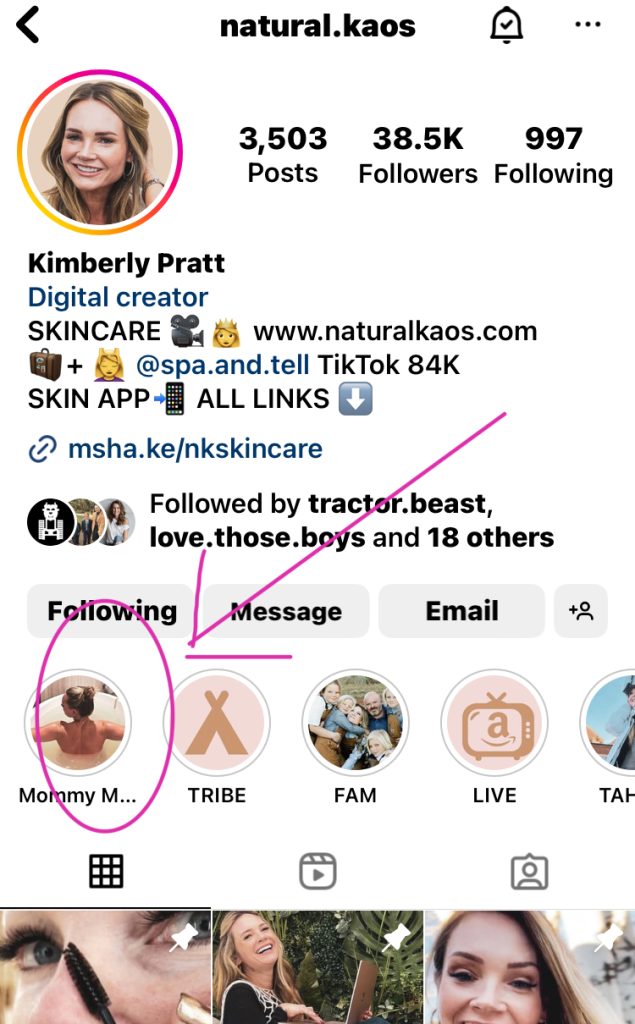 MY Week Two Expectations
After your operation, you can expect your wound to keep getting better during the second week. Don't rush your recovery, and you should start to see your incision healing nicely. You may notice that your pain is lessening, swelling is decreasing, and bruising is beginning to fade. To ensure your recovery continues to progress, make sure to walk around the room at least three times a day, avoiding any strain on your incision. Additionally, keep your compression garment on at all times, except when showering. Get active: Take a few laps around your house each day, being mindful not to put too much pressure on your incision. This will help your lungs expand, your muscles stay active, and your blood flow remains healthy. Stay supported: Wear your compression garment at all times. Be gentle: When you're in the shower, be sure to be gentle when washing around your incision to avoid any irritation.
Week Two Scar
Start treating your tummy tuck scar before it has a chance to form, widen, or thicken. Apply scar tape or topical gel may be okay, however, speak with your Surgeon first. As soon as the incision is closed and dry, usually two to four weeks after surgery, can help you get the best results. The sooner you start, the better!
Here Is A Brief Breakown of What I am Expecting From Week 3 through to the One Year Mark
This is based on talking to my Surgeon and my own Research.
WEEK THREE: At three weeks post-op, many patients have returned to work and stopped taking medication. However, don't rush if you're not ready. Talk to your doctor about what's best for you. You should start to feel better, with less pain, the ability to stand straight, minimal swelling and bruising, and some numbness. Incisions should be healing normally. Follow your doctor's instructions and take care of your body. Wear your compression garment at least half the time, and don't lift anything heavier than a gallon of milk. Listen to your body and don't push it if it's resisting. By now you may be allowed to apply a scar tape or gel, if so, apply every 10 days, and let your skin breathe for 12-24 hours before replacing it.
WEEK FOUR: Week four post-op is a time of recovery and progress. You can start exercising lightly, and return to your normal diet You should also be able to see some of the results of your tummy tuck. Take care of yourself and follow your doctor's instructions for a successful recovery. To return to work, talk to your doctor first. You don't need to wear the compression garment anymore. When exercising, take it slow and don't rush it. Doing too much too soon can undo all the progress you've made. Apply scar removal products to your tummy tuck scarring for the full 60 days to get the best results. Reapply as needed.
2 Month Mark
Two months after your surgery, you should feel much better. You may have little to no side effects, such as pain, healing scars, and minimal swelling. This varies from person to person, but many are able to return to their normal activities. It may take 3-6 months to see the final results, and up to a year for the healing effects of scar care to be complete. Eating a healthy diet and exercising regularly will help you get the best results.
ONE YEAR LATER:
One year after a tummy tuck, you should be able to see the full results of your procedure. Following post-op instructions and using scar treatments scar gel or tape can help you heal faster and get the best results. Take before and after photos to motivate yourself to stay in shape and keep your abdominal muscles lean.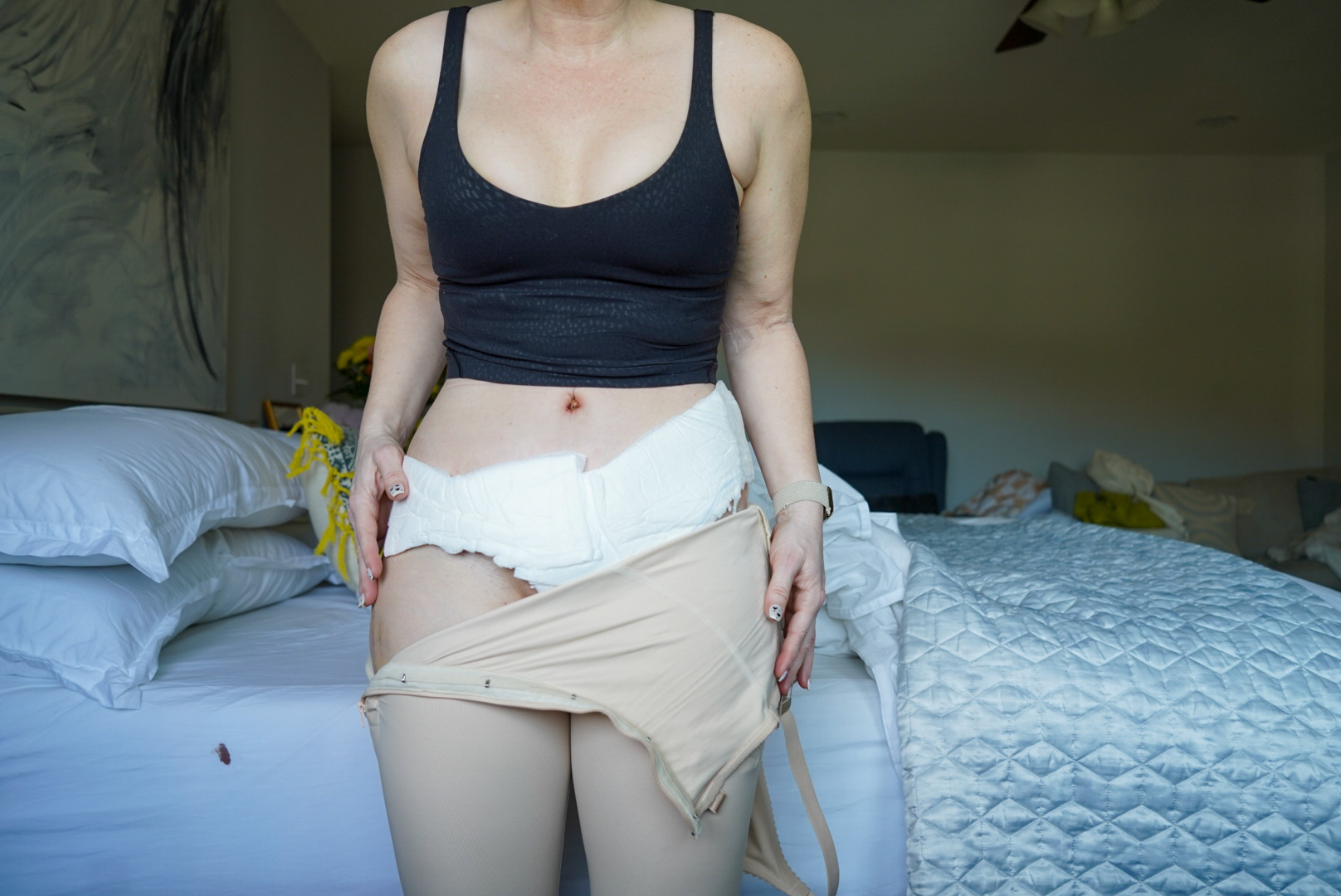 Mommy Makeover Tummy Tuck Feb 2023