The month of May is for Mesotherapy!
In this week's video, I give myself an at-home mesotherapy treatment using Mesosys products, Celltermi Stemcell, and PDRN. In this post, I will answer:
WHAT IS MESOTHERAPY?  WHAT ARE THE PRODUCTS USED?  WHAT IS THE BOHR EFFECT WHAT IS PDRN?
This is the Mesotherapy Protocol I followed
WHAT IS MESOTHERAPY?
Mesotherapy is a term that can include many concepts. Microneedling is a form of mesotherapy. Anytime you inject vitamins, enzymes, hormones, and plant extracts to rejuvenate and tighten skin, it is considered mesotherapy. There are many ways to accomplish this "injection" which I like to think of as embedding these products into your skin. The depth at which they are placed in the skin varies due to the mechanism for embedding.
If you microneedle at 0.5mm then the product you are injecting is being pushed into your skin at that depth.
Here are some examples and options for mesotherapy at home.
WHAT ARE THE PRODUCTS USED?
1-10 STEPS
1. CARBOXY MASK
Mesosys Age Return Carboxy Mask Kit comes with 4 treatments. It is a pre-microneedling mask that helps restore firmness, improve skin tone and blemishes, making skin healthy and radiant. It activates skin and prepares the skin so that skin can absorb effective active ingredients which will be penetrated during microneedling.
NATURAL KAOS PRIVATE APP
SAVE 10% with code: KAOS10
If you are a member of my private app you save 25% OFF
25% Off code is located inside the Natural Kaos App, which is on both Apple and Android.
WHAT IS THE BOHR EFFECT?
This Mesosys Carboxy Mask Kit includes the above gel. The combination of this gel and the dry mask creates an environment for the Bohr Effect. What is the Bohr Effect? The Bohr effect creates an environment of CO2 (carbon dioxide) which causes skin cells to search for O2 (oxygen). This scenario benefits the skin because when a large amount of carbon dioxide is released this forces a spontaneous release of oxygen. This promotes increased metabolism, waste removal, and increased nutrients are supplied to these areas.
After you apply the gel to your face, you add the dry mask on top. Push it in and secure it to the gel. You might feel a little stingy or hear a bubbling noise. This will subside as the mask takes effect. After 5 minutes press the mask again into your skin, this will cause that bubbling noise once again and perhaps a stinging sensation. After 10 minutes remove.
2. WIPE OFF WITH ALCOHOL
Next, wipe your face with alcohol to remove the gel and mask treatment.
3. MIX PURE & STEM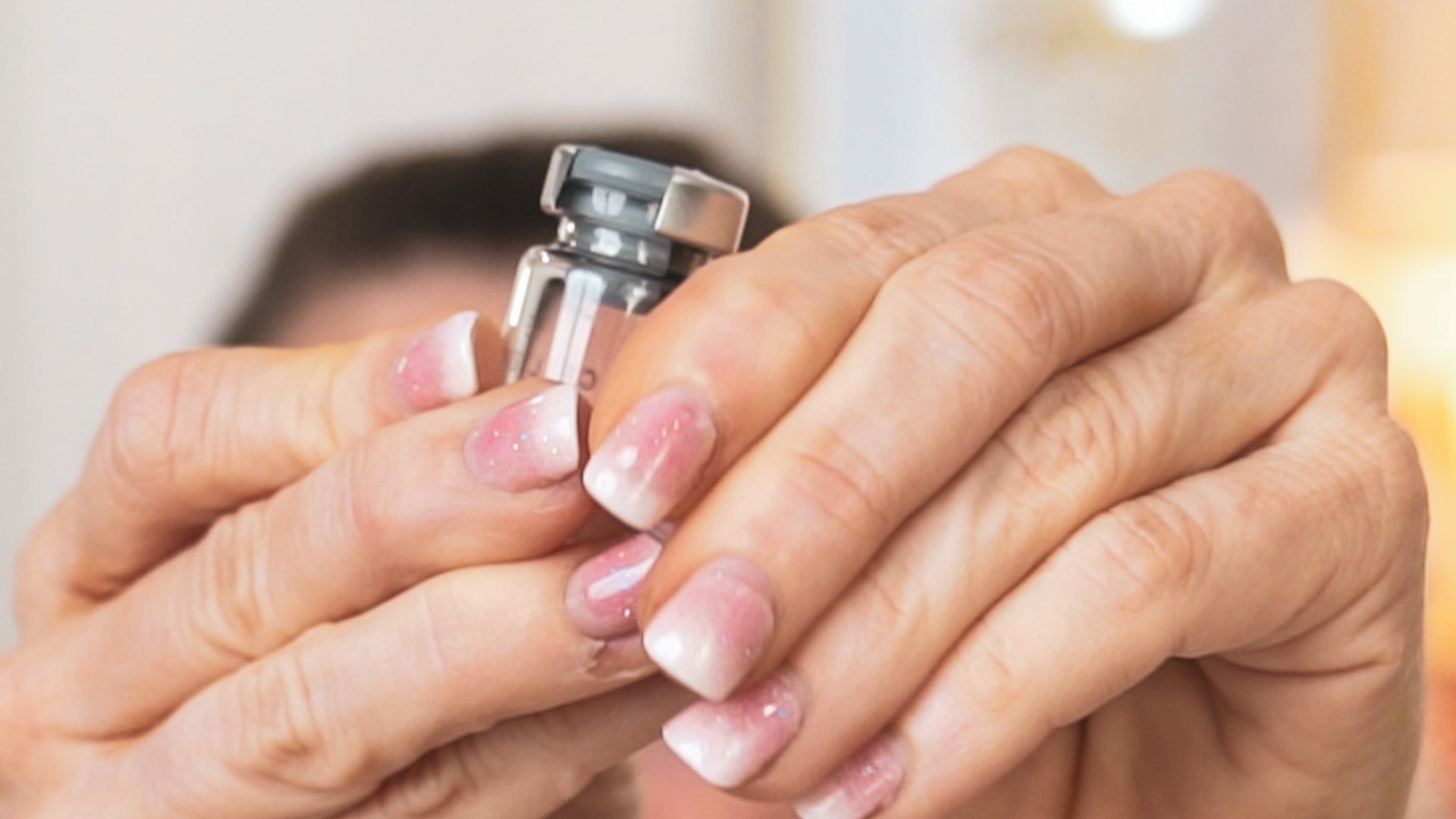 You will need 2 products for this step.
First, you need Cellertmi Stem Cell this is a dry powder and needs to be mixed. Celltermi Stem is designed to directly improve wrinkles, skin health, and appearance, plus nourish healthy hair growth. Although, this product specifies for "topical use only" this is appropriate for mesotherapy and can be used in this application.
Second, you need Celltermi Pure which is the liquid. This product uses an engineered growth factor formula and specialized whitening ingredients that assist with quick skin activation.
These dry and wet vials are combined into an effective liquid that can be micro-needled into your face or scalp for hair growth.
4. APPLY IN SMALL AREAS
After I mix the dry stem and the wet pure together, I pour it into a little dish so that I can easily apply it to my face for microneedling. I really like this ceramic egg dish because you can have multiple mesotherapy options without having a bunch of bowls.
Then spread a layer of stem cell on your face. Using a little brush can be helpful.
5. MICRONEEDLE
During this procedure, I used my Illuma Pen. This is a very high-end and powerful pen for Microneedling and is ideal for people who are licensed to microneedle others. If you are simply doing DIY and you are the only person using your pen, then a Dr. Pen will be extremely suitable.
I just received this new MissMito microneedling pen. The aspect that was most interesting to me about this mesotherapy device is that it not only can be used for Microneedling and Semi-permanent makeup; but that it also has cartridges that pivot and follow the contours of your skin better.
MISSMITO CARTRIDGE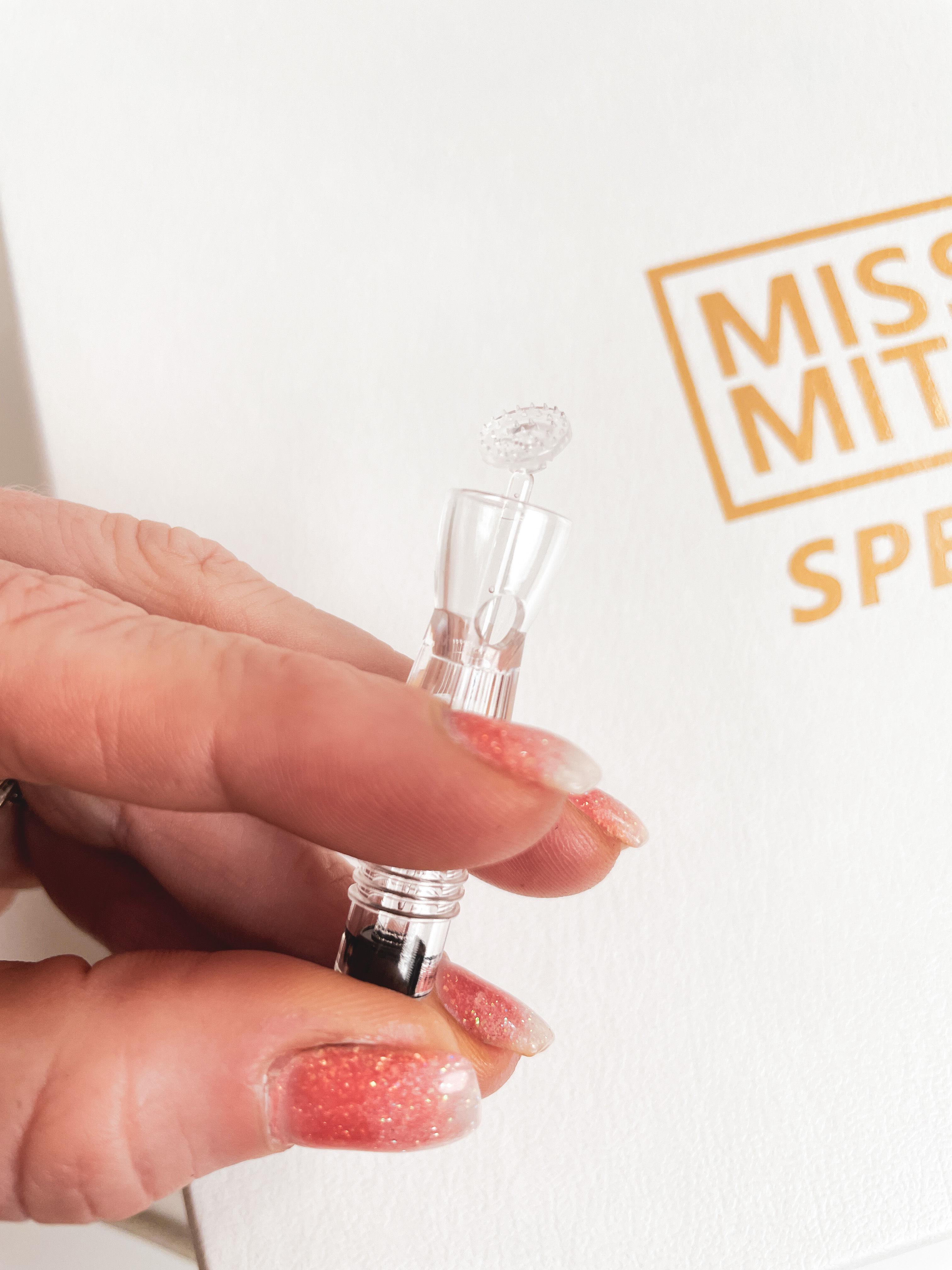 You can read more about microneedling and cartridges here
6. RE-APPLY TO AREAS
7. CONTINUE TO ADD & MN IN SMALL AREAS
8. ADD EXTRA STEM
When you sufficiently micro-needled your face you might have some stem leftover. Simply take the rest and pat it into your skin, it will seep in.
9. ADD VITEN PN
WHAT IS PDRN?
Vitten PN is derived from salmon sperm DNA which is nearly the same as human DNA. Salmon Sperm DNA is aka PDRN. You may be familiar with the more popular brand Rejuran or
PN is an effective treatment for tissue damage, encourages cell proliferation, extracellular matrix formation, and restoration of blood vessels.
Moisture & Elasticity
Anti-fine lines and wrinkles
Improvement of skin barrier function
Rejuvenation & improvement of skin tone and texture
Many products on the Beauty From Korea site will specify "not for injection" or "only for topical". This is because these products are stocked and sold in the US. To comply with the US FDA and US customs authorities these stipulations are made, however, these products are approved for injection outside of the US, and are KFDA approved; the Korean safety organization.
SAVE10% with code: KAOS10
If you are a member of my private app you save 25% OFF
25% Off code is located inside the Natural Kaos App, which is on both Apple and Android.
In my video, I show you that after I'm done microneedling, I add the Vitten PN without a needle tip straight onto my face and let this Salmon Sperm seep into my face. I let this absorb for a few minutes.
10. RED LIGHT THERAPY
Last, I give myself 10-30 minutes of Red Light Therapy. My time varies based on my own time constraints, however, if you have 30 minutes take a nap, turn on your favorite podcast and or audiobook and enjoy. You can also use KAOS10 to save 10% off at https://www.micropigmentationcentreusa.com ,NKT App members can save 25%
If you don't have a light tunnel, don't worry. Just let the Vitten PN absorb in for 10 minutes and then put on your Red Light mask.
If you don't have a Red Light Mask or LED Light Tunnel here are some options:
After your LED treatment this Mesotherapy protocol is complete. You can add a sheet mask after this if you want to seal the deal with additional moisture.
Here is a list of items I use when I microneedle.
MESOTHERAPY SUPPLIES
SCHEDULE: WEEK 5/3-5/9
MON 5/3
Mesotherapy Mesosys BLOG (you're here:)
TUE 5/4
WED 5/5
YOUTUBE PREMIER 8:15 am PST
MESOTHERAPY Skin Rejuvenation: CARBOXY Mask, Microneedling, STEM Cell & PDRN
THU 5/6
THROW-BACK THURSDAY VIDEO
My Youtube channel is filled with videos, on Thursdays, I feature one that you never saw.
FRI 5/7
FOLLOW FRIDAY
Make sure we are connected across the internet:)
SAT 5/8
If you are subscribed to this blog, then on Saturday afternoons the NKT Newsletter will appear in your email inbox. This will be a quick 1 pager that recaps the past week.
SUN 5/9
Did you catch this BLOG Post?
I hope these topics interest you, feel free to add helpful insight in the comments and I wish you a great week.
Kim xoxo