ADVENT CALENDARS
Beauty advent calendars and beauty gift sets make for ideal gifts as they offer a curated and delightful experience for the recipient. These thoughtfully crafted collections provide a variety of beauty treasures, allowing the recipient to explore and enjoy an assortment of products, from skincare essentials to makeup must-haves. Beauty advent calendars, with their daily surprises, add an element of excitement and anticipation, making the countdown to special occasions truly magical. The carefully selected items in these sets also offer a fantastic opportunity for the recipient to discover new favorites, enhancing their beauty routine. In essence, beauty advent calendars and gift sets not only convey thoughtfulness but also deliver a daily dose of joy and pampering, making them the perfect gesture for those who appreciate a touch of luxury in their self-care rituals. * ALL PRODUCTS HYPERLINKED IN BLUE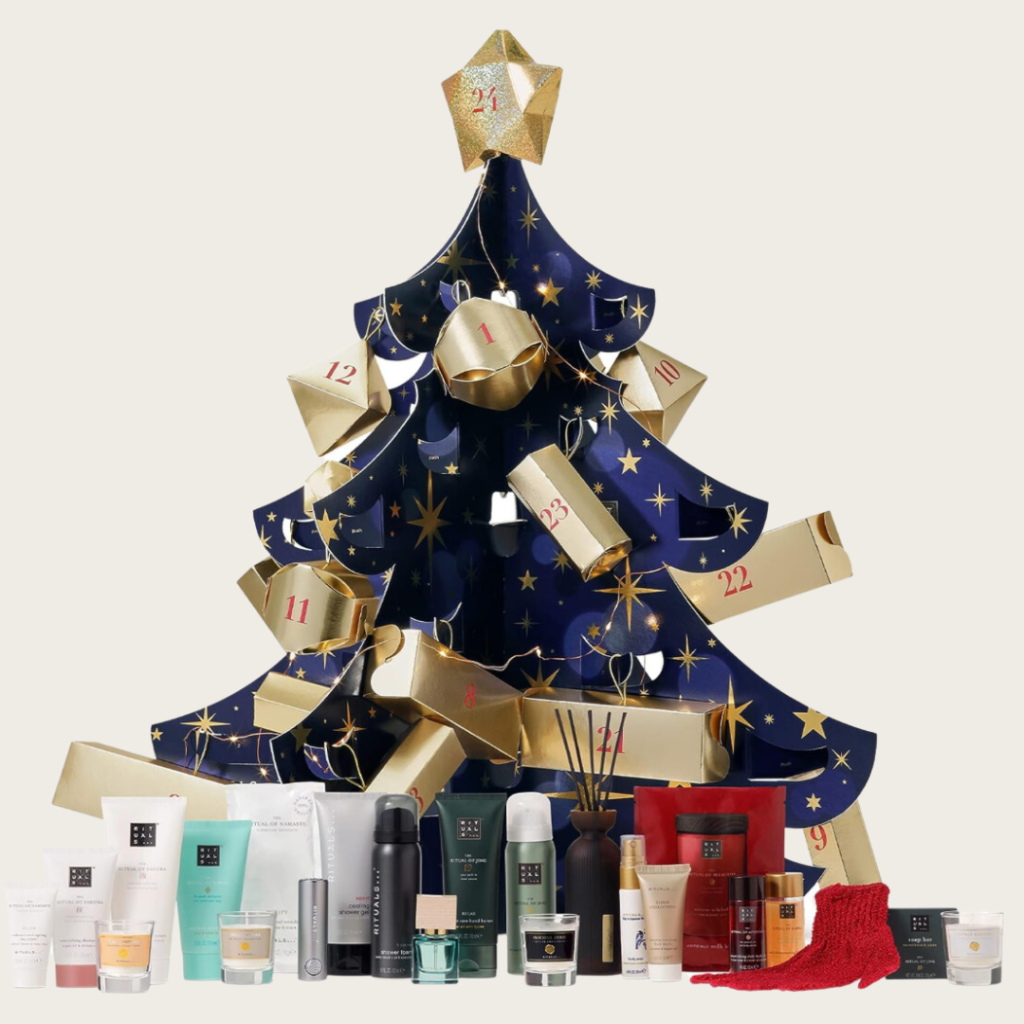 Advent Calendar 2022 3D Gift Set – Christmas Countdown Calendar – Beauty Advent Set – Luxury Bath, Body, Home Gift Set – 24 Christmas Gifts & Surprises – $99
Christmas Countdown: Get ready for the holidays with 24 days of merry moments and gifts to share
Beautiful Holiday Decor: Enrich your Christmas decorations by putting the RITUALS Advent Calendar in your home
24 Luxury Gifts: Nourish your mind, body and soul with a daily gift, from scented candles to shower gels
Signature Fragrances: You'll find sensual fragrances like Cherry Blossom and Indian Rose in luxury body mists and fragrance sticks 
The line-up of gifts has seen a complete overhaul: with four scented candles for Advent Sundays, mini reed diffusers, the new Homme collection, perfume and so much more.
IN 2021 I gave away The Deluxe Charlotte Tilbury Advent Christmas Calendar in The Natural Kaos App for our Christmas Giveaways – stay tuned this year for all the wonderful devices and skincare you can win this year 2023- there are great prizes every year! Be sure to be a member to enter the Christmas giveaways.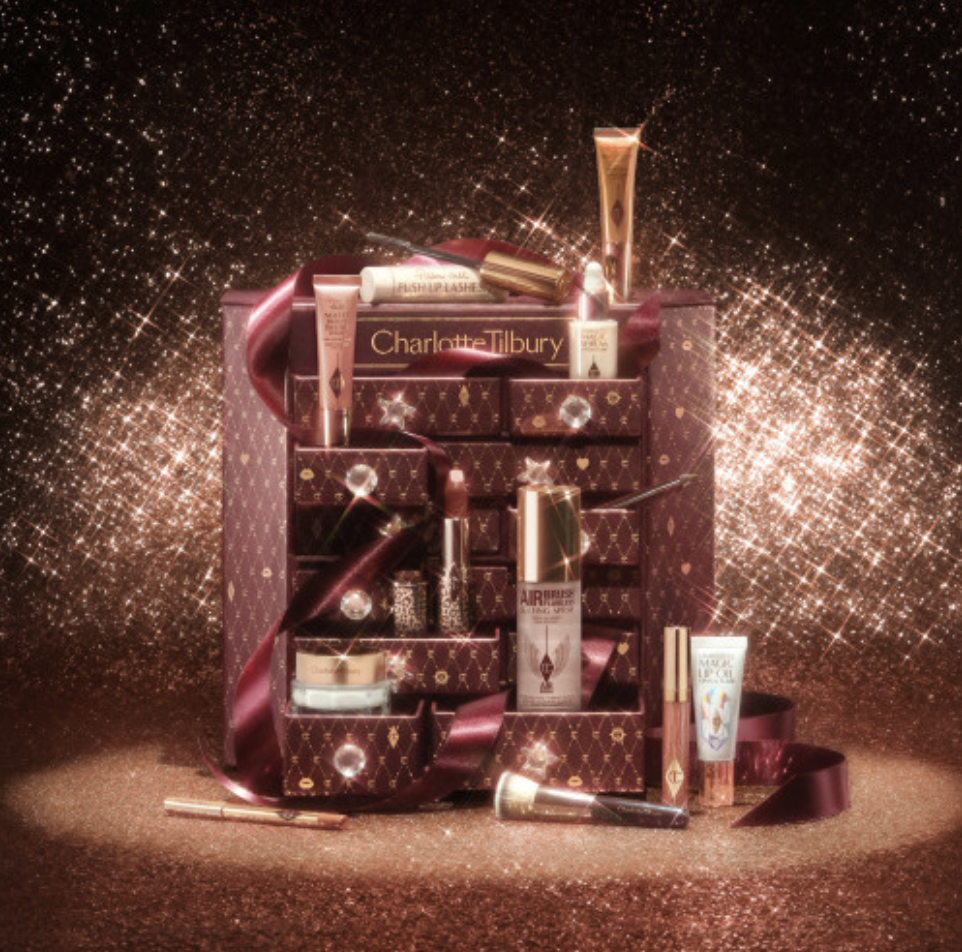 MAKEUP MAGIC and GLOWING SKINCARE ICONS with my NEW! beauty advent calendar for 2023, Charlotte's Lucky Chest of Beauty Secrets!
Discover an ICONIC beauty secret in every jewel-handled drawer to make all your beauty dreams come true this holiday season and beyond!
Featuring some of my most ICONIC BEAUTY SHOWSTOPPERS, AWARD-WINNING makeup and GLOWING skincare secrets to make you LOOK and FEEL like a STAR, this is the perfect MAGIC GIFT for YOU and EVERYONE on your list!
WORTH $279, YOURS FOR $210!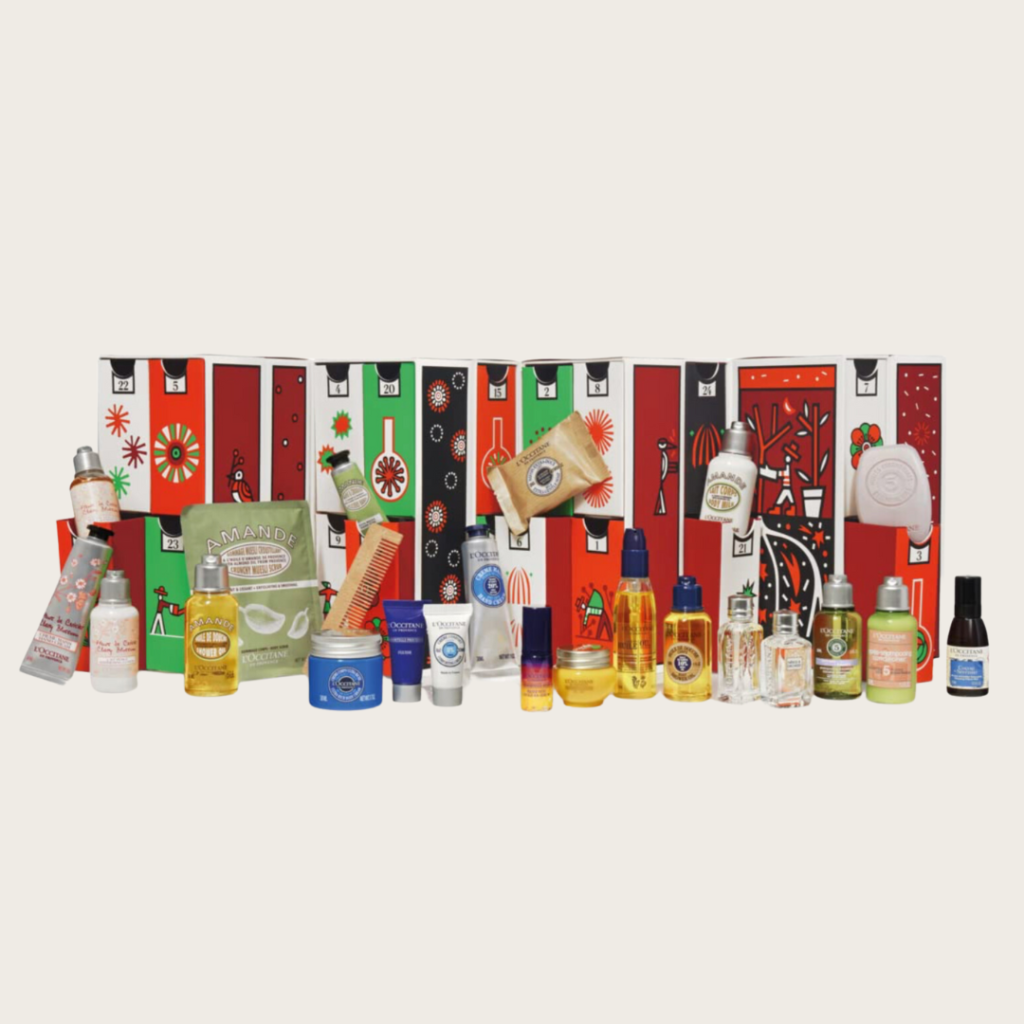 L'OCCITANE Classic Beauty Advent Calendar 24 Days
Discover a new luxury each day with a 24-piece collection of top skincare, body care, hair care, fragrance, and special edition beauty. This premium calendar features 6 full-sized products including favorites like Almond Delicious Body Balm, Reine Blanche Instant Illuminating Sheet Mask and Shea Nail & Cuticle Oil. $140
Specialty Design: Since 1976 L'Occitane has been rooted in a love for bringing people and nature together with the best ingredients like Shea and Almond.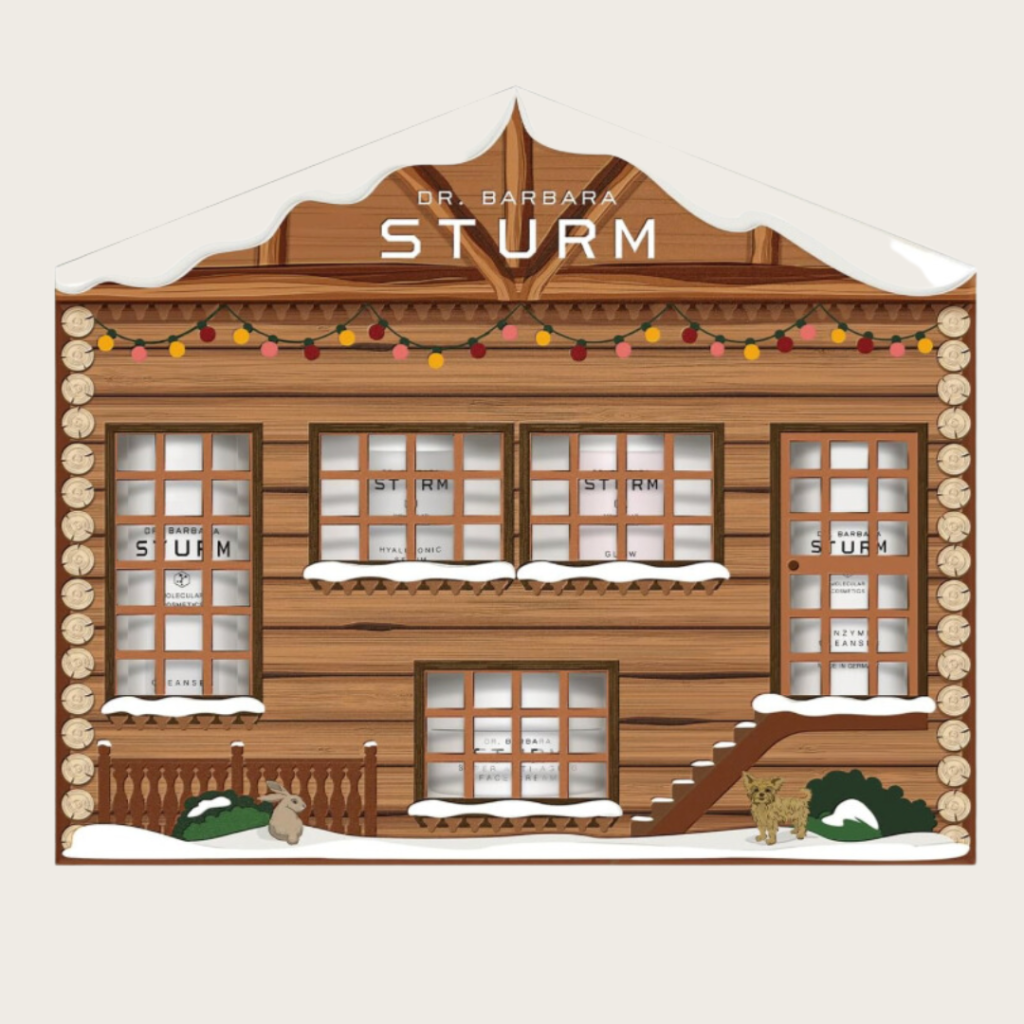 Dr. Barbara Sturm Sturmglow House Chalet
Dr. Barbara Sturm announces the launch of her limited-edition STURMGLOW️ HOUSE; Dr. Sturm's most coveted holiday set containing her bestselling innovations together in a beautiful gift box. $210
The curated kit contains a complete STURMGLOW️ routine including the CLEANSER, ENZYME CLEANSER, HYALURONIC SERUM, SUPER ANTI-AGING FACE CREAM and GLOW DROPS in deluxe, travel and mini sizes, that work harmoniously to leave your skin hydrated and nourished.
Beautifully presented in an illustrative gift box inspired by traditional ski chalets of the Alps, and guest starring her dog, Whiskey, the STURMGLOW️ HOUSE makes the perfect holiday gift.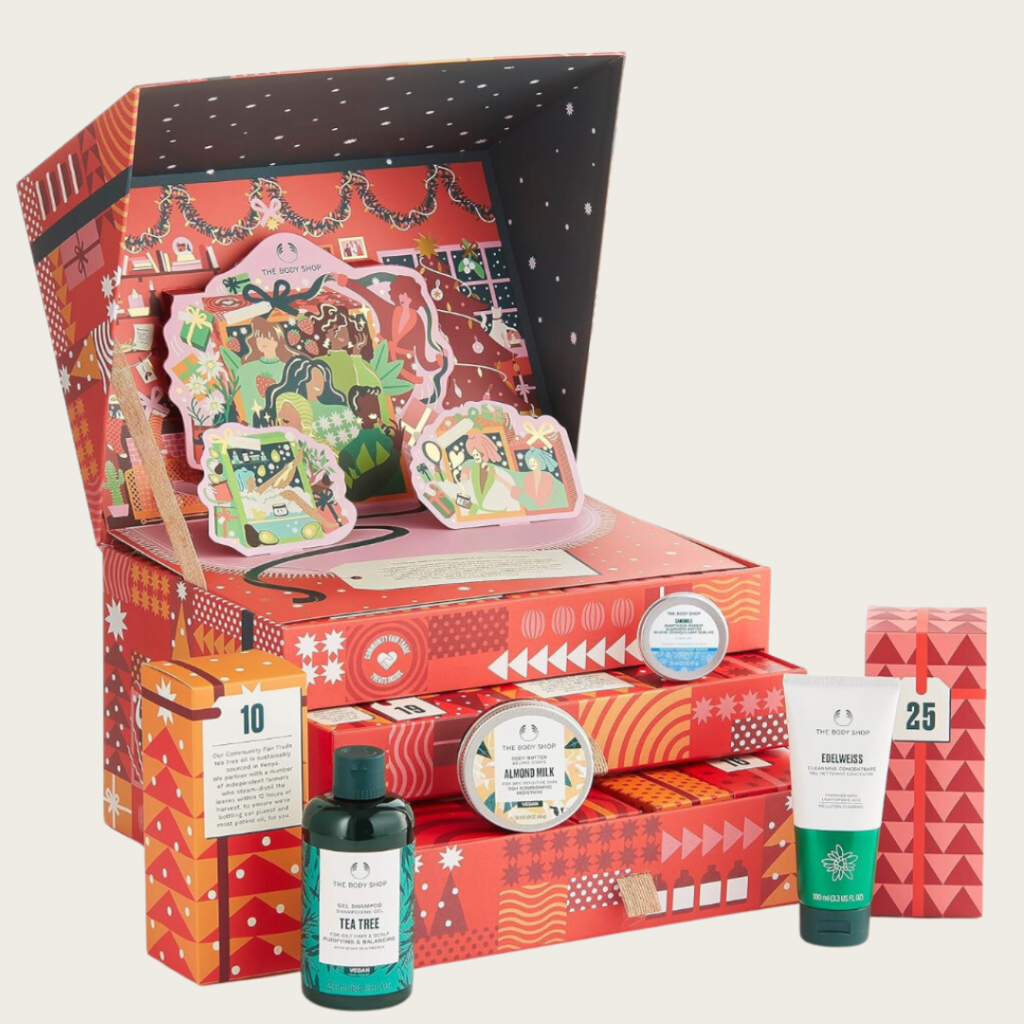 25-Piece Holiday Beauty Deluxe Advent Calendar $125
Discover The Big Advent of Change beauty advent calendar, featuring a pop-up design and 25 head-to-toe treats – it's wonderful in every way
Treat yourself or someone special, Holiday gifts don't get much better than this
This beauty advent calendar is packed with some seriously good head-to-toe treats for keeping you and that beautiful body pampered all season
Advent calendar gift set includes 25 skincare, haircare, bath and body items from The Body Shop
For all skin types
GIFT SETS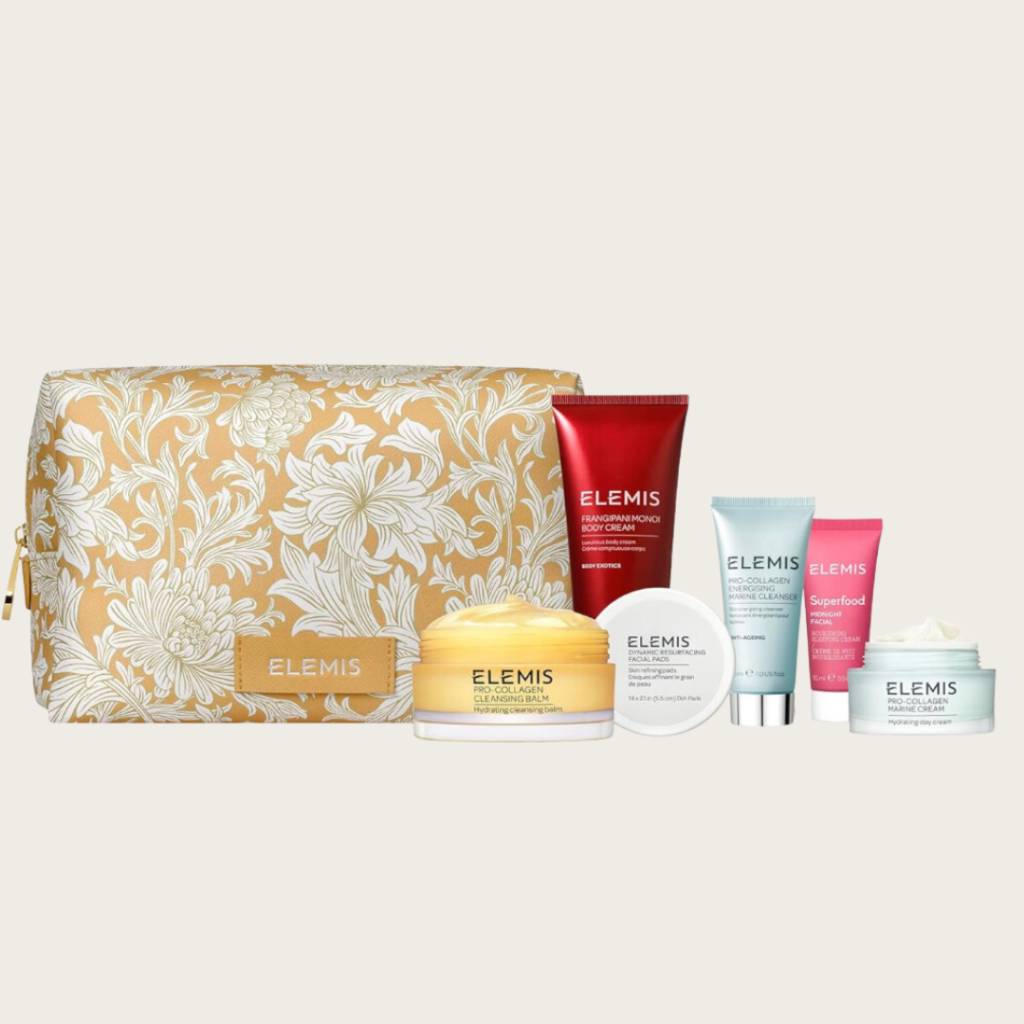 ELEMIS x Morris & Co. Iconic Collection
Elevate your on-the-go routine into an indulgent ritual. This limited edition 7-piece collection is housed in an exclusive travel bag featuring a Chrysanthemum Toile design taken from the archive of renowned British textile designer William Morris. $107 (Value $222)
Begin by massaging Pro-Collagen Cleansing Balm over face, neck and décolleté. Remove with damp cleansing cloth. Next, double cleanse with the Pro-Collagen Energising Marine Cleanser. Follow by smoothing a Dynamic Resurfacing Facial Pad, textured side down, over the face in a circular motion.
Gently smooth our Marine Cream over your face to hydrate. For an extra dose of nourishment, apply our Midnight Facial.
Complete your routine by massaging Frangipani Monoi Cream into your body.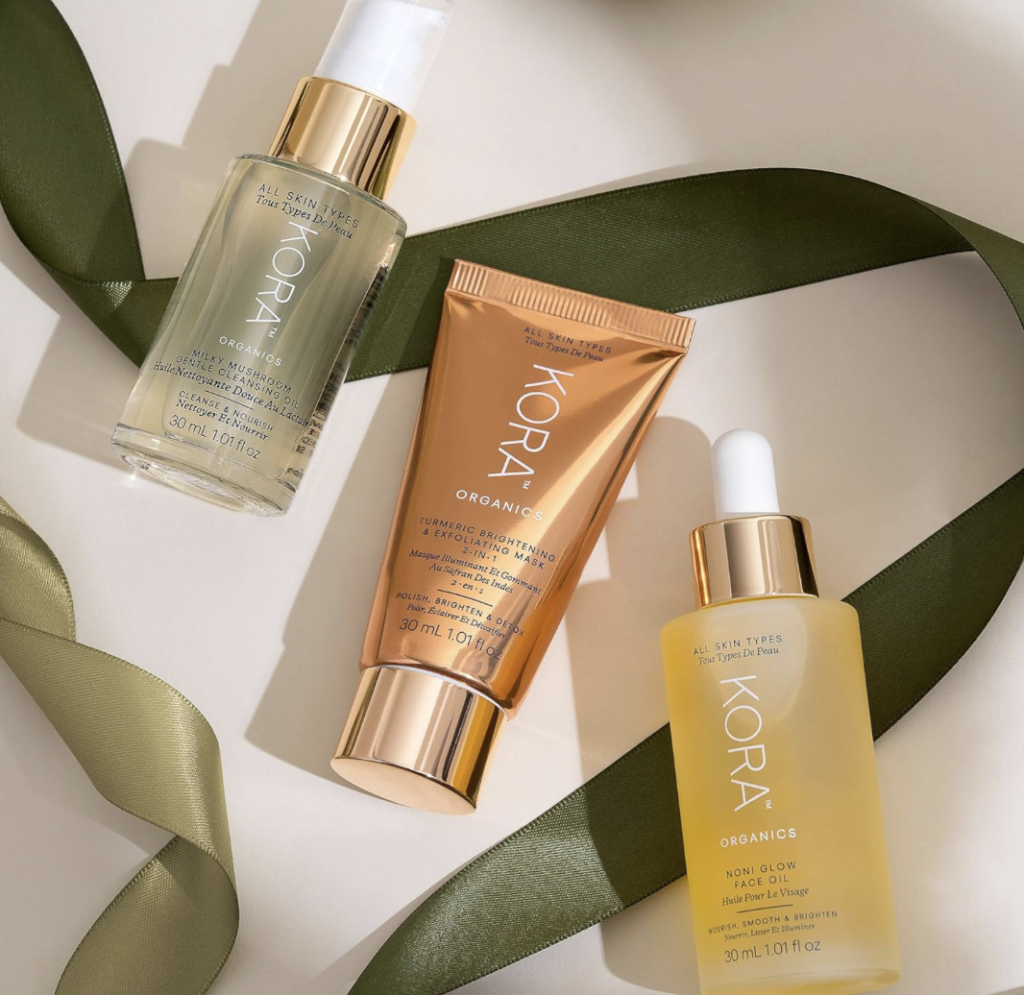 KORA Organics Nourish & Glow Trio, Gift Set with Noni Glow Plumping Face Oil, Turmeric Exfoliating Mask and Milky Mushroom Cleansing Oil. $78 (Over $100 Value)
Limited Edition Skincare Set. This holiday gift set features our most-loved Noni Glow Face Oil (1.01 fl oz), Turmeric Brightening & Exfoliating Mask (1.01 fl oz) and Milky Mushroom Gentle Cleansing Oil (1.01 fl oz).
Noni Glow Plumping Face Oil. A rich, powerful, yet delicate face oil developed to nourish, smooth and enhance radiance in your skin. Replenish skin elasticity and illuminate your complexion.
Turmeric Brightening & Exfoliating Mask. An invigorating facial exfoliating mask formulated to revitalize, smooth and enhance skin radiance while purifying pores.
Milky Mushroom Oil Cleanser. Gently remove dirt, oil and makeup with this clean, Certified Organic dual-phase cleansing oil that's sure to nourish, moisturize and leave you feeling refreshed.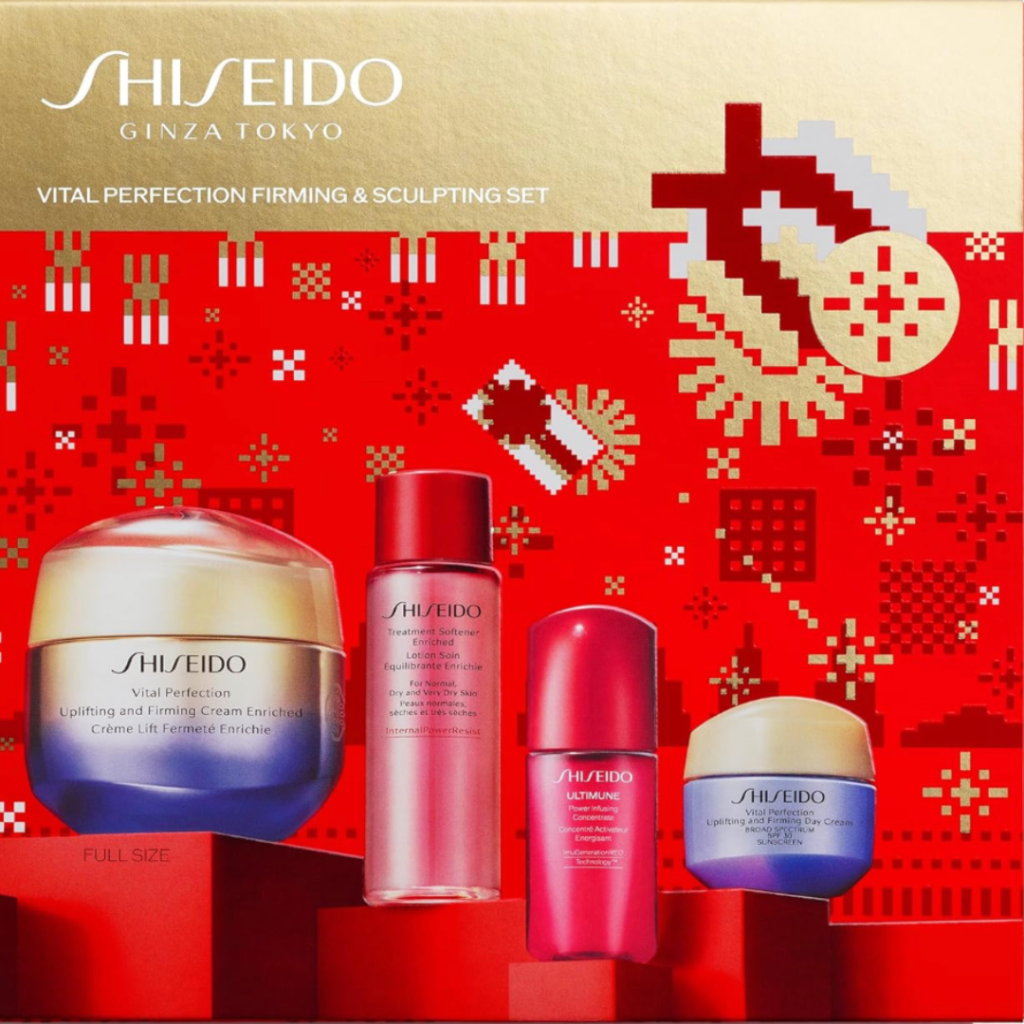 Firming & Sculpting Set – Hydrates, Strengthens & Visibly Lifts Skin – Includes 4 Skincare Essentials – $140. ($217 Value)
Hydrate, strengthen & visibly lift skin with Vital Perfection Cream Enriched , Treatment Softener Enriched , Ultimune Power Infusing Concentrate & Vital Perfection Day Cream SPF 30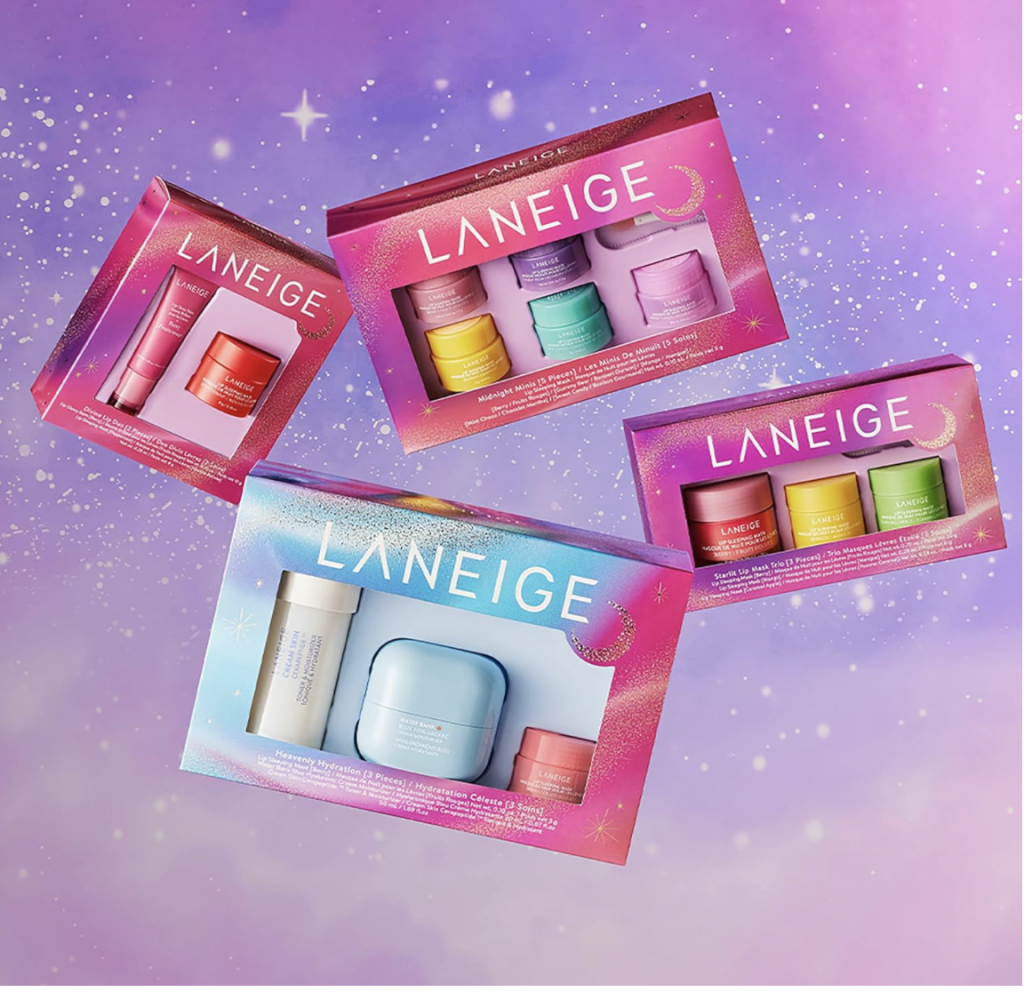 Laneige Holiday Hydration Gift Sets 2023
$20–$30
HEAVENLY HYDRATION SET. his set features our hydration bestsellers to help deliver hydrated skin & lips from day to night.
STARLIT MASK TRIO his trio set helps deliver long lasting moisture and reveal smooth and supple looking lips.
MIDNIGHT MINIS What a treat! Our limited edition set with five minis of LANEIGE's best-selling Lip Sleeping Mask, including two limited edition, juicy flavors!
DIVINE LIP DUO This limited edition dreamy two piece set includes our iconic Lip Glowy Balm in Berry and Lip Sleeping Mask in our limited edition flavor Peppermint.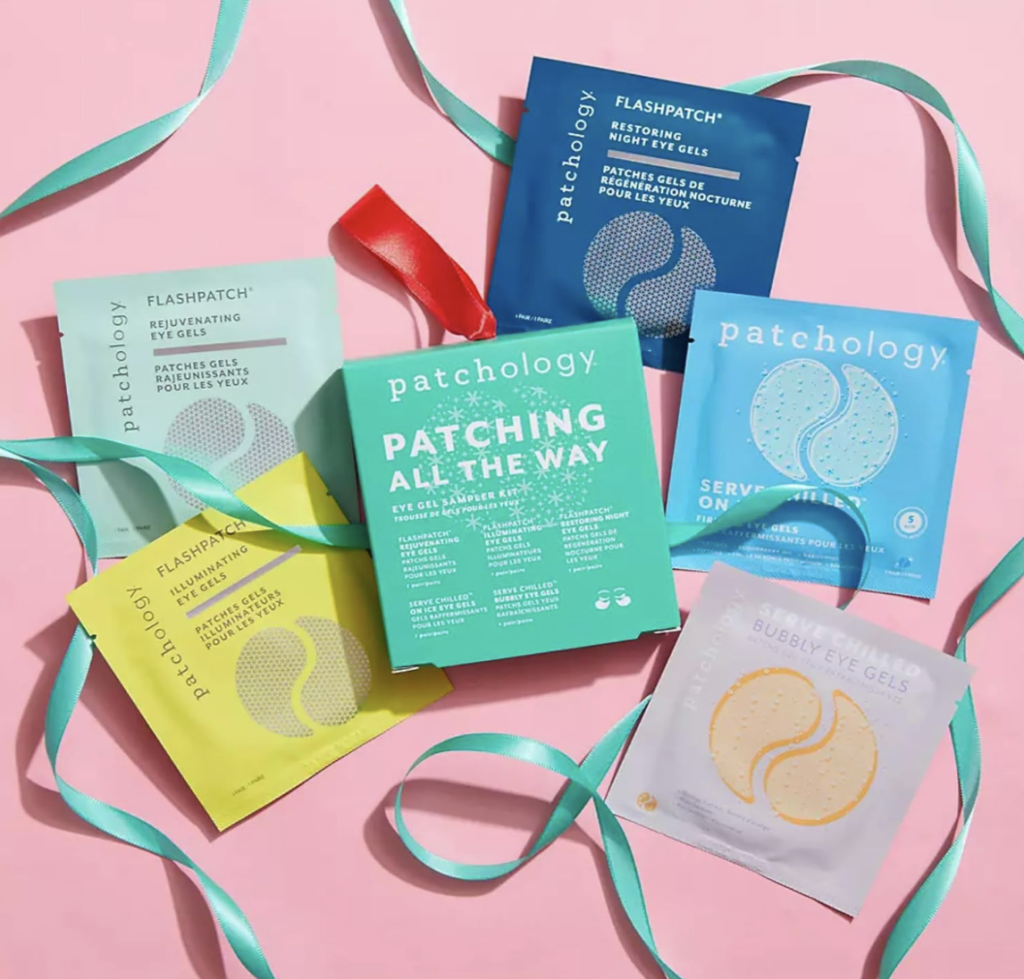 It's a chance to find a good match for you or for that special someone who deserves a little self-care treat or pampering. One pack contains a pair of Rose Eye Gels, Bubbly Eye Gels, Restoring Night Eye Gels, Rejuvenating Eye Gels, and Illuminating Eye Gels. $15
GIVE THE GIFT OF SELF-CARE: Our eye patches gift set contains five varieties of gel eye patches, including Rose Eye Gels, Bubbly Eye Gels, Restoring Night Eye Gels, Rejuvenating Eye Gels, and Illuminating Eye Gels. We believe in skincare as self-care. That's why everything Patchology creates is made with your moment in mind. The Under Eye Patches Gift Set is a part of our complete line of refreshing skin care products. We also offer face masks, lip gels, exfoliating foot peels, and more.
I had to share my love for Kbeauty and My love of snail Mucin! Gift someone this season with this incredible starter set and watch them fall in love with the hydration we all need so much in the wintertime. All you have to do is add a red bow and you are done!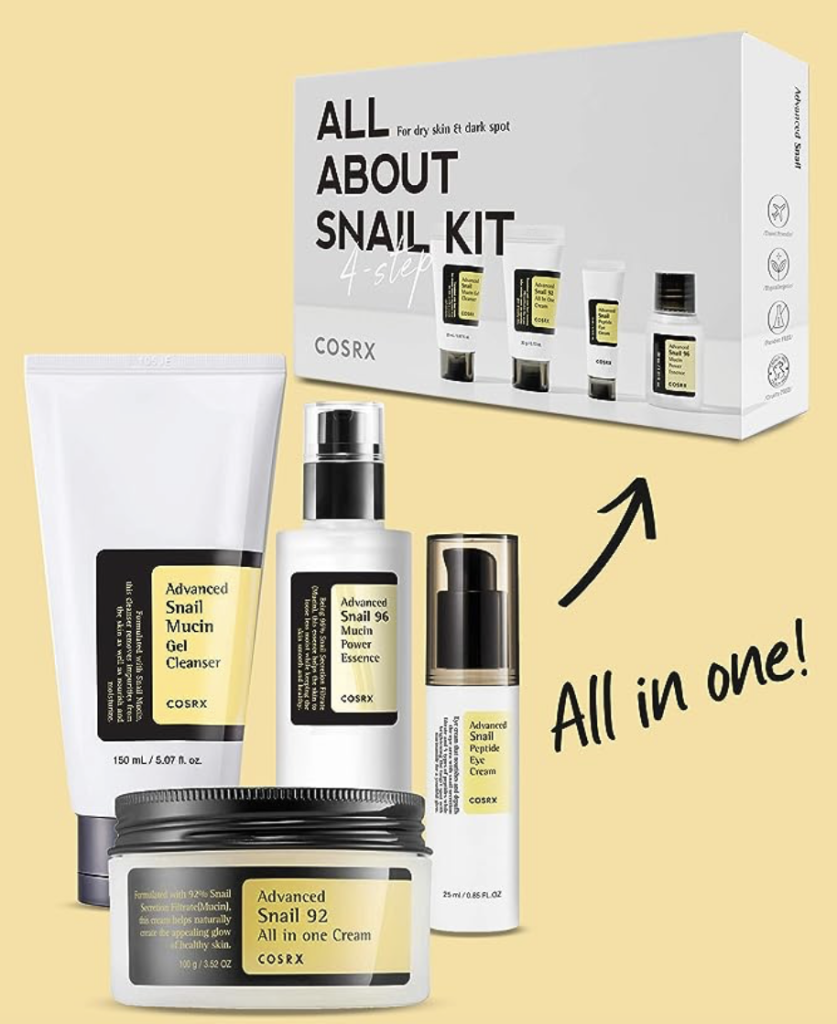 COSRX All About Snail Korean Skincare
COSRX's Most Loved 4-step Advanced Snail Trial Kit: Skincare essentials formulated with snail mucin for repairing, moisturizing, and soothing skin. $23
advanced Snail Mucin Gel Cleanser – With 10,000ppm snail secretion filtrate, it protects the skin barrier and does not strip the skin. 
Advanced Snail 96 Mucin Power Essence – Lightweight yet intense moisturizing essence absorbs very fast into the skin and maximizes skin elasticity. 
Advanced Snail Peptide Eye Cream – Contains 72% of snail secretion filtrate and peptides to reduce dark circles, fine lines and wrinkles. 
Advanced Snail 92 All In One Cream – With 92% of snail secretion filtrate helps repair and soothe sensitized skin after breakouts by replenishing moisture.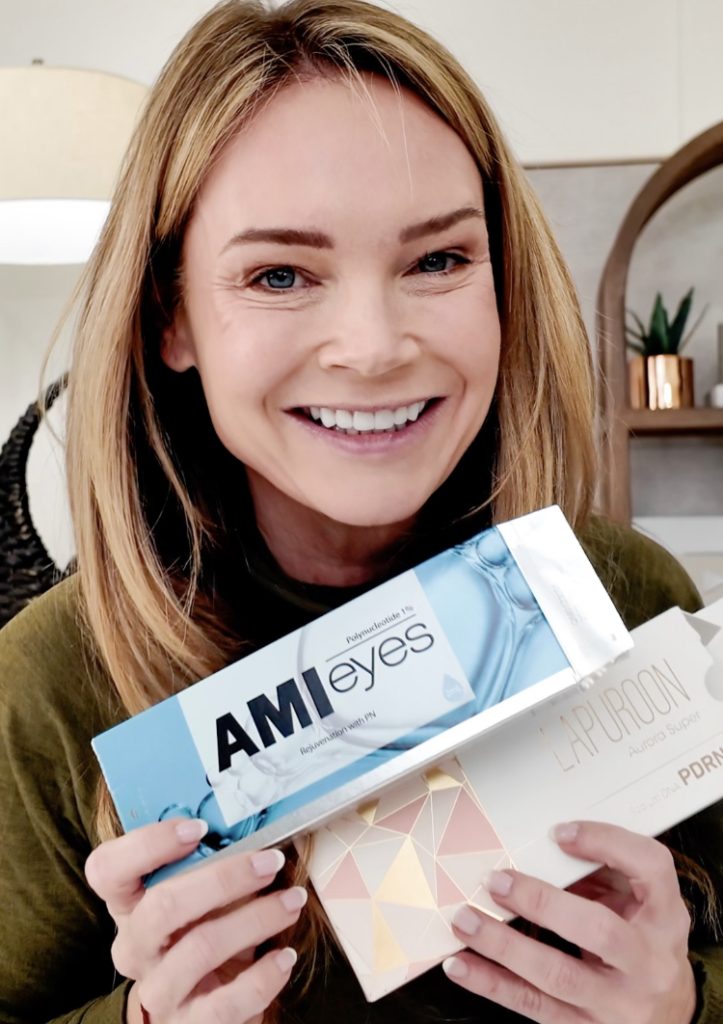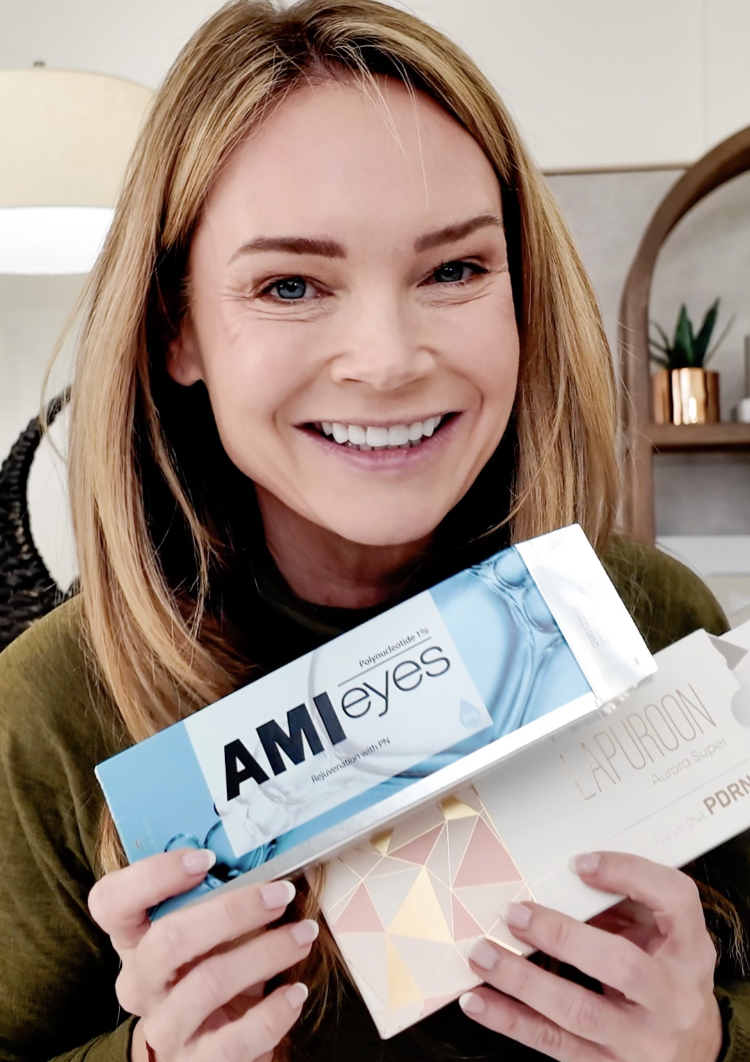 https://vimeo.com/888909805?share=copy MESOTHERAPY EYES AND NECK REJUVENATION For this Meso treatment, I'm strengthening the loose skin…
COUNTING DOWN THE DAYS UNTIL CHRISTMAS!
December 2023
M
T
W
T
F
S
S
1
2
3
4
5
6
7
8
9
10
11
12
13
14
15
16
17
18
19
20
21
22
23
24
25
26
27
28
29
30
31