Skincare Brand: Ghost Democracy 
Ghost Democracy collection is a great price for a full routine skin care bundle. Firstly, there are videos and instructions that demonstrate how to use everything on their website. They believe in good ingredients. I agree taking out the middle man to make good skincare more affordable is always a good thing. 
"We believe that clean skincare and the confidence it brings should be accessible to everyone." – Ghost Democracy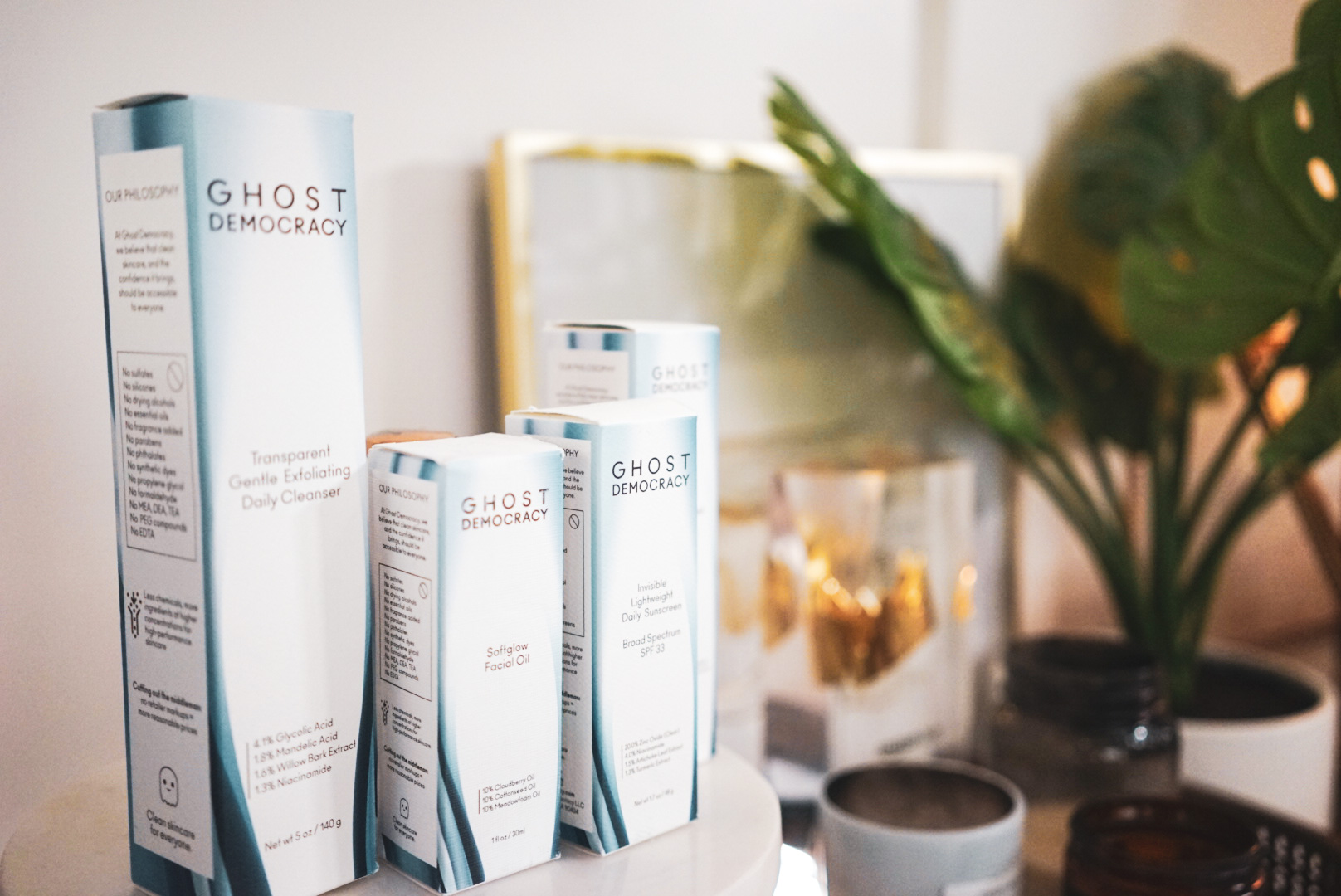 Cleanser
Gentle, sulfate-free & fragrance-free cleansing base is powered with unusually high concentrations of: 4.1% Glycolic Acid, 1.8% Mandelic Acid, 1.6% Willow Bark Extract, and 1.3% Niacinamide. 
Wet skin, work into a gentle lather in hands, massage into a soft cloud over the face. No need for harsh rubbing, enjoy the compact lather and feel it rinse off cleanly. As for the ingredient deck, it's great for taking off the end of the day without leaving your skin dry. 
Toner
Close eyes and spritz generously from 6-8 inches away. Use as a toning treatment before serums & moisturizers, or to refresh and treat skin throughout the day.
Clean toning mist hydrates and gives skin a plumper, firmer, and more even-toned appearance and refreshes for healthier-looking dewy skin.
Ingredient Deck is 2.6% Peptide Blend, 2.0% Blue-Green Algae Extract, 1.5% Niacinamide, and 0.5% Pure Hyaluronic Acid. 
 Face Oil
A nourishing plant-based facial oil that deeply hydrates with lightweight softening oils for smoother, glowing, healthier-looking skin.  Non-greasy and quick-absorbing. For all skin types.
Apply a few drops evenly to the face and neck, as the last step of your skincare routine.
The ingredient deck is 10% Cloudberry Oil, 10% Cottonseed Oil, and 10% Meadowfoam Oil.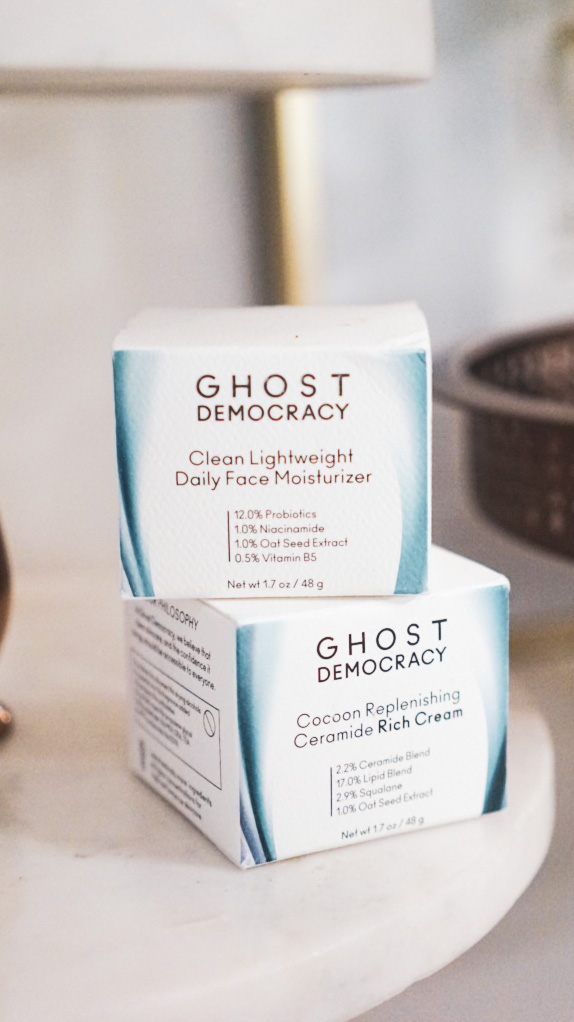 Lightweight Moisturizer
An oil-free, lightweight daily face moisturizer that intensely hydrates for refreshed, balanced skin all day. Non-greasy and quick-absorbing. For all skin types. 
Apply every morning and night to clean skin (after serums and before any oils).
1.0% Niacinamide, 1.0% Oat Seed Extract, 0.5% Panthenol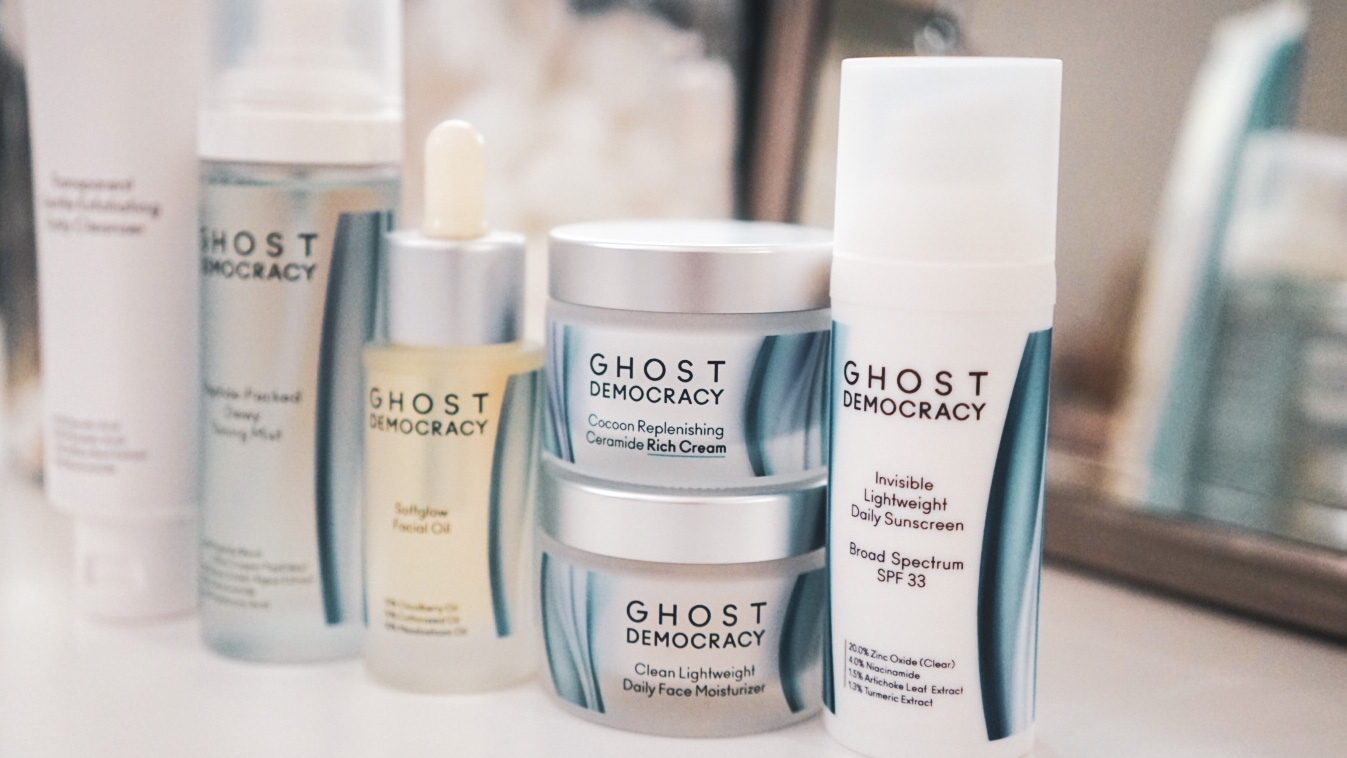 Rich Cream
An ultra-nourishing cream that deeply moisturizes and replenishes skin to visibly improve skin smoothness and texture. Non-greasy and quick-absorbing. For all skin types, especially dry.
Apply every morning and night to clean skin (after serums and before any oils).
2.2% Ceramide Blend, 17.0% Lipid Blend, 2.9% Squalane and 1.0% Oat Seed Extract.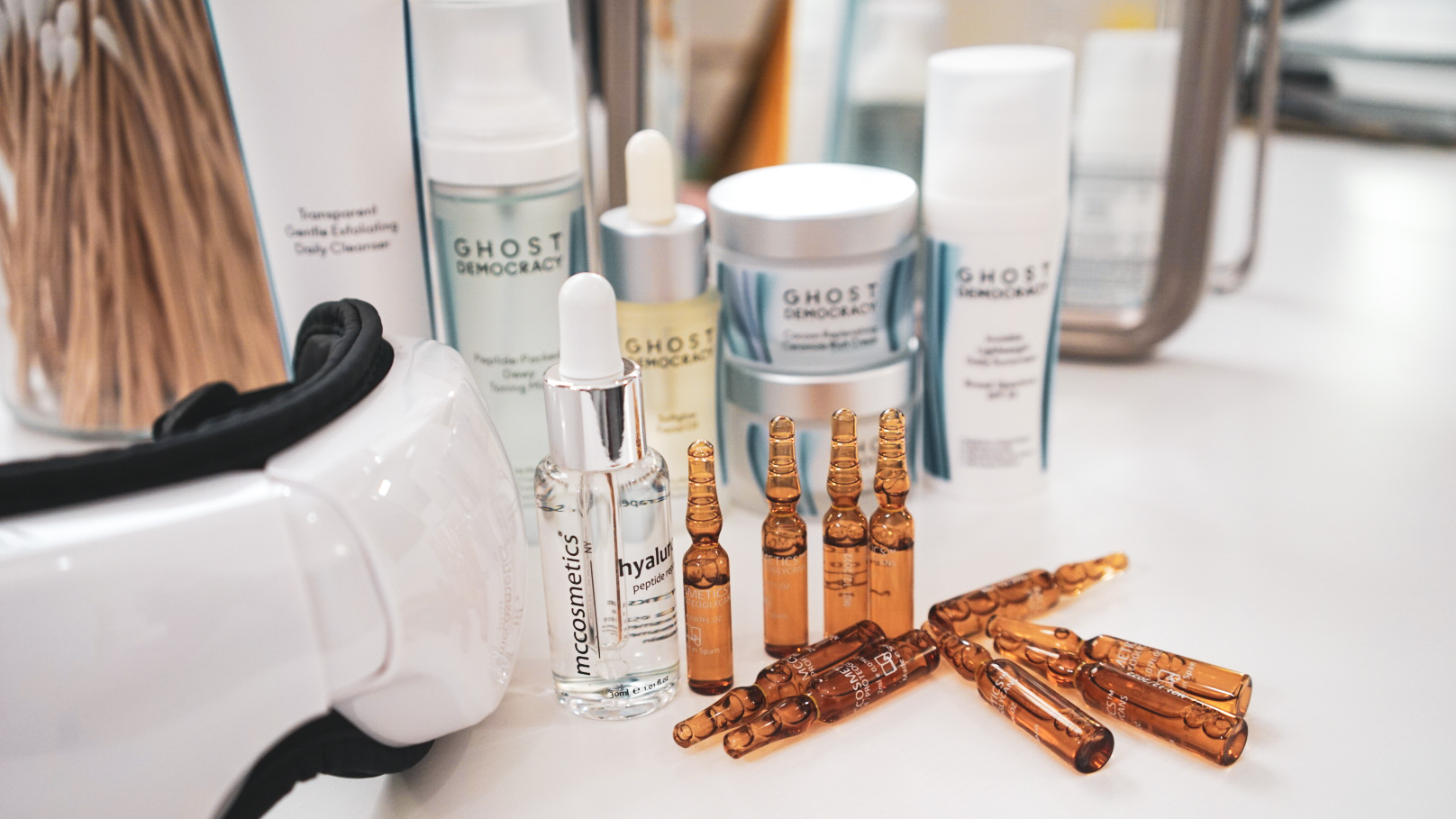 Unfortunately, I can't give a full review of Ghost Democracy at the moment. However, I will continue to use each product and try the SPF. After my full pm routine, I can say I did like the way my skin felt aferward. xox- Kim
PM Routine All Products:
Nira 15%off ,   Ghost Cleanser , Ghost Toning Mist  
Microneedling A6 Dr Pen Save 12 %, Ghost face oil , Ghost Light Moisturizer , Ghost Cocoon Moisturizer 
Ghost SPF 33, Ghost Bundle 5 piece set,   Jlo Face Mask
Mccosmetics Prof. Intelligent Eye Pack , Hyaluronic peptide repair , Proteoglycans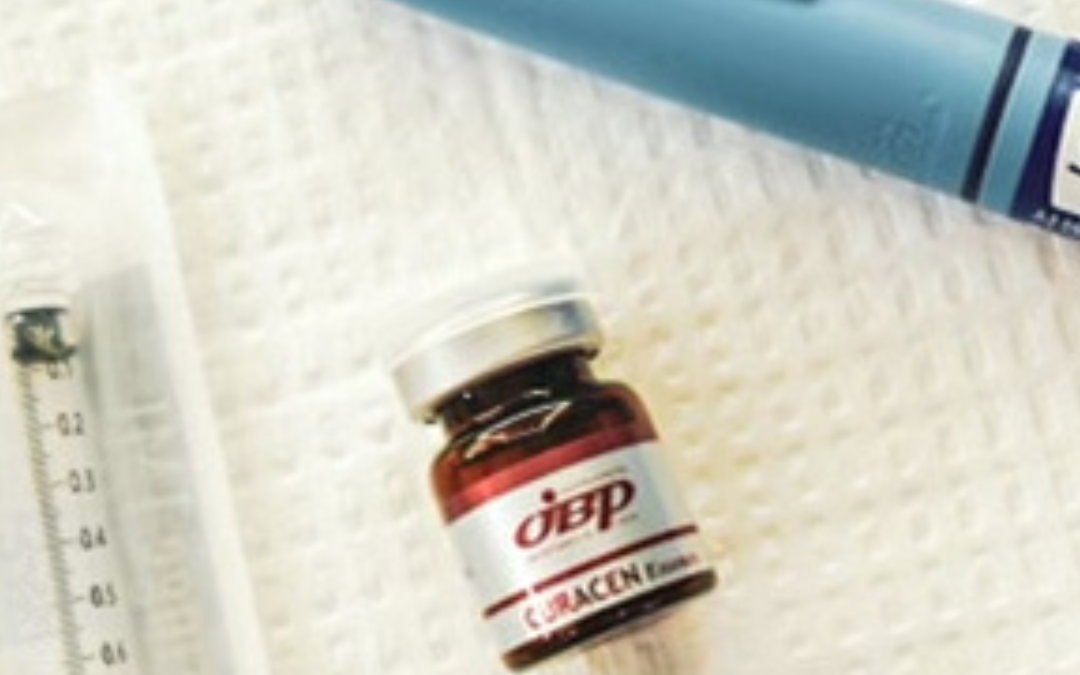 WHAT IS CURACEN ESSENCE?  It is an extract from the Human Placenta – a rich source of Stem Cells.  This new formulation allows for the immediate process of cell healing, along with restoring the smooth texture and radiance of the skin. I used the Mesotherapy way to...