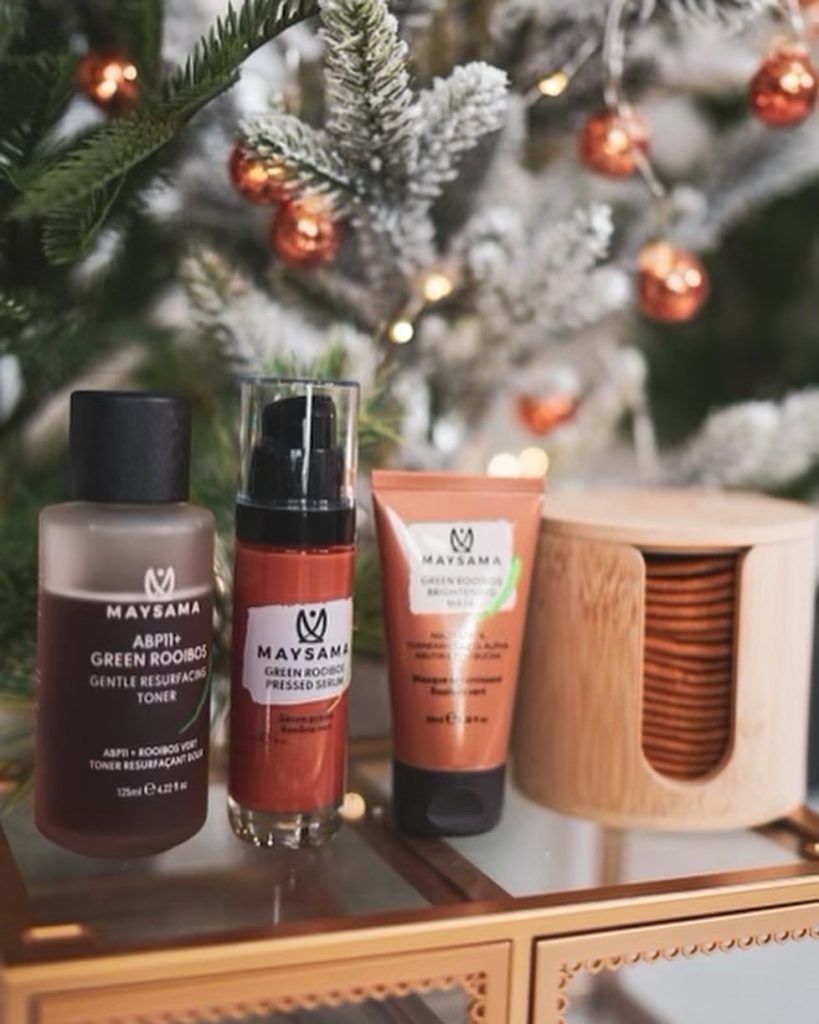 Thank you to Maysama for Partnering with us to make this first day of Holiday Giveaways so special! I love Maysama products and love seeing the line expand. It is a beautiful skincare brand that goes well with LED red light and I feel like that is why I enjoy it so much.
You will win The Treatment Bundle and Bamboo cloths (New set will be mailed to you from Maysama) ❤️
MAYSAMA ABP11 Green Rooibos Gentle Resurfacing Toner
MAYSAMA Green Rooibos Pressed Serum
MAYSAMA Green Rooibos Brightening
HOW TO USE: For Antioxidant Protection & Repair – Apply one pump to face and neck after cleansing and before heavier/ oil-based serums or moisturisers. Use AM or PM. For AM use, always follow with an SPF. For use with LED Light Therapy Treatment as a combination Therapy – apply to cleansed skin and allow 15-20 minutes for serum to be fully absorbed before commencing LED Light Therapy Treatment. Do not wash off. After LED light treatment, continue with the rest of your skincare routine.
Key Actives
Aspalathin linearis 1.3% (Green Rooibos) – Rooibos serves as a powerful antioxidant, as well as a rich source of super-oxide dismutase, vitamins and minerals and plays a role in the protection and repair of adipose tissue, helping to maintain skin fullness. With anti-inflammatory, anti-viral, anti-bacterial and anti-mutagenic properties, rooibos is the star of the show. MAYSAMA's Green Rooibos is a unique API cosmetic ingredient, extracted using a patented process, resulting in a water-soluble green rooibos powdered extract with enhanced aspalathin content (the major flavonoid present in rooibos), giving superior therapeutic application. Niacinamide 3% (Vitamin B3 or nicotinamide) – this water-soluble vitamin with anti-inflammatory properties helps boost collagen production, visibly improves the appearance of enlarged pores, uneven skin tone, dullness, fine lines and wrinkles and protects from environmental damage. Niacinamide encourages the production of ceramides which form a protective layer and prevent water loss. Hyaluronic Acid – for skin hydration. A polysaccharide molecule naturally found in the body, hyaluronic acid retains moisture and creates fullness to the skin. Hyaluronic acid is known to hold 4000 times its weight in water. Sodium Hyaluronate is the sodium salt of Hyaluronic acid and has a lower molecular weight, allowing it to penetrate the skin better. Centella asiatica (Gotu Kola – Indian Pennywort) – serves as an antioxidant and promotes collagen production, as well as having anti-inflammatory properties. Rich in saponins that stimulate skin repair and high in VitaminC, A, B1, B2, and niacin. Sea Buckthorn (Hippophae rhamnoides) Extract – for skin regeneration and repair and oxygenation of the skin. Contains unsaturated 11% fatty acids omega 6 & 7, 1% flavonoids, Vitamins C, E, and folic acid. Protects against inflammation, prevents allergies; eliminates inflammation and inhibits skin ageing. Chlorella vulgaris extract – for skin conditioning and anti-ageing. Stimulates collagen production. Contains high level of carotenoids giving UV-protection, as well as high levels of amino acids for skin repair. Marigold (Calendula officinalis) Extract – powerful antioxidant and promotes collagen production. Rich in saponins which stimulate skin repair. High in Vitamin C, A, B1, B2 and niacin and has anti-inflammatory properties. Liquorice (Glycyrrhiza glabra) Root Extract – anti-inflammatory and antioxidant, primarily because of licochalcone, a molecule contained in liquorice root extract which helps control oil production and helps calm and soothe acne-prone skin. Can help reduce age spots and whiten skin. Turmeric (curcumin) – antibacterial, anti-inflammatory and brightening. Turmeric can help reduce redness and brighten the skin by lessening the appearance of dark spots and hyperpigmentation. Tocopherol (Vitamin E) – a fat-soluble, essential nutrient with anti-inflammatory properties. Vitamin E helps support skin health. It's an antioxidant, making it effective at combating the effects of free radicals.
Green Rooibos Pressed Serum Ingredients: Aloe Barbadensis Leaf Juice, Aqua, Niacinamide (3%), Glycerin, Aspalathus Linearis (Green Rooibos) Leaf Extract (1.3%), Citric Acid, Lysolecithin, Sclerotium gum, Cannabis Sativa (Hemp) Seed oil, Sodium Benzoate, Pullulan, Xanthun gum, Centella Asiatica Leaf Extract, Sodium Hyaluronate, Adansonia Digitata (Baobab) Seed oil, Potassium Sorbate, Tocopherol, Argania Spinosa (Argan) Kernel oil, Sodium Phytate, Ubiquinone, Glycine Soja oil, Silica, Hydroxypropyl Cyclodextrin, Hippophae Rhamnoides (sea Buckthorn) Fruit Extract, Curcuma Longa (Turmeric) Root Extract, Chlorella Vulgaris Powder, Tetrahydropiperine, Glycyrrhiza Glabra (Liquorice) Root Extract, Calendula Officinalis (Marigold) Flower Extract, Palmitoyl Tripeptide-38.
Green Rooibos Brightening Mask Aqua, Aloe Barbadensis Leaf Juice, Glycerin, Niacinamide, Squalane, Tranexamic Acid, Aspalathus Linearis Leaf Extract, Alpha – Arbutin, Saccharomyces/Xylinum/Black Tea Ferment, Acrylates/C10-30 Alkyl Acrylate Crosspolymer, Phenoxyethanol, Allantoin, Sodium Hydroxide, Citric Acid, Sodium Hyaluronate, Sodium Polyglutamate, Ethylhexylglycerin, Sodium Benzoate, Potassium Sorbate.
ABP11 Green Rooibos Gentle Resurfacing Toner Aqua (Water), Aloe Barbadensis Leaf Juice, Gluconolactone, Lactic Acid, Glycerin, Sodium Hydroxide, Ascorbic Acid, Salicylic Acid, Aspalathus Linearis Leaf Extract, Saccharomyces/ Xylinum /Black Tea Ferment, Sodium Polyacrylate, Benzyl Alcohol, Ascorbyl Glucoside, Sodium Phytate, Citric Acid, Sorbic Acid, Sodium Benzoate, Potassium Sorbate, Camellia Sinensis Leaf Extract, Undaria Pinnatifidia Leaf/Stem Extract.
*Must Be A Natural Kaos App Member To Win